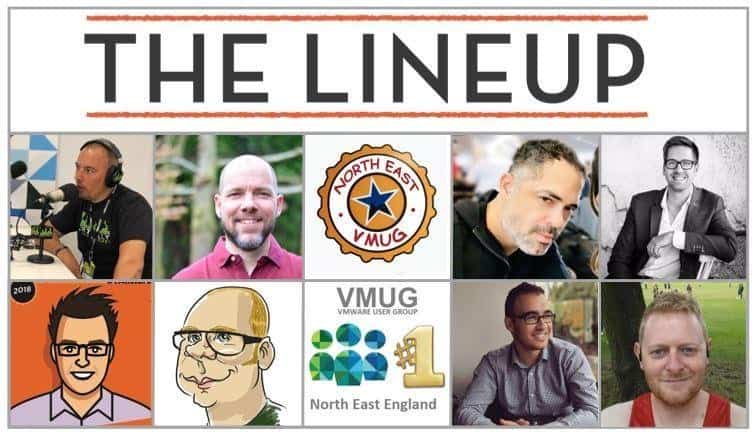 Greetings friends, 2019 it is here, and not only that, all the Community events start now to kicking off another season which will be much better than previous years in terms of content and of course new products and integrations.
The best option to be on top of all the information out there, presented and delivered by great speakers whom are subject matter experts is to attend to your local VMUG, yo can find your local VMUG and when it will be at https://community.vmug.com/home
North East VMUG Thursday 7th February 2019
I was lucky enough to be selected as an speaker for the upcoming North East VMUG, which will take place on Thursday 7th February, among an impressive list of speakers, if you are around the area I will encourage you to attend, learn something new this day, and have the chance to speak with great professionals, not just the speakers but of course the rest of the attendees, which it is really the best of this VMUG the chance that we have to meet new peers, share some designs around our Datacenter, gather feedback and opinions and learn something new.
Keep reading to know more about all the sessions, speakers and location for the North East VMUG happening on 7th February 2019
Where is it, and how to get there?
Well that is easy enough, here you will find the needed information about the event, where it is and how you can get there:
Date & Time: 7th February 2018
Location: Royal Station Hotel – Neville St, Newcastle upon Tyne NE1 5DH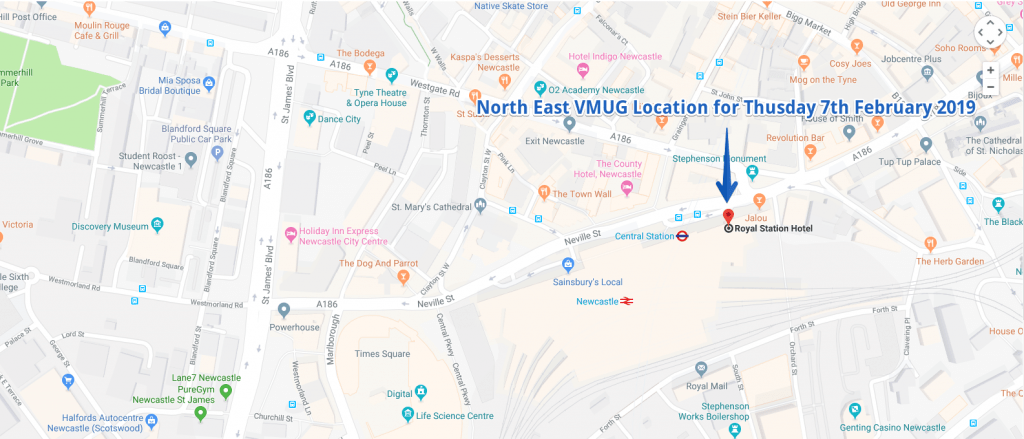 Keynote Speakers

VMware Keynote – Duncan Epping, Chief Technologist @VMware – @DuncanYB

'The (r)evolution of Infrastructure'

In this session Duncan will discuss where we are today when it comes to VMware based Infrastructures. More importantly, we will be discussing where we are going tomorrow and how hyper-converged technologies help optimizing data center and operational efficiency. Current common challenges will be discussed, followed by solutions to those challenges. Be warned, this session will include forward looking demoes and statements.
VMware Keynote – Frank Denneman, Chief Technologist @VMware – @FrankDenneman

'Kubernetes 101 for the vSphere Admin'
'Details to follow'
VMware & community speakers from across the UK
VMware Session – Kev Johnson, Technical Marketing Engineer @VMware – @kev_johnson

'Upgrading vSphere: Why, When & How? '

In this session Kev will discuss the reasons to upgrade to the latest releases of vSphere, things to consider as you plan and then walk you through the steps involved. Covering upgrade paths, migration from the Windows based vCenter Server (*shudder*), vCenter High Availability and the convergence tool to move your legacy external PSCs to the recommended embedded topology. Bring your questions – there may be prizes for good ones.
Community Session – Christopher Lewis, Blogger and vExpert – @thecloudxpert

'vRealize Suite LIfecycle Manager – Notes/Tips&Tricks from the field'

In this session Christopher Lewis will be sharing recent experiences from the field when delivering VMware vRealize Suite Lifecycle Manager (vRSLCM). Starting with a lightning introduction to vRSLCM, he will swiftly move onto covering some high level design considerations before spending time walking through the tips and tricks learnt during his experiences delivering vRSLCM in the field as a PSO Consultant. The session will close with a recap of the things to remember when working with vRSLCM.
Community Session – Gareth Edwards, Blogger and vExpertPro – @GarethEdwards86

'Terraform, Terrawhat, TerraARGH, TerraYAY!'
This sessions is all about getting to grips with Terraform and a short journey on what Gareth learnt and how best to adapt this to your business and work alongside the 'hipster' developers who do all their websites in code but not infrastructure. Mainly AWS focused but by October I hope I have VMware on premises sorted along with VMware on AWS and maybe even Nutanix and Azure
Community Session – Jorge de la Cruz, Blogger and vExpert – @jorgedlcruz

'Modern vSphere Monitoring and Dashboard using InfluxDB, Telegraf and Grafana'

In this session we will see the different ways to monitor our vSphere environment and we will see how to create from scratch an open source, scalable and completely free monitoring system using InfluxDB, Telegraf, Grafana and making use of vSphere's own SDK.
Gold sponsors

Gold Sponsor Session – Rawlinson Rivera, Chief Technology Officer @Cohesity – @PunchingClouds

'Details to follow'
Gold Sponsor Session – Gijsbert Janssen van Doorn, Technology Evangelist @Zerto – @Gaizzie
'A New Era for Data Protection : Converged DR and Backup'

It's time to revolutionize your data protection with a converged and continuous Disaster Recovery and Backup solution for both short-term and long-term data retention. Worried about Ransomware, or other unplanned disruptions and recovering fast enough? Continuous Journal-based recovery gives you DVR-like abilities to rewind and resume from any point in time to protect against logical & hardware failures, human mistakes, and natural disasters. Learn how Zerto uses its journaling technology coupled with continuous replication to protect and recover files, VMs, applications or even entire data centres and resume from just seconds before an incident – unlike out-of-date backups or snapshots.
Silver sponsors