Greetings friends, other such great news showed during this VeeamON 2021, is undoubtedly the announcement of new versions for each and every solution that Veeam has for native protection in the Cloud. I'm talking about native loads on Microsoft Azure, AWS, and Google Cloud Platform.
During VeeamON 2021, Danny Allan and David Hill show us a fantastic demo that we can find on the official website. Veeam's unique platform for protecting and managing resources in multi-cloud environments, including AWS, Azure, and Google Cloud, offers cloud mobility for backup, recovery, and migration of workloads in any environment, guaranteeing up to 50 times lower costs by natively protecting workloads in the cloud.
The Veeam Platform consolidates on cloud-native backup and recovery
Veeam now offers cloud-native support for all three major public clouds – AWS, Azure, and Google Cloud – under a single platform in hybrid/multi-cloud environments. This also includes Cloud Mobility for backup, recovery, and migration between public and on-premises clouds.
Low-cost long-term retention and archiving for native AWS, Azure, and Google Cloud backup.
Veeam has announced an important step to satisfy those long-term retentions, in which we have to store information for several years, in the best, and cheapest way possible. That is why the following versions of each product include the following:
Veeam Backup for AWS v4 = Amazon S3 Glacier and Amazon S3 Glacier Deep Archive
Veeam Backup for Google Cloud v2 = Archive Cloud Storage
In any of the three solutions, which have the same appearance, we can see how when creating a new Repository, we can select the Storage Class, in AWS for example, you can see S3, S3 Glacier, or S3 Glacier Deep Archive: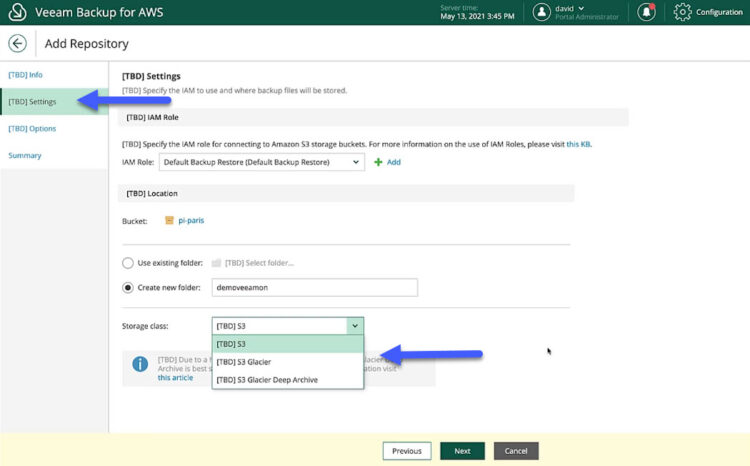 Extended support for cloud-native backup and recovery.
In addition, many of us who are already on Azure, or AWS, use different services beyond Instances, or VMs. With what is fantastic news to see as Veeam has also announced that the next versions of their Cloud-native protection products will include two new services that can now be protected:
We also have a screenshot from the VeeamON demo, in which we can see how the protection of our Amazon Elastic File System (EFS) will look like.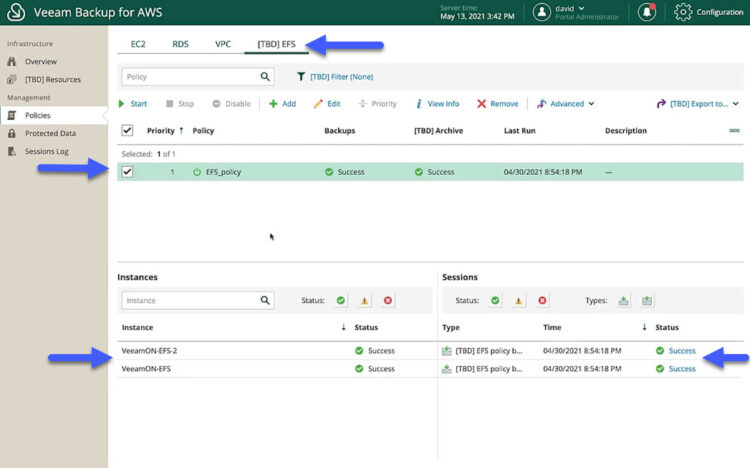 In addition, we were able to see what it looks like when we create a protection policy for AWS EFS.
These improvements for the new versions of the three different products for each Cloud, make Veeam the best, most centralized, and feature-rich solution on the market, not to mention that all these changes and improvements, we can find them in our Veeam Backup and Replication as well, so we can have unified visibility and control: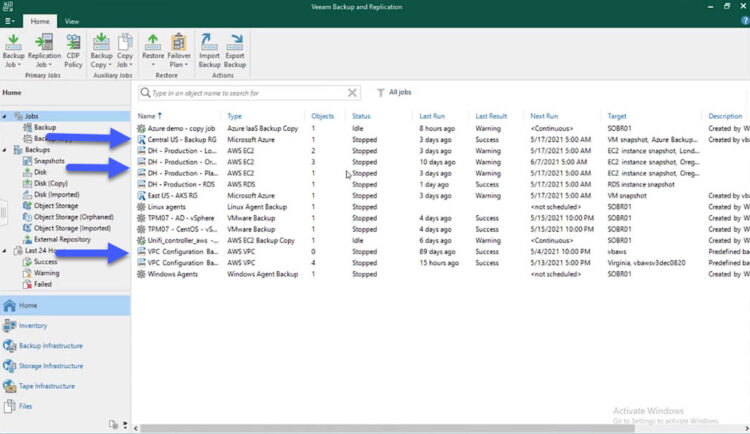 That's all folks, at the moment Veeam has not given a release date for Veeam Backup for AWS v4, Azure v3, or Google Cloud v2.