Greetings folks, during this past VeeamON 2021, Veeam has done it again and announced a new feature that many of us have been waiting for, it is native support for protecting workloads that are on top of Red Hat Enterprise Virtualization.
According to the Veeam press release "Veeam is announcing support for its fourth hypervisor in response to customer demands from key verticals, large enterprises and service providers. This will include powerful data protection capabilities for hyper-converged infrastructures with Red Hat to Veeam Backup & Replication."
Features of the solution.
Modern data protection for Red Hat Virtualization
Reduction of management complexity thanks to standardization of the Veeam control plane
Improved storage utilization thanks to Veeam's intelligent storage repositories
Agentless, image-level backup and recovery of RHV virtual machines
Efficient data protection that leverages Changed Block Tracking (CBT) for greater efficiency
Centralization and management of RHV backups to Veeam backup repositories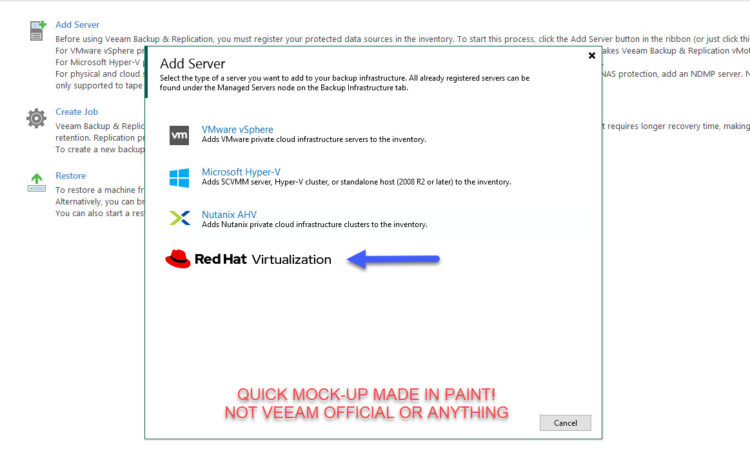 Red Hat Enterprise Virtualization speaking in VMware vSphere terms
The normal thing to do at this point is not to compare the technologies, as many service providers and large enterprises are moving from vSphere to other hypervisors that offer all the functionality that vSphere gives them, at a more competitive price. Likewise, I find it interesting to show you a table where I show you the name of the functionality in vSphere, vs. the name it has in Red Hat Enterprise Virtualization, here we go:
Functionality
vSphere
Red Hat Virtualization
User Interface
vCenter / vSphere Client
Red Hat Virtualization Manager
Hypervisor
ESXi
Red Hat Virtualization Host
Virtual Machine Migration
Virtual Machine Migration
vMotion
High Availability VMs
Yes
Yes
Resource Manager
DRS
Cluster scheduler and policies, affinity
Security
ESXi Firewall, vShield Endpoint
SVirt, SELinux, SELinux
Automation and Orchestration
Available in vRealize
Red Hat Ansible Engine, Red Hat CloudForms
DR Native
Available in SRM
DR Native on RHEV 4.2 and higher
Container Support
Available in Tanzu
Red Hat Enterprise Linux Atomic, and Red Hat OpenShift
Software-defined networking (SDN)
NSX
Integration with Neutron Red Hat OpenStack. SDN Native (open virtual network-OVN) from 4.2
In addition, I find it interesting to leave you a diagram of the components, in this case, it is an environment where we have the Manager (vCenter) in a virtualized way, so we would be left, nothing different from what we are used to:

In addition, the management console is really cool, in full HTML5, and also really fast, I leave you here an image: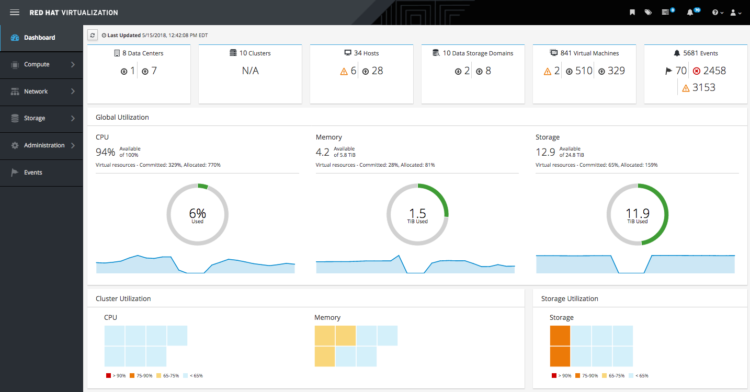 If we talk about Red Hat Enterprise Virtualization, we can also talk about oVirt, the open-source flavor of Red Hat Enterprise Virtualization. It contains all the same components, usually in more advanced versions and maybe not as stable, still, we can deploy it at no cost, and it is the option that many companies have opted for.
Red Hat Enterprise Virtualization versions and maturity level
I wanted to leave you with the most recent versions of Red Hat Enterprise Virtualization, and let you see how it has been progressing:
4.4 – released on August 4, 2020 which includes improved integration with Red Hat OpenShift, among other enhancements.
4.3 – released on May 15, 2019 which includes guest time synchronization, among other enhancements.
4.2 – released May 15, 2018. Brings ease of use, automation and tighter continuous integration with Red Hat's portfolio.
4.1 – released April 19, 2017. Support for the QCOW3 image format.
4.0 – released on August 24, 2016. Rebranded to Red Hat Virtualization.
3.6 – released on March 9, 2016.
As we can see, announcements practically every year, with many features in each one, which reminds us of the VMware vSphere release cycle, more or less.
Guide in Spanish about oVirt, written by Oscar Mas
Back in 2016, Oscar Mas told us everything we needed to know about how to deploy it, components, etc. I leave you all the entries here, so you can take a look:
Opinion and final comments
As final comments, I would like to once again mention how cool I think it is that Veeam is going to provide support for one of the biggest hypervisors in service providers, and large environments. In addition, I think that choosing to officially support only Red Hat Enterprise Virtualization KVM is one more guarantee that Veeam will run smoothly, using a secure and robust platform such as Red Hat.
I believe that KVM, being similar to Nutanix Acropolis, we can expect native Veeam integration through a Backup Proxy that is deployed in the cluster, but nothing has been officially confirmed yet.
Veeam has not mentioned any date when we can expect this expected integration, but as I mentioned before, I think that in the meantime, why not keep an eye on Red Hat Enterprise Virtualization/oVirt? Maybe you will find in this virtualization platform, your present, and future in which you can save on licensing costs, while retaining functionality, besides knowing that we can protect it natively with Veeam very soon. I look forward to your opinions.