Greetings everyone, it was May of 2021 when Veeam announced the upcoming Veeam Backup for AWS v4 with a lot of enhancements, and support to protect new AWS Services, and it is finally GA, meaning that you can go ahead and download it directly from the AWS Marketplace.
Veeam Backup for AWS v4 delivers native, fully automated AWS backup and disaster recovery to effortlessly protect and manage Amazon Elastic Compute Cloud (Amazon EC2), Amazon Relational Database Services (Amazon RDS), and Amazon Elastic File Systems (Amazon EFS) data. Built with cost-effectiveness, security, and scalability in mind, you can eliminate the risk of data loss for all your AWS data while saving big!
Veeam Backup for AWS

v4

– Video Deep-Dive including What's new, Deployment, Configuration, and Veeam Backup and Replication v11a Integration
If same as me, you like the video tutorials, with a description of what's new, a deep-dive, and now even with the sections on the video to move between them, look no further, I have prepared for you a 30 minutes video with everything you need to know:
Disclaimer: This video and blog represent the opinions of Jorge de la Cruz. Views and opinions expressed in the video and blog are my own and do not represent that of our places of work. While we make every effort to ensure that the information we are sharing is accurate, we welcome any comments, suggestions, or corrections of errors.
Veeam Backup for AWS

v4

– EFS Support, Amazon S3 Glacier and Deep Archive, KMS, and more
Amazon EFS support
Amazon Elastic File Systems (Amazon EFS) can be protected using flexible policy-based scheduling and lightning-fast recovery to an exact point-in-time in just seconds to the original location or to a new location. Benefit from backup copies across AWS accounts and regions and protect yourself against outages caused by failures and disasters that affect the availability of file systems that are in the same location.
Amazon S3 Glacier and S3 Glacier Deep Archive Storage Class support
Backup administrators can now automatically tier Amazon Elastic Compute Cloud (Amazon EC2) backups to Amazon S3 Glacier and S3 Glacier Deep Archive Storage for the most cost-effective long-term retention and compliance of AWS data.
AWS KMS support
Starting from this version, backup administrators can now use the AWS Key Management Service to encrypt backed-up data. This improves security and control over the keys and passwords used by the backup policies.
Standalone AMI deployment
Veeam Backup for AWS can now be installed using the AMI deployment method. By utilizing either automatic or manual installation mode, you can customize the installation to your company's needs. This feature is also fully supported via the RESTful API, making it easy to automate the deployment.
Other Enhancements
UI and UX
Updated login screen

— The updated login screen

modernizes the look and feel of the solution.

Full page wizards

— Some wizards were updated to

full-screen size to optimize the process of settings

configuration.

Improved wording of error messages and notifications

—

Updated texts should help users better understand

the potential reasons for issues or misconfigurations

in order to resolve them without contacting

technical support. 

Add to policy

— Speed up policy configuration by easily

adding missing resources to existing policies straight from

the resources view.

Export missing permissions

— Export any missing IAM

role permissions to JSON format when using custom IAM

roles to ensure everything will work as required.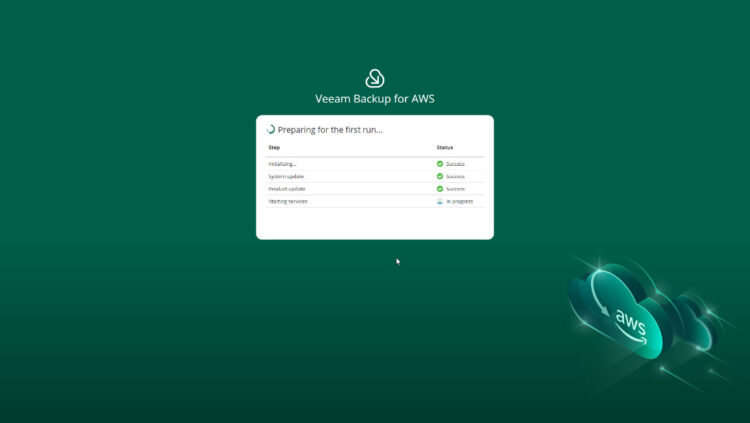 Integration with Veeam Backup and Replication v11a (Still in Early Availability)
Visibility into new workloads

— Amazon EFS policies are

now also visible in the backup console. This allows backup

administrators to have a single data protection view

across on-premises and public cloud infrastructures.

Backup appliance update

— Backup administrators now

have the ability to update managed appliances remotely.

This enables better management and better security for

the entire infrastructure. 

Improved logging

— Technical support logs have been

enhanced to streamline the support experience for

Veeam users.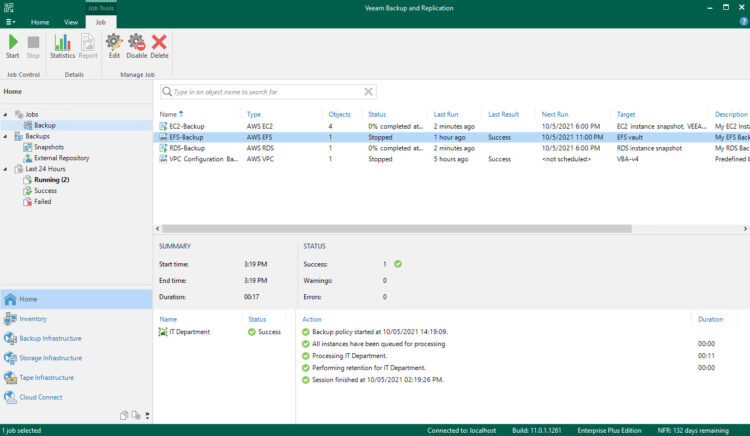 Official Links
Please use the next official links to obtain the latest up-to-date documentation, help, forums, etc.