Greetings friends, during the week of May 16, 2022, Veeam returned to the live conference, VeeamON 2022 in Las Vegas has been a great event, with lots of on-demand material ready to consume, with sessions for those who attended remotely, and with some live sessions with summaries, and preparing the day that left us a very good taste (these sessions were made at 4 and 5 am in the morning in Las Vegas, so we must thank the enormous effort by Veeam).
There have been many announcements, some during the live sessions that we could see, and some others in sessions that could only be seen live in Las Vegas, but I guess they will end up on the VeeamON website to be consumed on-demand.
Today I come to tell you some of the new features that we could see about Veeam ONE v12, as always mention that these features are still under development and the final versions may be different, or even some of the features may not end up landing.
As the post has become a bit dense, I leave you a menu to jump easier:
New features coming in Veeam ONE v12
Now, let's take a look at all the new features, so far, that have been presented during this VeeamON 2022.
Improved support for Veeam Backup and Replication
A complete view of the Immutability of our workloads
One of the improvements we could see in v11a, which I already told you about, was improvements in alarms about the Immutability status in our Veeam Repositories. In v12, Veeam goes a step further and includes an elegant, and loaded with important information, the report called Immutable Workloads.
Before showing you the Report, when we launch the report configuration, we will be able to configure which Immutability period our company requires, and Veeam ONE will show us a report analyzing each and every one of the workloads we protect: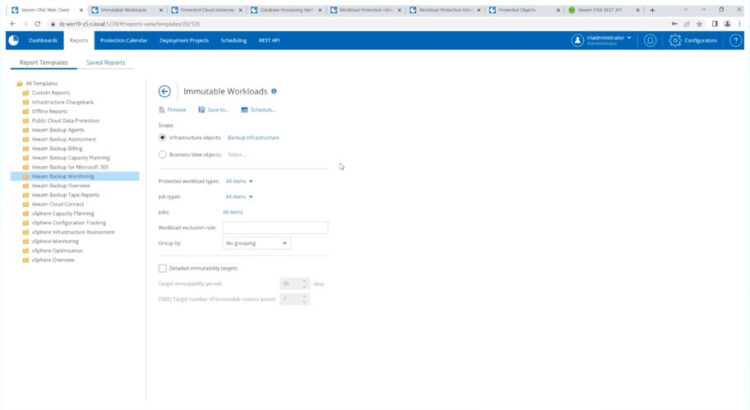 We can now see the report, with all kinds of detail, remember that Veeam ONE reports are always composed of a first page with graphs and diagrams, followed by pages with tables full of important information: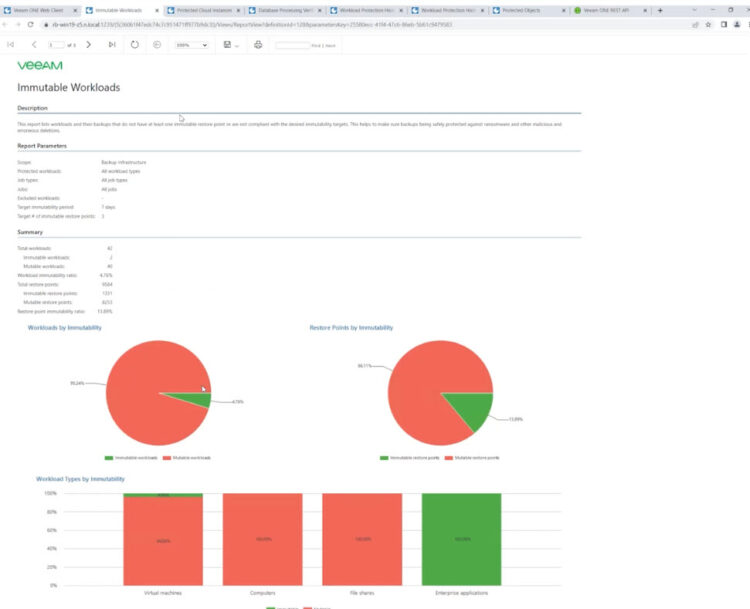 If we move to the next page of the report, we can see something similar to these tables, with all kinds of detail about the type of workload, repository where the copies are located, number of restore points, and dates with the available immutability:

Full visibility over our Enterprise Plugins (Oracle RMAN, SAP Hana, MSSQL Plugin, etc.)
Another improvement included in Veeam ONE v12, which goes hand in hand with Veeam Backup and Replication v12, is the ability to monitor the status of all our databases, or more Enterprise workloads, such as our Oracle RMAN Databases, SAP Hana, Microsoft SQL databases, etc.
We will be able to monitor for example the status of protection policies, when they have been executed for the last time, how long they have taken, etc.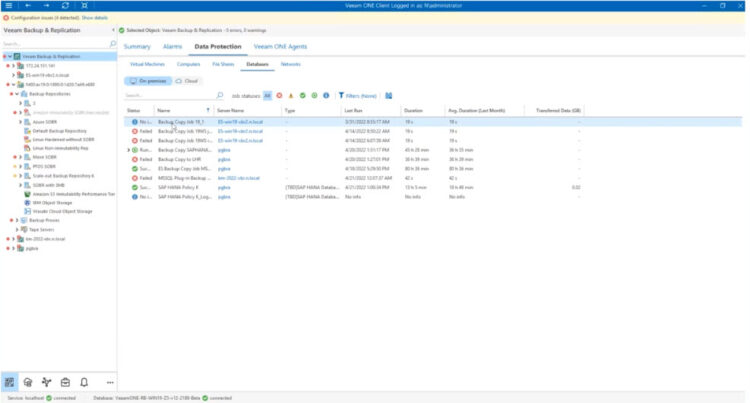 This is great for the monitoring part, if we talk now about the new reports prepared especially for these workloads, we will find a new report called Database Processing Verification. With this report, we will be able to analyze the plugins, the databases that have been processed, etc. On the second page of the report, we will be able to see the databases that have been protected, what type they are, repository, status, etc. A perfect report to send to the DBAs.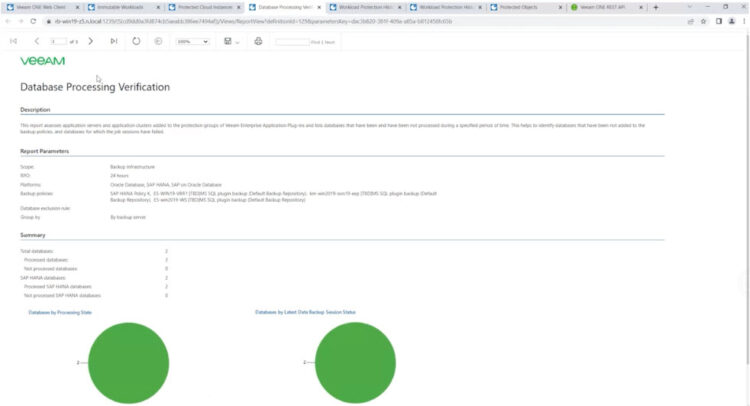 Data transfer in Scale-out Backup Repository when using Capacity Tier
Veeam ONE v12 offers improved visibility for our Data Offload tasks to Object Storage. If you are using today's AWS S3, Azure Blob, or any other Object Storage technology, you will know that to move, or copy, data to this destination, you have to combine a Scale-out Backup Repository, Performance Tier, Capacity, and Archive Tier. Veeam then copies or moves the new blocks to Object Storage in tasks found in the console called Offload Tier.
In Veeam ONE v12, we find a new tab within our SOBR, called Data Transfer, which shows us in detail these operations, their status, how long they have taken, and the final capacity transferred: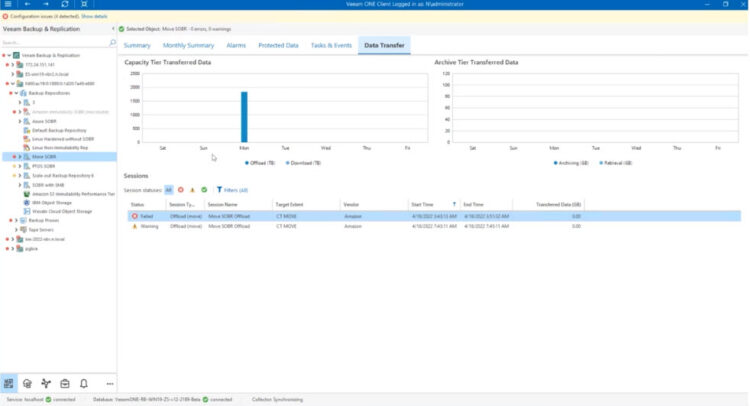 Again, we find monitoring tasks but also Reports so that we can have advanced knowledge for each workload, how much information has been transferred, etc. The particular report is called Workload Protection History, which currently exists, and contains these new columns: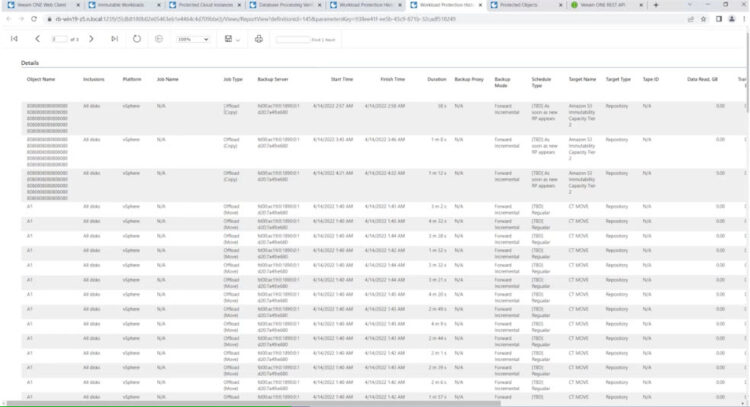 Enhanced support for the entire range of Veeam Public Cloud products
I have already told you once that Veeam ONE is the best technology to monitor the different Veeam technologies, there is no doubt about that. And in Veeam ONE v12 we can see it very clearly. With this new update, we are going to find all the workloads that we are protecting in the Public Cloud, such as EC2, RDS, Azure SQL, and much more, in a single window, for example at the monitoring level, we are going to see our Fileshares in Public Cloud: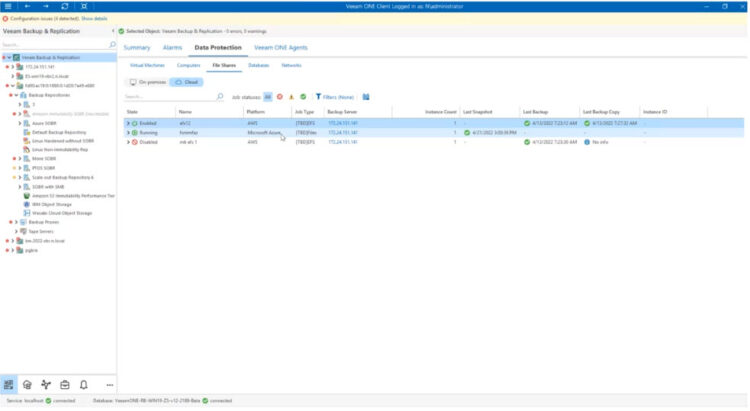 If we want to see how are the backups of our Databases in any of the different Cloud options. Whether it is RDS, Microsoft SQL, or even Google SQL, we can also find it very easily:
At the monitoring level, we see that we have everything we need, now well. Imagine you have a very large environment, with workloads in any of the Public Clouds, and you need a report that looks across all the regions, across all the different Clouds, across all the different types of workloads and tells us what we're protecting, and what we're not protecting. Can you do that with one click today?
In Veeam ONE v12, it's as simple as running the report called Protected Cloud Instances, and it looks this powerful, this report includes all the Public Clouds, with all the different services that Veeam protects: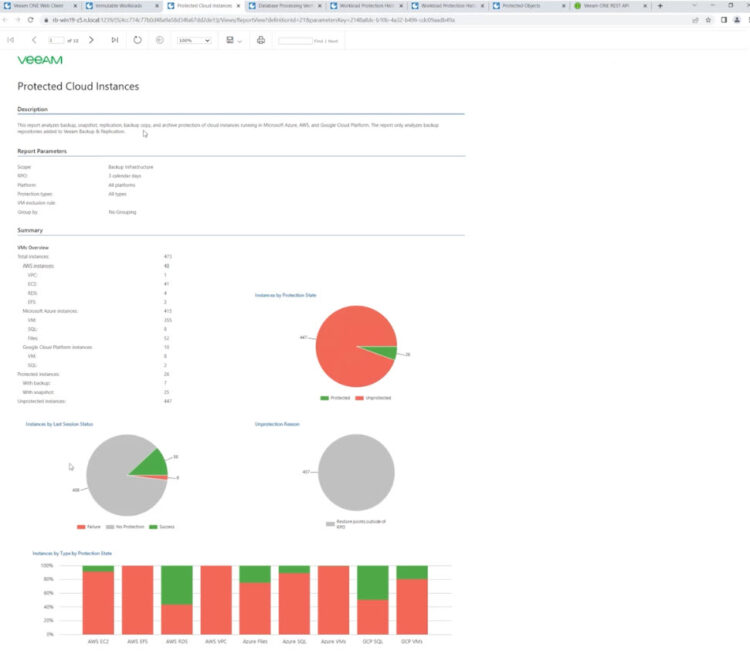 You already know that the first page includes the graphs to make it easier to use, followed by pages with detailed information about the different services protected, or not:

Tracking the scheduling of protection jobs
A new feature that is sure to help us on more than one occasion is called Protection Calendar, and it is located as a new tab on the main screen. With this new functionality, we can see the jobs that will run in the future, everything to the right of the blue bar, and we can see the jobs and their duration in the past.
As a simple example, we have the SAP HANA policy to run daily, it starts at 12 noon, and we see that there are several incremental that have taken just a few minutes, but we also see that we have a full house that has taken quite a bit longer.
In addition to this, the purple bar will show us the number of jobs running at the same time, based on jobs that have already run. So we can adjust our backup jobs much more conveniently, avoiding bottlenecks, etc.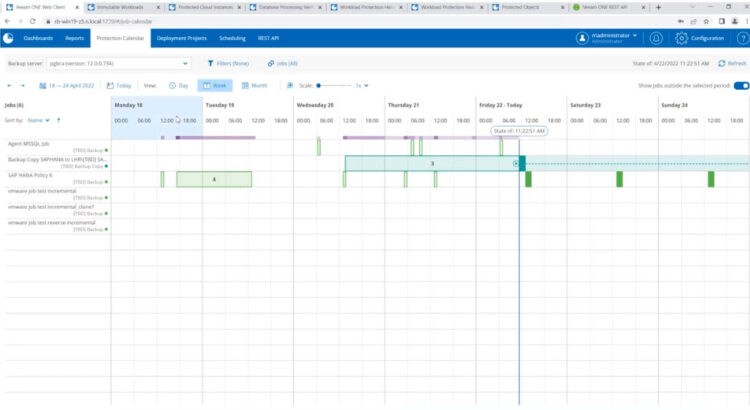 A very powerful functionality, which surely delights those of us who have to troubleshoot systems that are not well configured, or with few resources. Quick visibility that we can show to whoever makes decisions to increase resources, or at least move jobs of hours, etc.
Integration with third-party products and data export
Since Veeam ONE v11a, we can make use of RESTful API for Veeam ONE, in test mode, and not with all the APIs that we would like, however, it has been a very powerful step. Already in the new version 12 of Veeam ONE, we find a much more mature API and fully supported.
The first thing we will find, very quickly, is that we can access our API, the Swagger viewer, directly from the interface:

If we already go to the API, we are talking that it will arrive in version 2.1 or so, we find new sections with many new endpoints that we can call, for example, we will be able to interrogate about VMware workloads, Hyper-v, ask about Public Clouds protection, and so on.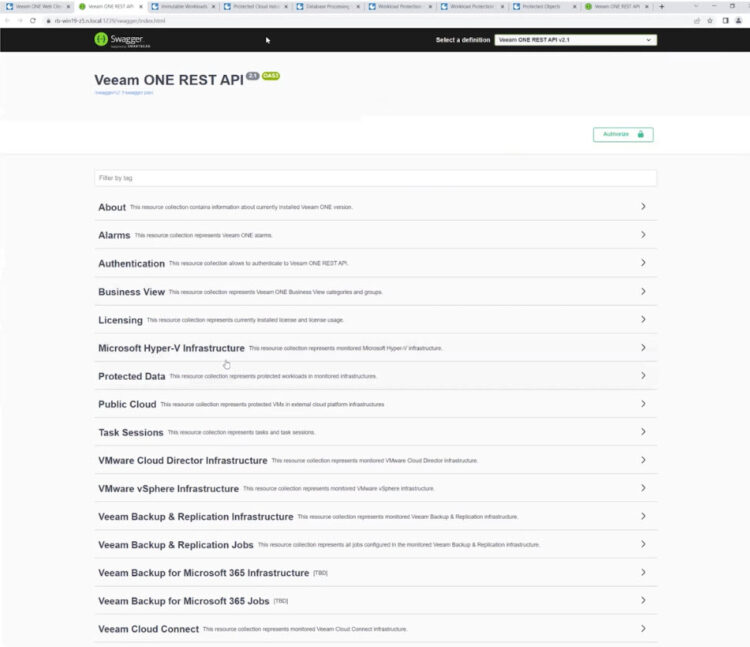 Undoubtedly one of those features that we will be able to connect to our Grafana, InfluxDB, ServiceNow, Splunk, etc.
IPv6 support
Important for those dual-stack environments, Veeam ONE v12 natively supports IPv6, no problem, I leave a screenshot: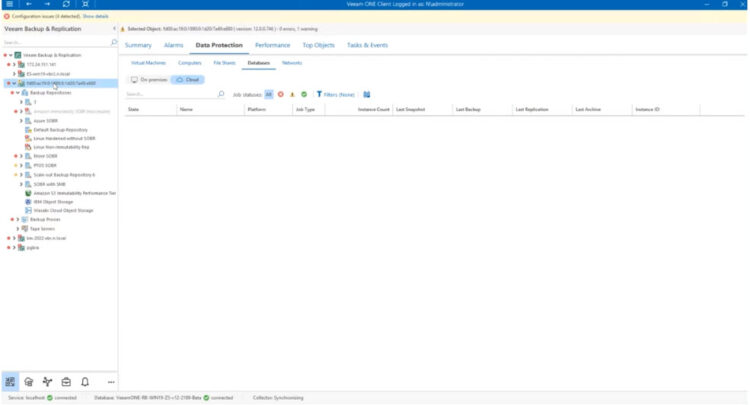 Integration with Veeam Backup for Microsoft 365
Finally, one of the most anticipated new features is the native integration with Veeam Backup for Microsoft 365. We are talking about the typical functionalities of Veeam ONE; monitoring, reporting, and alarms.
Real-time monitoring of Veeam Backup for Microsoft 365
If we go to the new tab dedicated to this functionality, we can see a lot of information related to VB365, we talk about Backup Repositories, Object Storage, and Backup Proxies: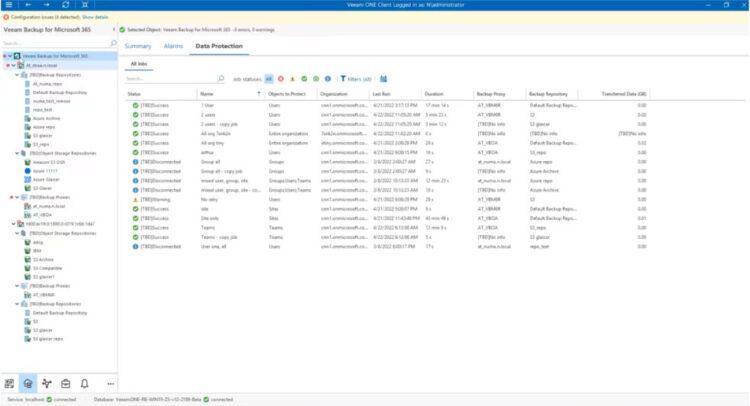 For each of the sections, we are provided with a detailed view of all the information we need about VB365, and about the particular section, for example, Backup Repositories. Details such as the space used, how many users we are protecting, how many SharePoint, Teams, etc.: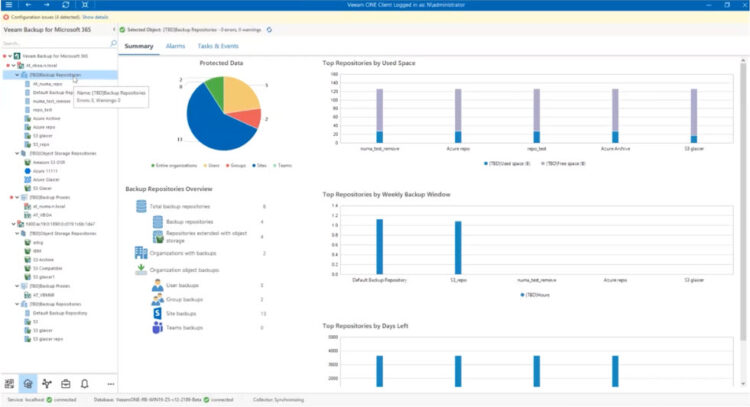 Veeam ONE Alarms related to Veeam Backup for Microsoft 365.
If we talk about Alarms, we can find about 15 alarms, maybe some more, some less depending on when it is released, I leave you the ones that have been shown during VeeamON: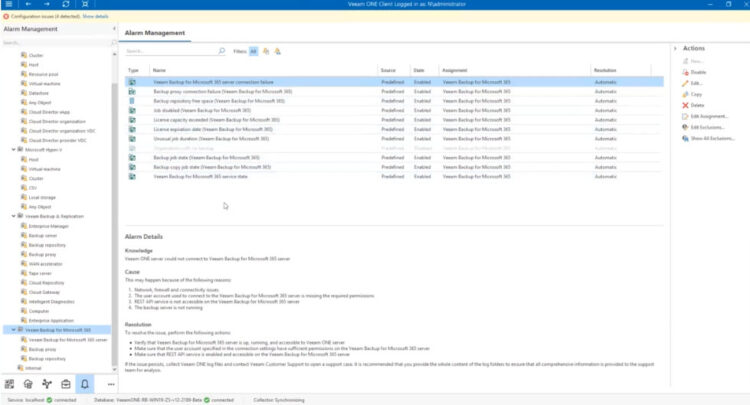 Very useful, and as always, we will be able to send them to Teams or Slack, in addition, to consuming them with the new API that I told you about previously.
Veeam ONE reports on Veeam Backup for Microsoft 365
Regarding reports, for now, it is said that there will be about four, but surely we will see more in the future.

One of the most powerful for me is called Protected Objects because at a glance we can see what we have protected, and what has not within our Microsoft 365 Organizations: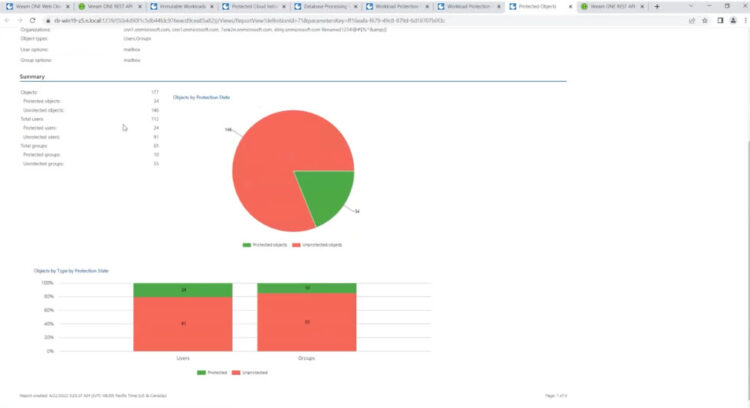 That's all folks, remember that it is still in Beta, and there are a few months left until it is GA, so many things can change. I hope you like it.