Hello friends! I hope you're all having a fantastic day. Today, I am thrilled to share with you some exciting news about the future release of vSphere 8 Update 1. This update brings a range of enhancements to help customers improve operational efficiency, supercharge performance for AI/ML workloads, and elevate security across their environments. Let's dive into the details of this fantastic update!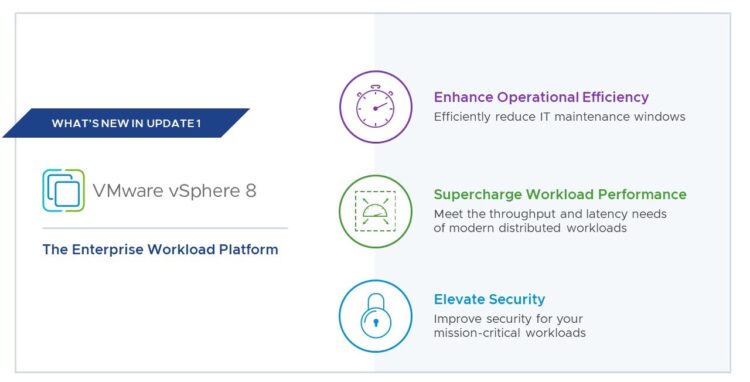 Enhanced Operational Efficiency
As IT admins, we often find ourselves dealing with repetitive tasks that take up our precious time and resources. The vSphere 8 Update 1 release is here to ease that burden and make our lives a bit easier. Some of the key improvements include:
VMware vSphere Configuration ProfilesTM: This feature, which was previously introduced as a technology preview, is now fully supported and generally available. It simplifies host lifecycle management and reduces manual work by using a JSON file for a declarative model. Managing host configuration, compliance, drift remediation, and security standards has never been easier!

Integration of VMware SkylineTM Health DiagnosticsTM with VMware vCenter: This integration makes the self-service diagnostic platform more accessible to admins, helping them diagnose issues, resolve failures, and run health checks automatically, all while improving workload and vCenter availability.
Heterogenous vGPU Profiles on the same GPU: This update allows admins to assign different application types to vGPUs on the same physical GPU, improving GPU utilization, reducing workload fragmentation, and cutting costs.

vSphere Green Metrics: This feature, which tracks power consumption, has been enhanced to provide VM-level data, allowing admins to monitor and optimize workload power consumption at a VM level and contribute to their organization's ESG goals.
Supercharged Workload Performance for AI/ML
Organizations running AI/ML workloads are facing growing challenges due to increasing workload sizes and GPU demands. vSphere 8 Update 1 addresses these challenges with:
Elevated Security
Maintaining security in today's landscape can be quite time-consuming. vSphere 8 Update 1 enhances the security of mission-critical workloads with:
Okta Federated Identity Management for vCenter: This capability expands vCenter support for 3rd party identity providers to include Okta, improving both efficiency and security for your environment.
Support for Fault Tolerance of VMs Employing vTPM: This update ensures continuous availability and security for mission-critical VMs by supporting Fault Tolerance for VMs using a vTPM module.

vSphere 8 Update 1 is expected to reach initial availability later this fiscal quarter ending in April, with general availability to follow. I can't wait to see how these updates will help us as IT admins, enhance our operational efficiency, and supercharge our AI/ML workloads. Stay tuned for more information, and as always, feel free to reach out if you have any questions or comments. Have a fantastic day!