Greetings friends, I have already told you about my recent migration to Microsoft Office 365, after many years in other technologies the truth is that moving to Microsoft Office 365 is a breath of fresh air, today I want to show you those features that have surprised me for good and I am sure you will love if you migrate.
Start Menu – Quick access to Apps
The small welcome dashboard is greatly appreciated once you log in to Microsoft Office 365, with all the applications there, with the latest files edited and uploaded to OneDrive, the ability to upload new ones, and above all the ability to install desktop applications from here.
Not only that, from any online application, we can click on the top left corner, where the 9 little squares, and we can see the shortcuts to all the applications too, it goes without saying that I use this every day.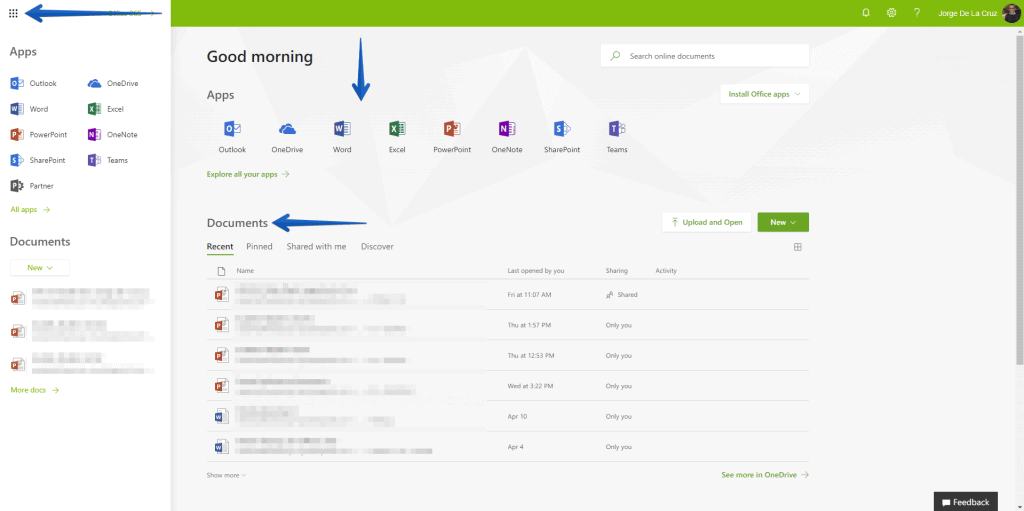 By the power of Grayskull – real-time preview and editing of attachments
One of my favorites, the typical case in which they send us slides, spreadsheets or Words, for quick review, with Microsoft Office 365 you have Microsoft Office Online included, which is basically the Office applications that we like so much, but in our browser, without plugins or complications.
This functionality of Microsoft Office 365 makes online collaboration the most important thing, as well as increasing user productivity, let's see how you can preview an element of Microsoft Office 365.
In our Inbox we receive an email with an attachment, or several, which are Microsoft Office files, we can preview, download or save the file directly to our OneDrive.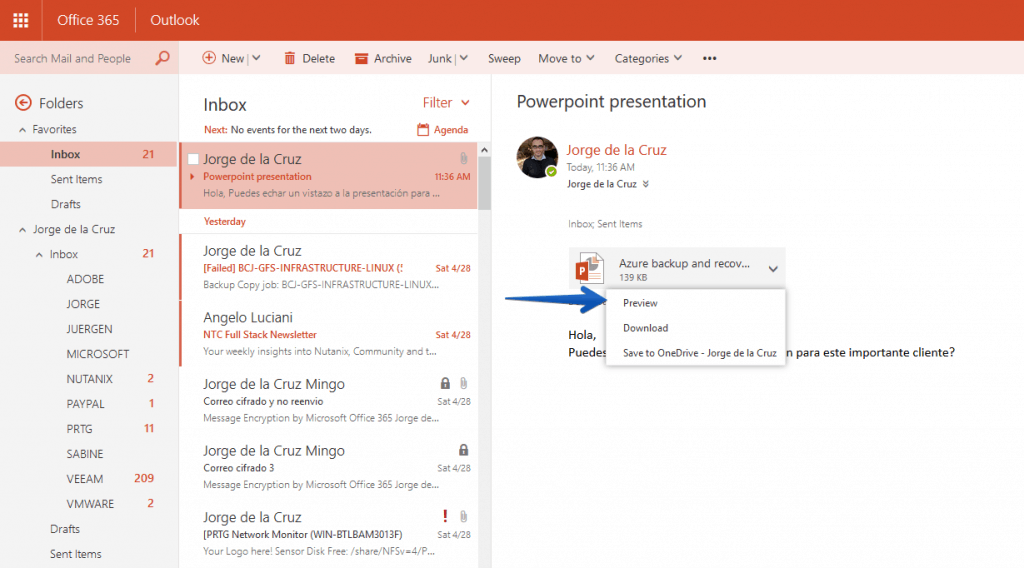 If we do a preview, we can see this file in a very simple and elegant way, we can start a full screen presentation, download as a PDF or simply add some comments for the rest of the team to see and add their feedback: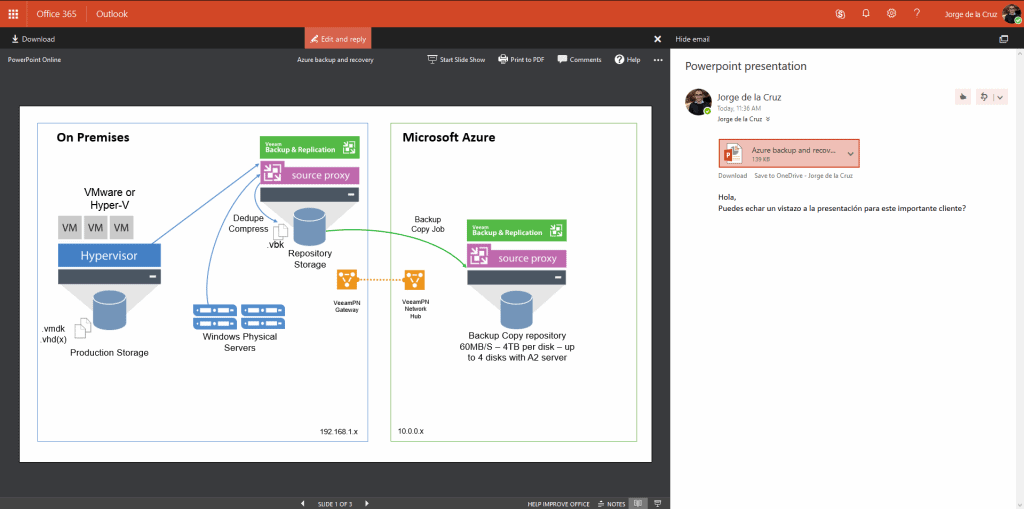 But that's not all, since Microsoft Office 365 allows us to edit this file in real time, so we'll go to the red Edit and reply button above, which will make Microsoft Office 365 generate a new file that we can edit (this would not be necessary if the file comes from our shared OneDrive).
It is the most powerful thing I have ever seen in a web application, as it loads absolutely all the features we would use in our heavy desktop client, in a few seconds and online.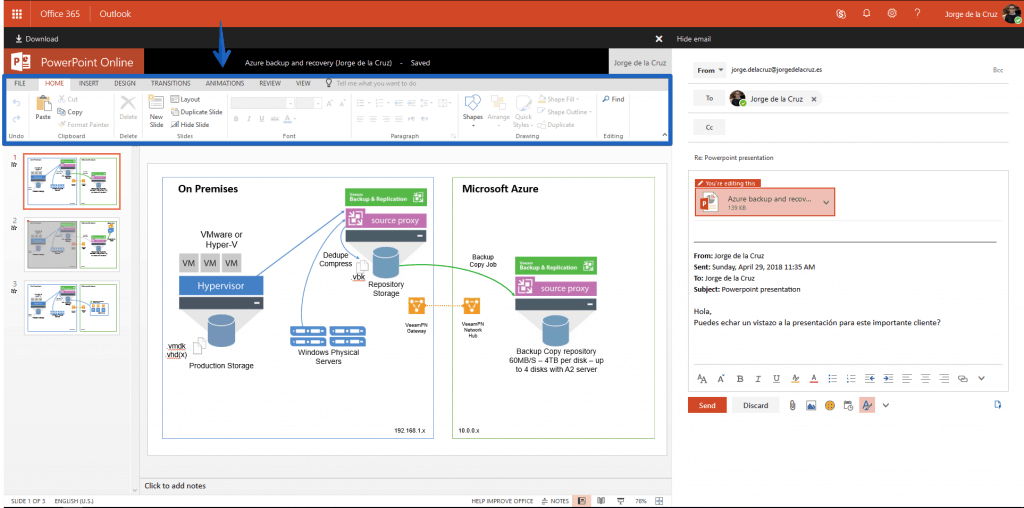 Once we finish editing, we can send this edited and corrected file back to the computer or person who needs it, we have not had to use our local desktop, not even be in Windows, not even of course have anything installed, only our browser, WOW!
Attaching files is easier, and more powerful, than ever
Attaching files to an email is one of the most basic and recurring options we use every day, Microsoft Office 365 has seen how important it is to have a more efficient workflow for this daily task and includes 5 different methods of attaching a file to emails, let's see them all.
1.- From OneDrive: As is logical, Microsoft Office 365 allows us to attach folders, or files from our own OneDrive, which is in full sync with our computer, mobile phones, etc. Very powerful!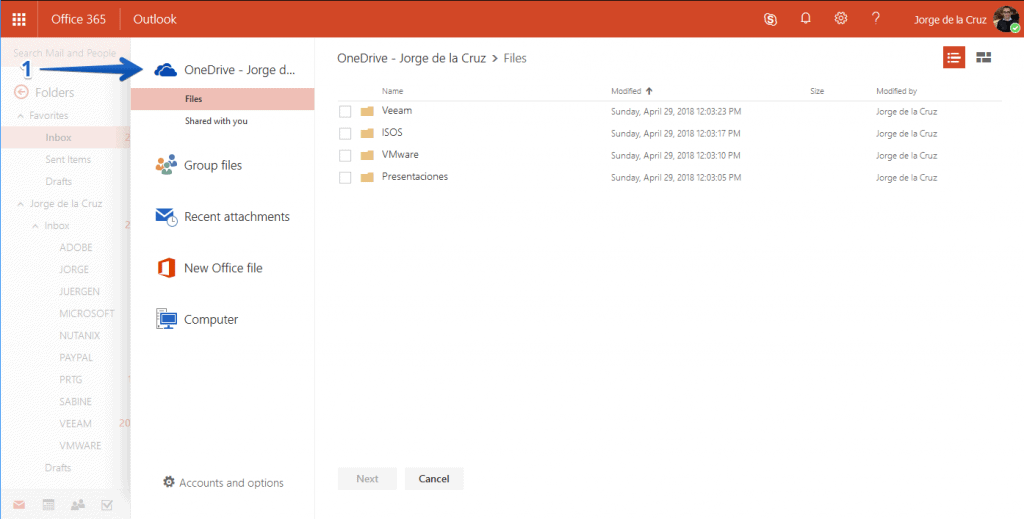 2.- Group files: In case we have documents shared between several users, here we can select and attach them.
3.- Recent attachments: Very useful, Microsoft Office 365 will allow us to attach a file from our list of last attachments, so that we can see at a glance the last files, and then attach them to this new email.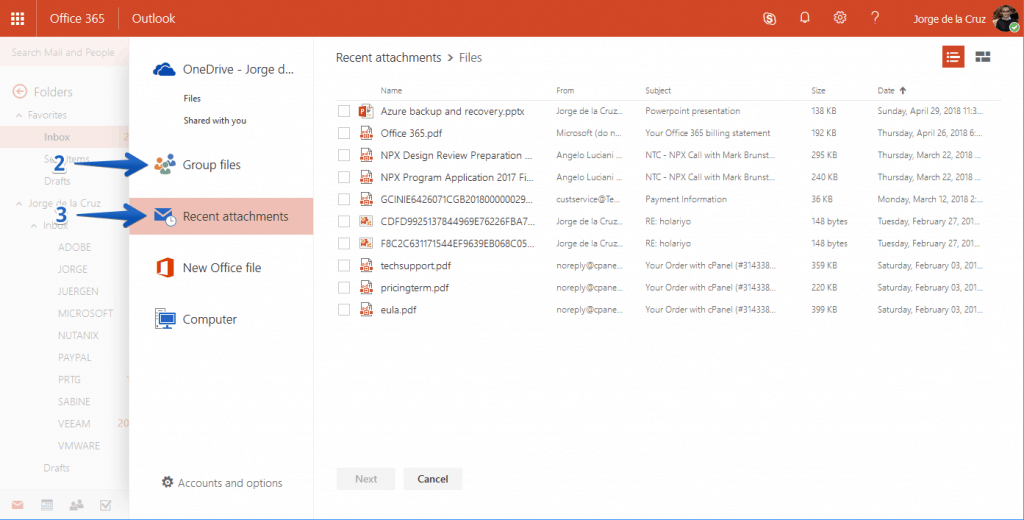 4.- New Office file: If we do not want to attach any file already created, we can always use the powerful tool already included, Microsoft Office Online, and compose our own text file, spreadsheet or PowerPoint presentation, and then attach it, as simple as that and from the browser: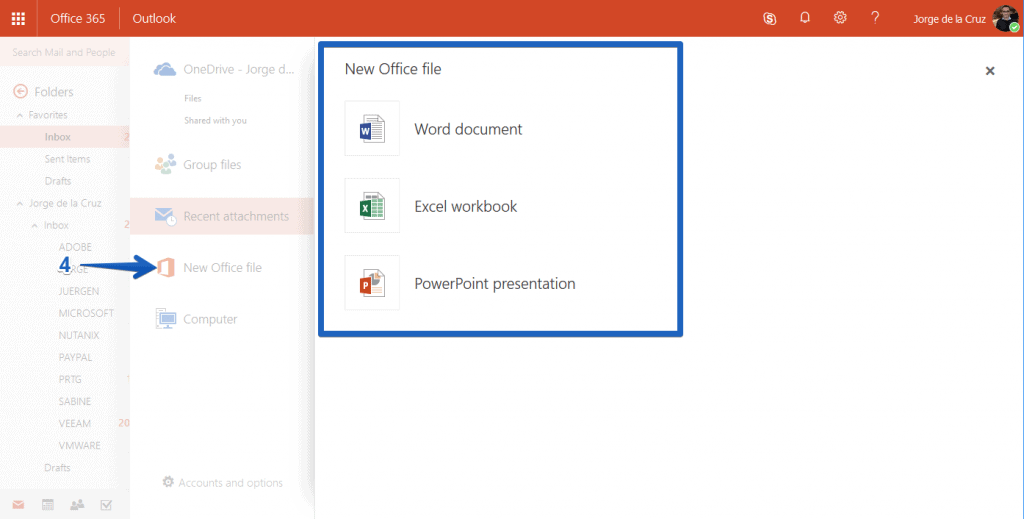 5.- Computer: Attaching from the computer of a lifetime, nothing from another world but still the general trend.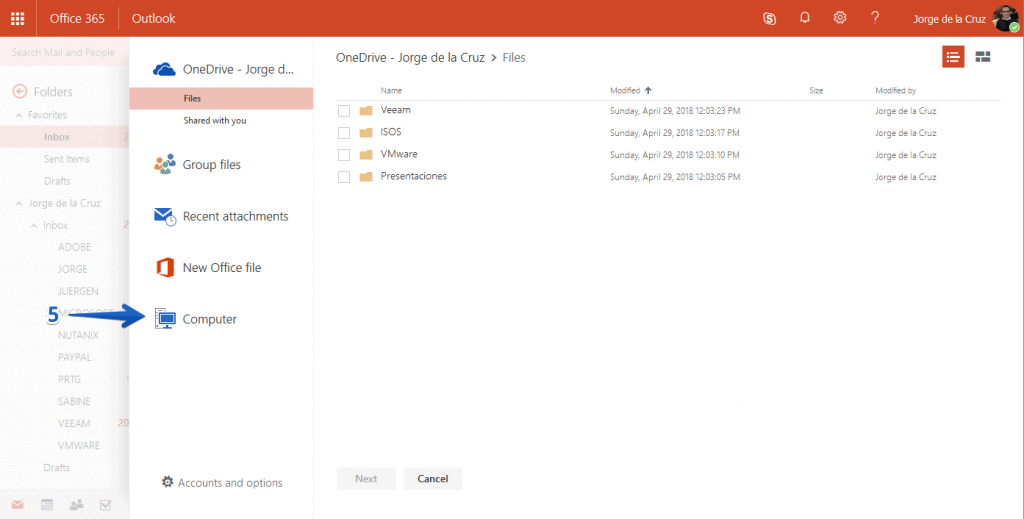 Finally mention that in the flow of attaching files, we can always attach the file to the email, or on the contrary send a link to OneDrive so that it does not saturate the recipient's mailboxes, etc., another WOW for Office 365.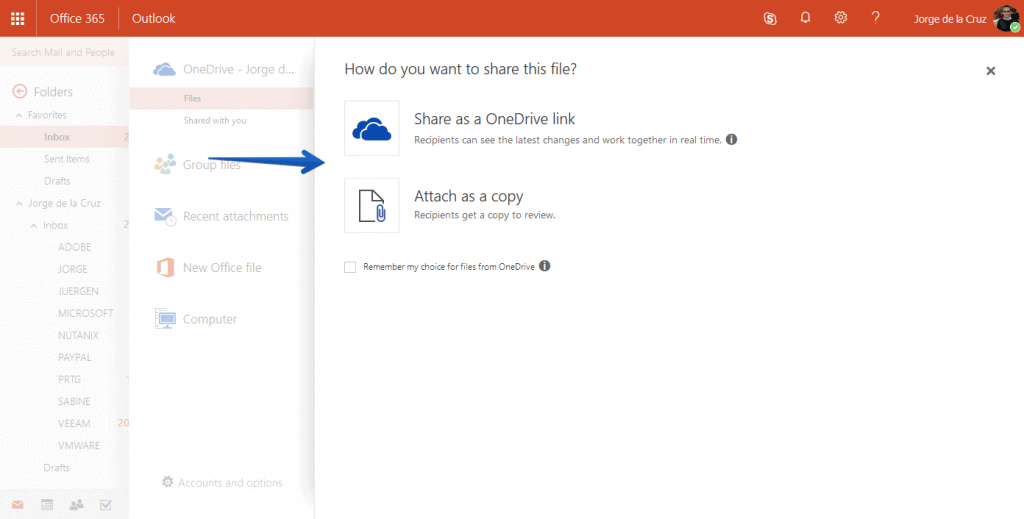 Chat and video chat, all integrated into the web client thanks to Skype for Business
Communicating with the rest of the team, or even external contacts is vital, and if it is in real time much better. Microsoft Office 365 includes advanced Chat features in the Web client itself, as simple as clicking on the Skype S to see who's online and start chatting: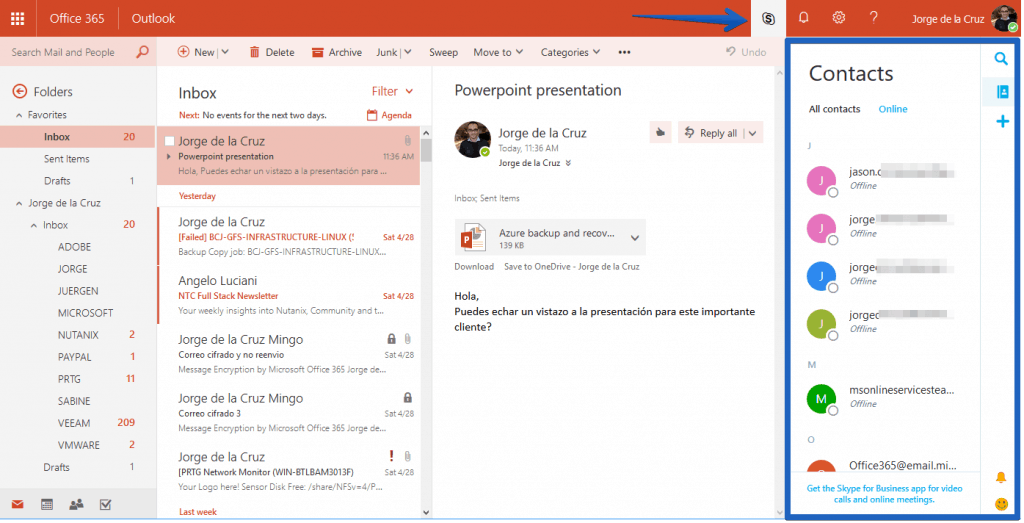 Add-ins – extending Microsoft Office 365 to each user's needs
If we are talking about extensions, or plugins, there are not many products that allow customization of the user experience. But Microsoft Office 365 not only allows it, but also launches itself into the pool completely thanks to its Add-ins, which can be found in the preferences tab – Manage Add-ins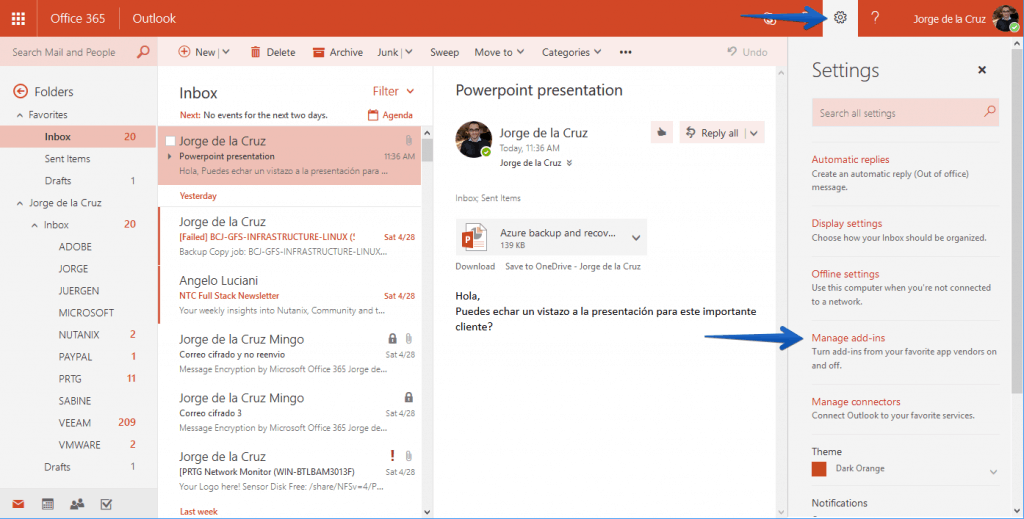 The list of Add-ins is very extensive, and we find some well-known applications such as Evernote, Adobe Sign or DocuSign: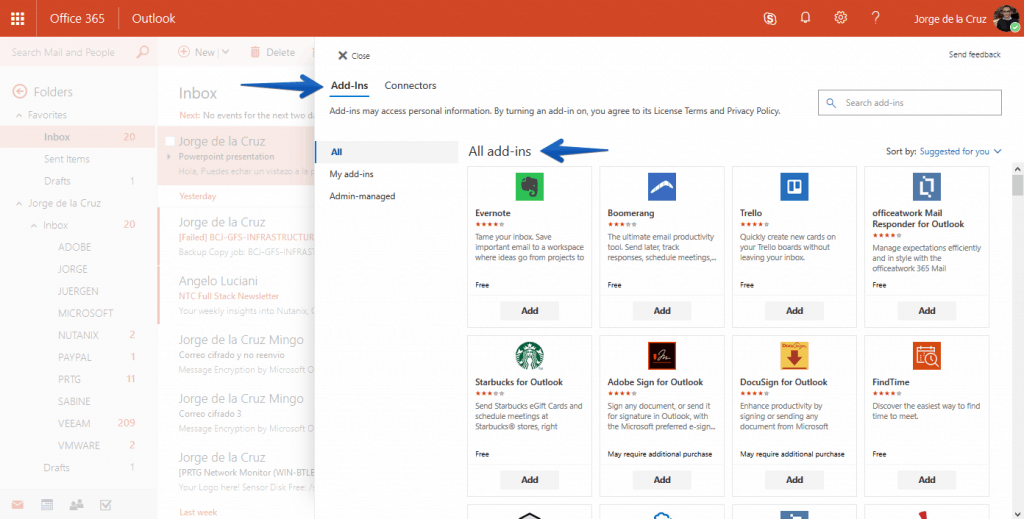 In this quick example I added two of my favorites.
Boomerang that allows us several additional options such as are:
Schedule the email to be sent later.
Reminder of emails we have not responded to.
Inbox pause: A feature that allows us to no longer receive email to focus on what is important.
Acknowledgement of receipt: Boomerang will alter whether the email has been opened or not.
Email quality: Boomerang will show us certain values that will tell us if our email is "well written" or not.
You can read more about boomerang in the next blog post.
Translator, which as its index name allows us to translate any email into another language, in a simple and efficient way, let's see a quick example:
Extending Outlook Web Access with connectors for Outlook
If you liked the Add-ins, there are other integrations called Outlook Connectors, which are integrations with official services such as GitHub, Salesforce, Aha! etc.
From the preferences menu we will go to Manage connectors: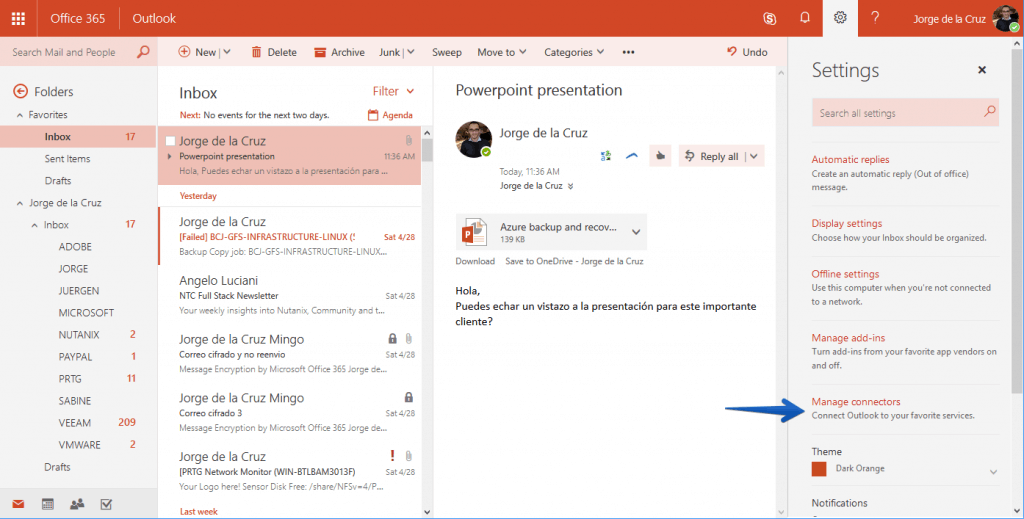 There we will be able to see all the connectors, in my case I will select RSS, because I like to read my RSS in my Inbox: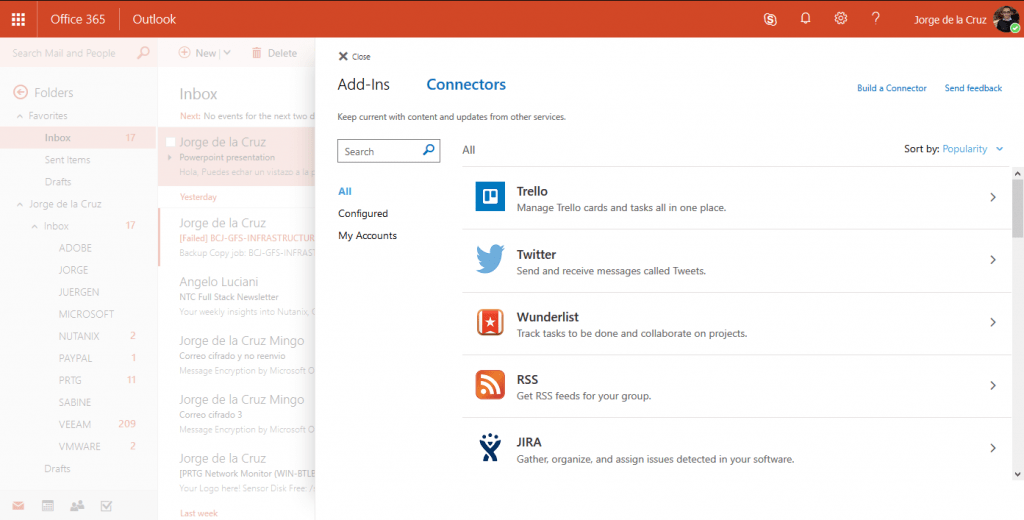 We will select the name we want for the RSS, the URL and the frequency: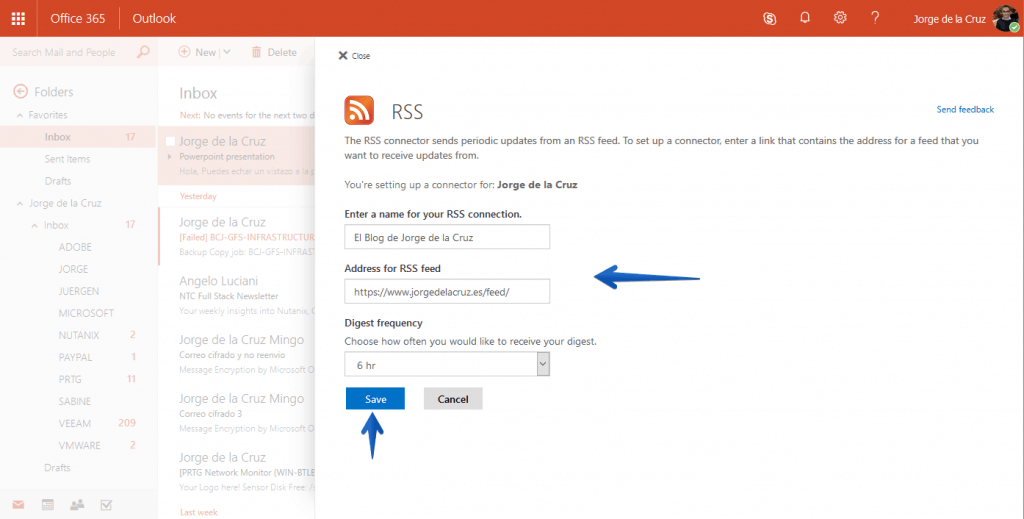 And we will begin to receive the Digest, and updates every day of this RSS, as simple as that: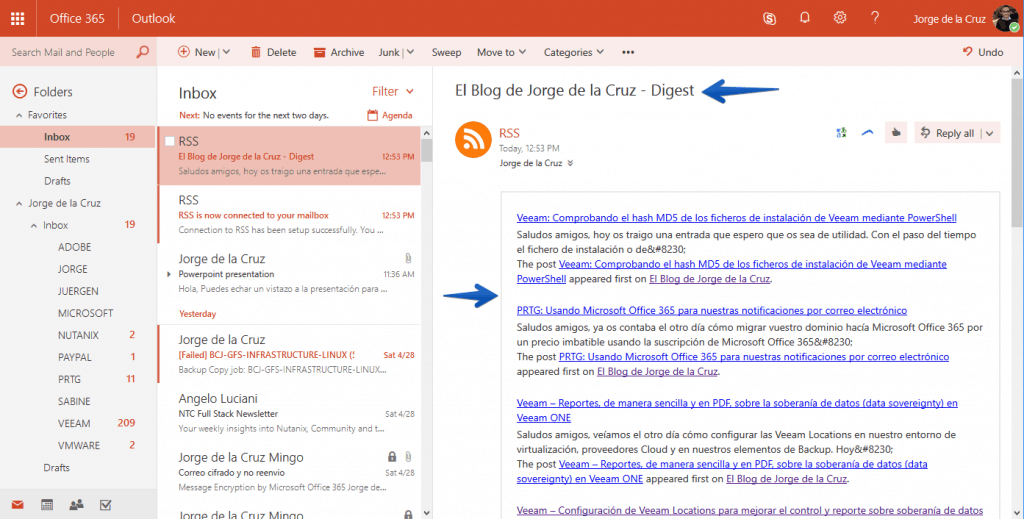 That's all friends, I hope you liked this review of the best features of Microsoft Office 365.