Greetings friends, with the upcoming launch of GDPR, many of the companies that use Veeam or service providers using Veeam are facing many new challenges, in this Blog I will not discuss all the challenges that a regulation like GDPR has, but how Veeam can help.
Since the release of Veeam Backup & Replication v9.5 U3, Veeam has included a new feature called Locations, which will help us with the task of marking infrastructure elements and backup elements, so that we can visualize all this later. When we are performing Veeam tasks once we have the Locations configured, we will be able to see a warning in the jobs that will allow us to check if we are not sending backups to sites where the new regulation does not allow.
The elements that we can assign Locations are the following:
Elements in Virtual infrastructure: vCenter Servers, datacenters, clusters and hosts.
Backup infrastructure elements: backup repositories, scale-out backup repositories, tape libraries and tape vaults.
Elements in Agent management: protection groups.
Veeam Cloud Connect for service providers: cloud repositories and hardware plans.
Configuring Veeam Locations in Veeam Backup & Replication v9.5 U3
As mentioned before, we will need Veeam Backup & Replication v9.5 U3 or higher to configure the Locations. We will go to Home – Inventory and click on Locations:
Once in the Locations menu, we can add as many as we need for our environment:
Assigning Veeam Locations in virtualization elements
We can assign the Veeam Locations to different elements, the first and most important is to assign the Locations to the virtualization elements and to all the VMs within these environments, for this, from Home – Inventory – Cluster or Host we will right-click and select Location: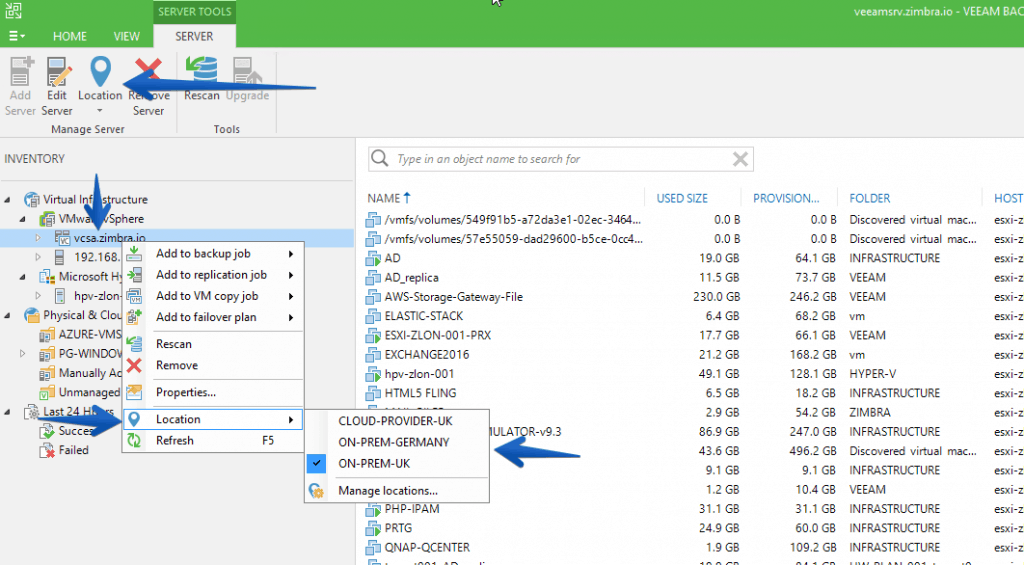 It will ask us if we want to assign all the sub-elements to this Location too, so that all the VMs inside are marked as being in my UK Datacenter:

Assigning Veeam Locations in Veeam Agents controlled with Veeam Backup & Replication 9.5U3 Console
From Veeam Backup & Replication v9.5 U3, you can also manage all the Veeam Agents of the Veeam console, in a very comfortable and efficient way, you can assign a Location to Veeam Agents elements in a very simple way, as always we will go to Home – Inventory, and from the Physical & Cloud Infrastructure menu, we will click on the element that we want to assign a Location: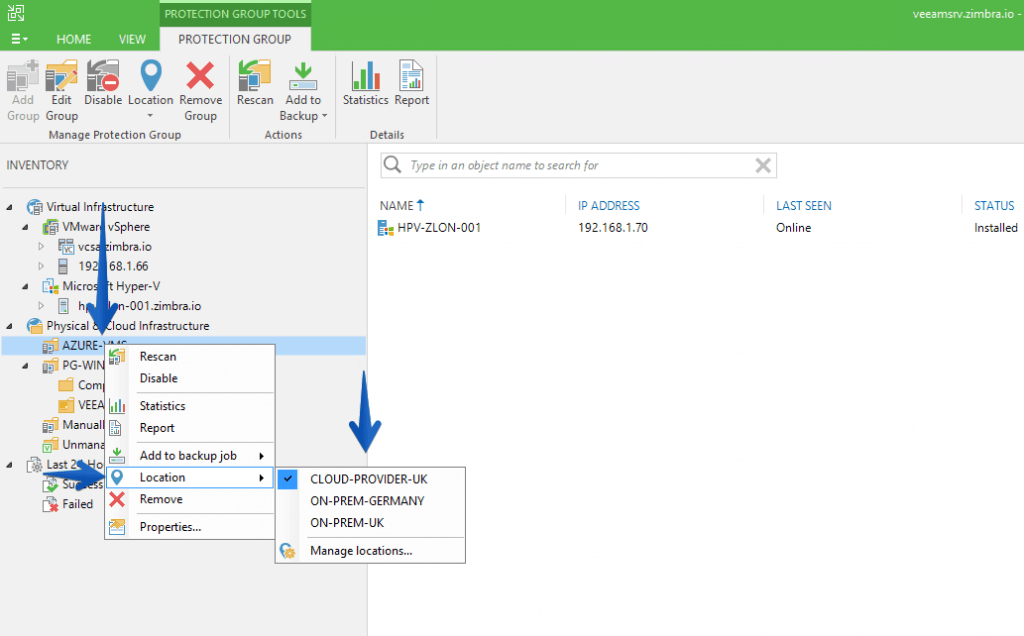 This Location will be assigned to all the Veeam Agents that the Protection Group contains, in my case it is a Hyper-V that I have virtual in Microsoft Azure.
Different Locations can of course be assigned to different Protection Groups.
Assigning Veeam Locations in Backup elements
Last but not least, we can assign Locations to all the Backup Repositories we have in the environment, for this we will go to Home – Backup Infrastructure and select the Repository we want, and assign the different Locations.


Assigning Veeam Locations in Cloud elements
Finally, I would like to show you how to apply Veeam Locations to our Veeam Cloud provider, to do this from Home – Backup Infrastructure – Service Providers, we will select the service provider(s) and assign a Location to them:
Export or import the Veeam Locations list
Imagine that you have an environment with several Data Centers, where there are multiple Veeam Backup & Replication Servers, for this we can export the list of Locations from one VBR, and import it into another, as simple as going to the Locations menu and clicking on Export or Import: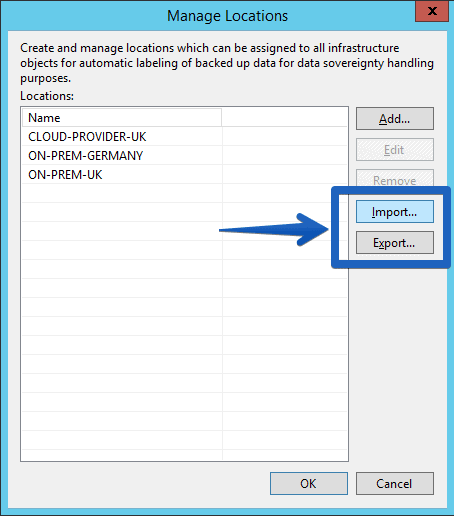 Warning when selecting a resource that is located in another Location
When you are creating a job within Veeam, selecting the Veeam Repository will automatically check between the source of the VM or hardware and the Repository, allowing you to show a warning to the Backup administrator that a violation is occurring between the source and destination of the data: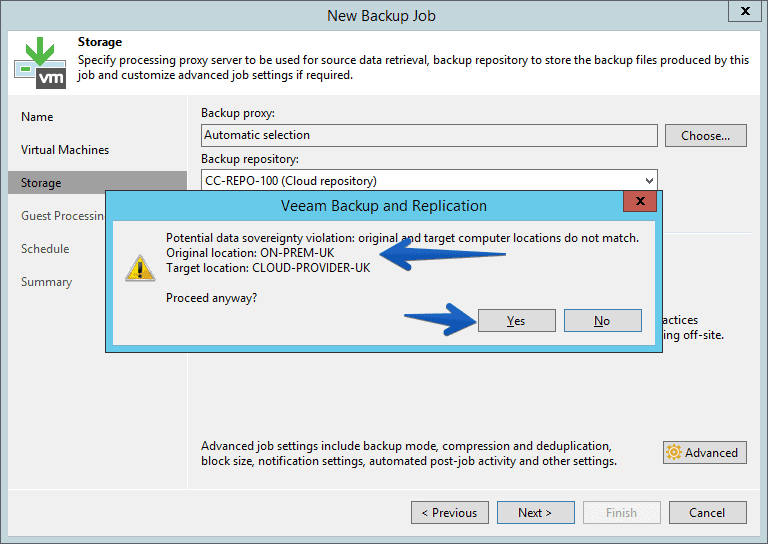 Notification messages in Veeam jobs to warn the administrator
If the backup manager still ignores this warning, it will be displayed in the Veeam job summary: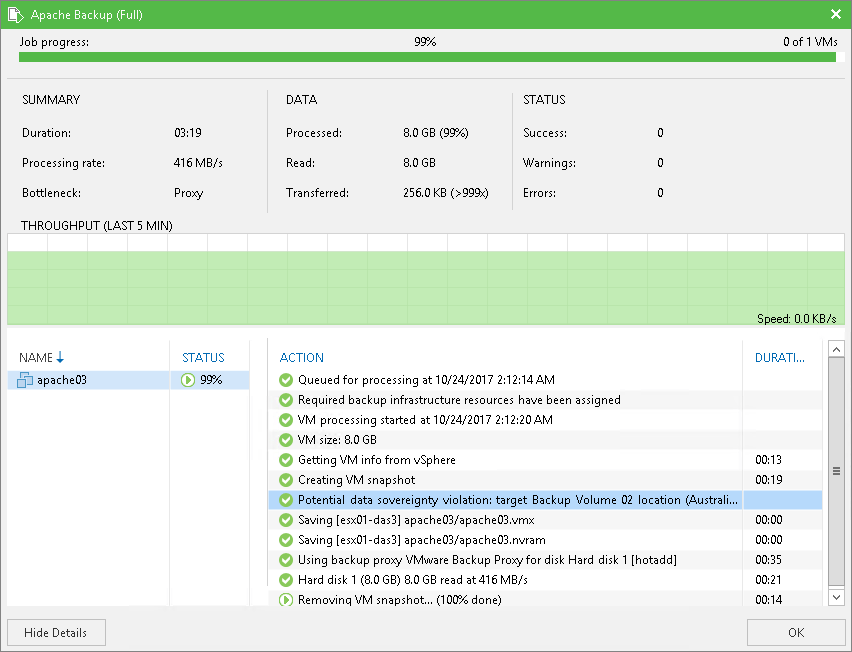 Once we have all the elements of Veeam in their respective Locations, we can go to Veeam ONE and create the necessary reports.
To do this you can visit the following blog post.