Greetings friends, I was lucky enough to present the Webinar for Veeam called top 10 best practices for VMware vSphere Backup. In this nearly one-hour webinar, we'll see ten tips, each important, on best practices for getting the best results when backing up VMware vSphere with Veeam Backup & Replication.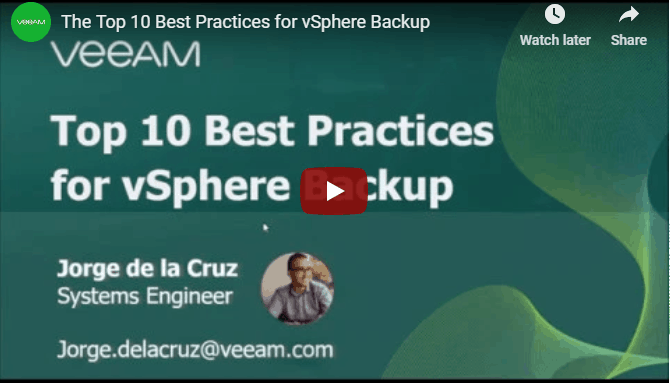 Webinar Description
Virtualization is becoming more and more important. This is why all of us need to deal with professional data protection. In this webinar for IT professionals, you will learn everything about backup and the top 10 best practices for your vSphere environment, according to Veeam.
In this webinar, we will answer these questions:
Which backup mode best fits my infrastructure?
What are the options for restoring my data?
What are the benefits of Veeam Storage Snapshot integration?
How do I perform a professional vSAN Backup with Veeam?
And more!
I leave you here the recording, I hope you like it:
Related Links
Some good links which you can find insde the slides as well are:
Thank you so much, if you have any questions about the Webinar, or about the Best Practices for vSphere, please feel free to drop me an email.