Greetings friends, today I bring you a very interesting post, I have commented in several articles all the power of Veeam Capacity Tier, which allows us to leverage Object Storage providers to store large amounts of backups that usually require long retention, months, semesters, or years. In addition, for some time now, Capacity also allows us to have an exact copy of an on-prem repository, and in some cases to have immutability enabled.
Many of you, and in the Community, have wondered if we can use storage that we have in our Datacenters that offer Object Storage services, and the answer is yes, of course, as long as the product publishes the S3 service following modern standards it should work. Veeam has an official list of products and solutions that you can deploy in your Datacenter.
And it is from this list that I have taken one of the products that have caught my attention, due to the company behind it, QNAP, as I have it on good authority that they have a lot of market share, especially in SMBs.
How to deploy QNAP QuObjects, plus configuring it in Veeam to be used as Capacity Tier – in video
I know many of you like step-by-step with detailed explanations, and video commentary, so here is the whole process, some tips, and so on. I hope you find it helpful.
How to deploy QNAP QuObjects, plus configure it in Veeam to be used as Capacity Tier – in images
For the rest of you, I also know that many times doing a quick scroll through the blog and viewing the images saves you many minutes of watching videos, so here are the steps.
Installing, and Configuring QNAP QuObjects
Here we go! From our QNAP, we will go to the AppCenter, and install QuObjects: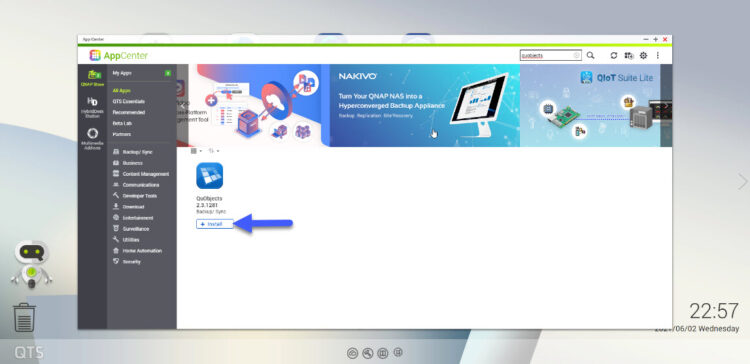 It will ask us where we want to install our application, as it is small in terms of space, install it where you have other applications. The application per-se if it consumes more RAM and CPU of the QNAP, take it into account: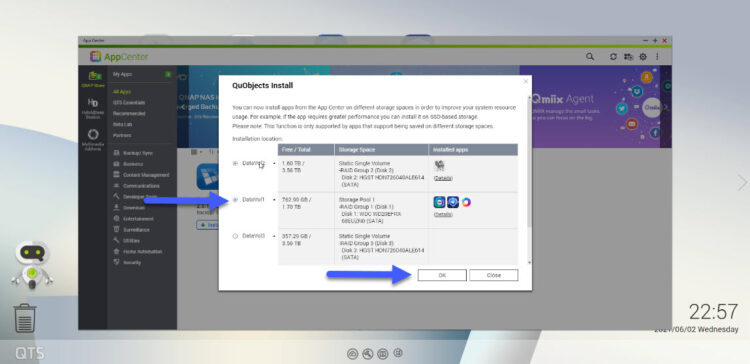 Once the application is installed, we run it, and we will see a short wizard, quite elegant that surely helps us to understand a little more, what QuObjects is, how it works, etc.
The steps to properly configure QuObjects are very simple, first, we create a user. Which is really reusing local users, or AD users if we have connected the QNAP to our AD, once we have the Users, with the key icon, we create Access Key and Secret Key, in just a few seconds: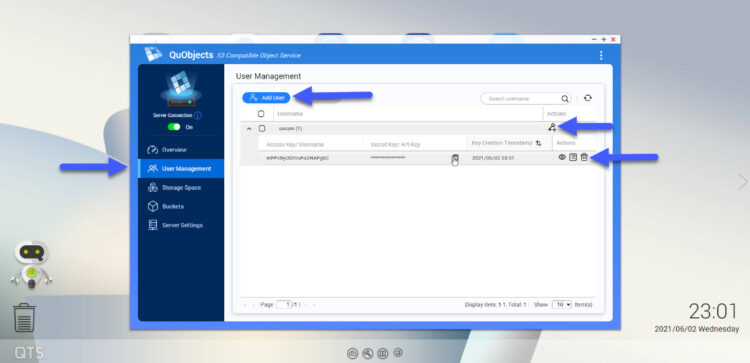 The next thing will be to create what QNAP calls Storage Space, we can reuse spaces we already had, but if we have other files, other permissions etc. I prefer to create a new one: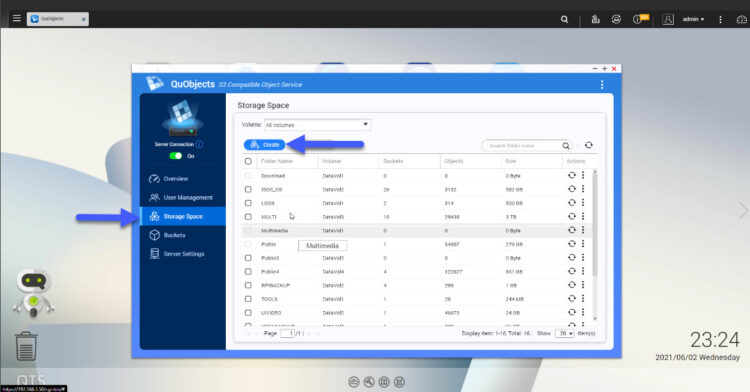 Creating a Storage Space is no big deal, we give it a name (which we will need later), tell it what volume, and associate it with the user(s) who will have access: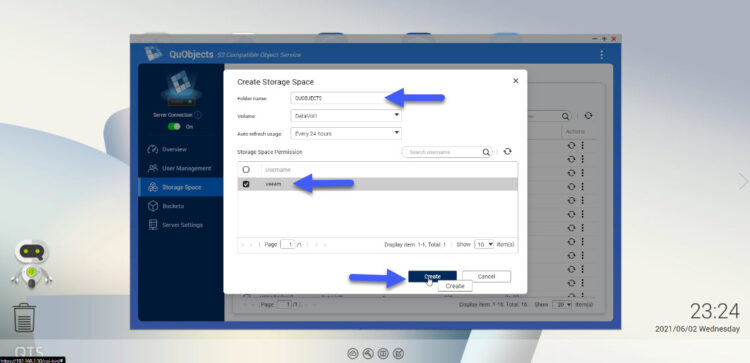 Finally, we will create a bucket inside the Storage Space, we can create as many as we need: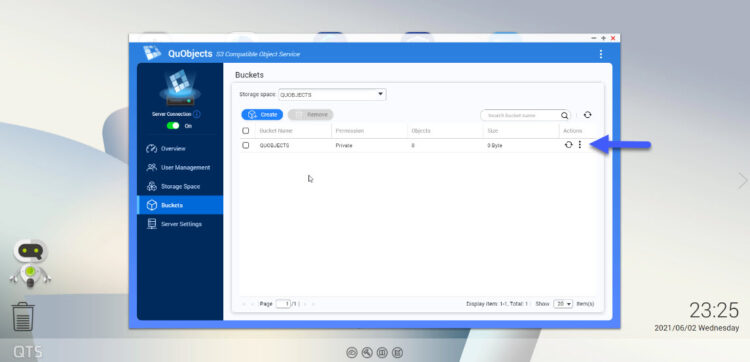 If we go to Server Settings, we can copy the URL, and port of our QuObjects, plus we can give it a custom port, and even play with the vhost if we want to use a valid SSL, etc: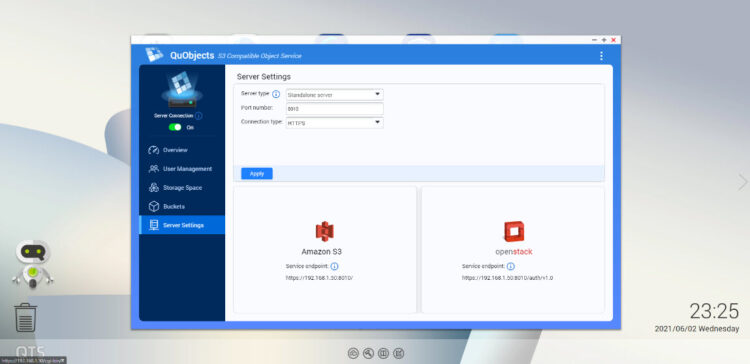 We've got the QNAP QuObjects part down! Quick, isn't it?
Add new Object Storage Repository in Veeam Backup and Replication
I wanted to mention to you that Veeam has announced official support for QNAP QuObjects, but you have to look at the hardware that is recommended! 10GbE, or at least 2.5GbE, SSD, etc. Please read the official HCL before opening cases with Veeam due to performance.
Creating an Object Storage repository is always very simple, from the console in Backup Infrastructure – New Object Storage Repository – S3-Compatible, and we already give it the name we want, I like to select concurrent tasks to 2 or a low number to not overflow the QNAP: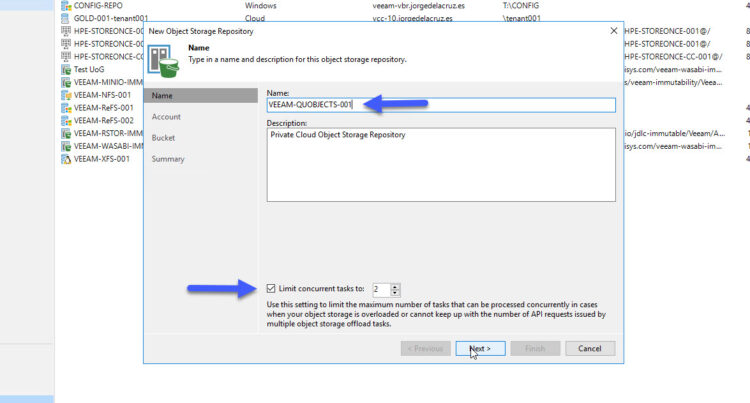 In the Service point part, we will enter the IP and port, or FQDN and port, in Region we leave by default us-east-1, and in the credentials, we have to be careful: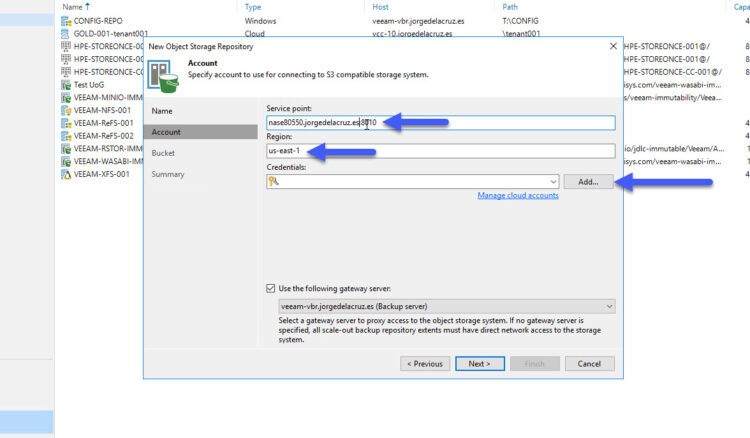 Since the Access Key is a combination of the Storage Space and the Access Key, as you see in my case it is QUOBJECTS:YOURACCESSKEY, and the normal Secret Key as given to you by QuObjects: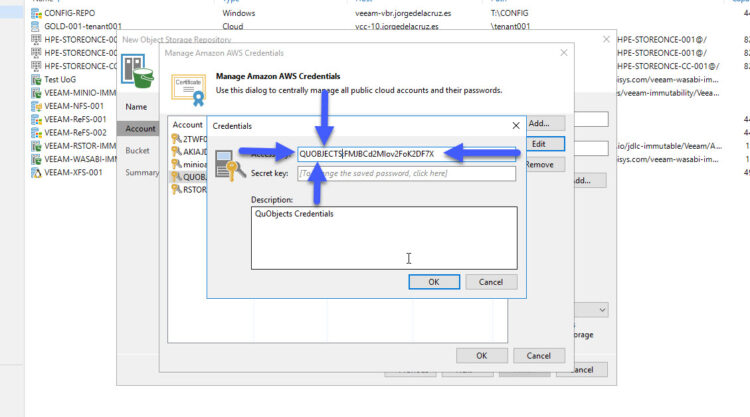 In the Bucket part, we select the Bucket we created earlier, and we will create a folder inside it, then you can limit the space, or not, it's up to you.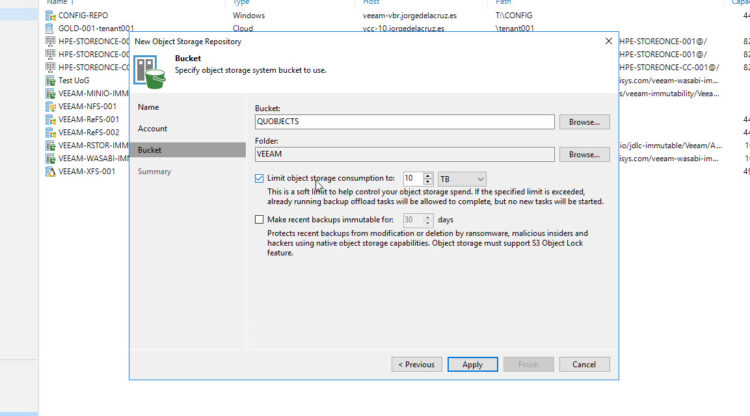 We are done with everything, we hit Finish: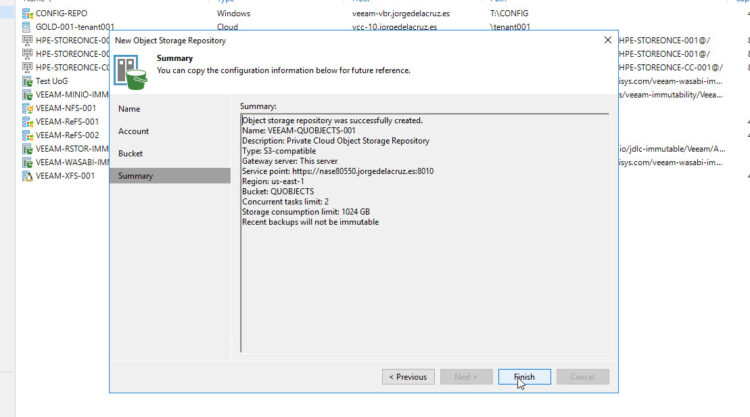 Create Scale-Out Backup Repository with Capacity Tier to QNAP QuObjects
To make use of our new Object Storage Repo, we have to combine it together with normal Veeam Repositories, so that it extends to this new Capacity Tier, let's create one, give it a name: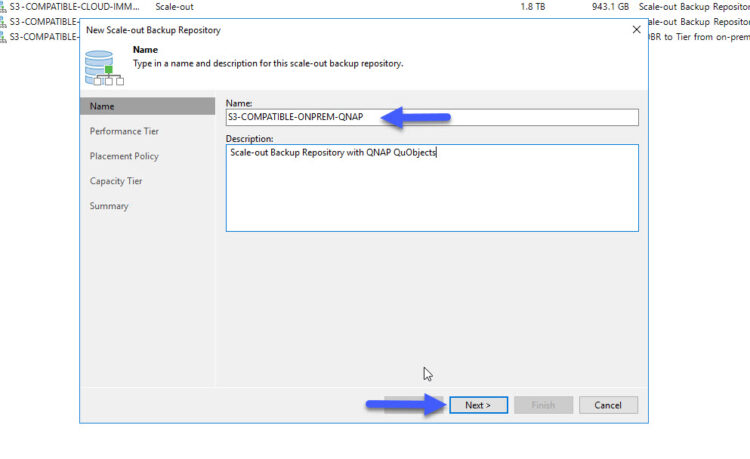 We select the Repo, or Repos, that we want to have as an extension of this QNAP QuObjects Object Storage: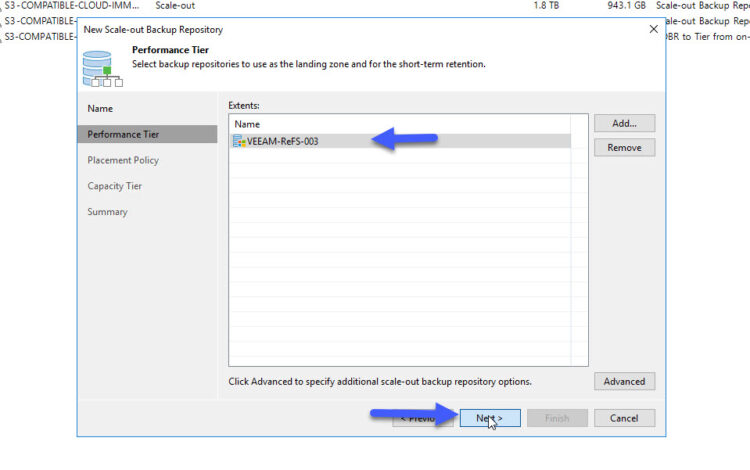 In the Capacity Tier part, we will select extend the scale-out Backup repo to the Object Storage, and the options, I like COPY and MOVE, so that everything we have locally we have an exact copy in QNAP QuObjects, and everything that is older than X, is moved to this QNAP QuObjects as well: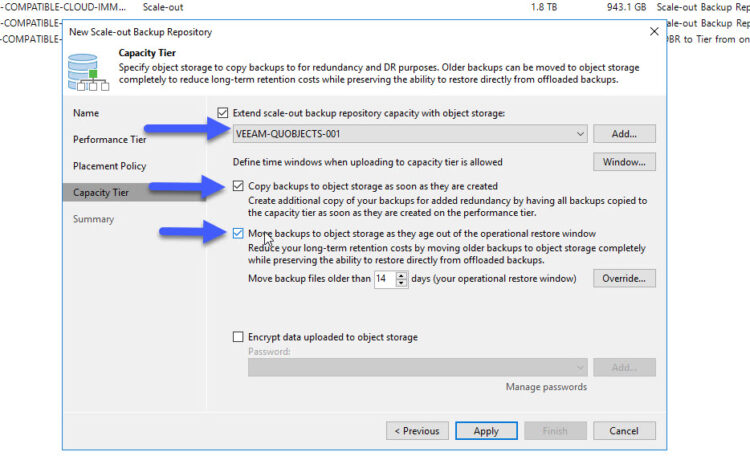 That's it, we hit finish, everything will be done automatically:
We have everything ready, all the backups that are generated in the local repository will be automatically copied to this QNAP QuObjects.
Final details and checks
To conclude, I would like to leave you with some interesting screenshots. For example, this is the screenshot of Veeam doing the offload copy to QNAP QuObjects once the local copy finished, 43MB/s is pretty good to have SATAS on the 7-year-old QNAP: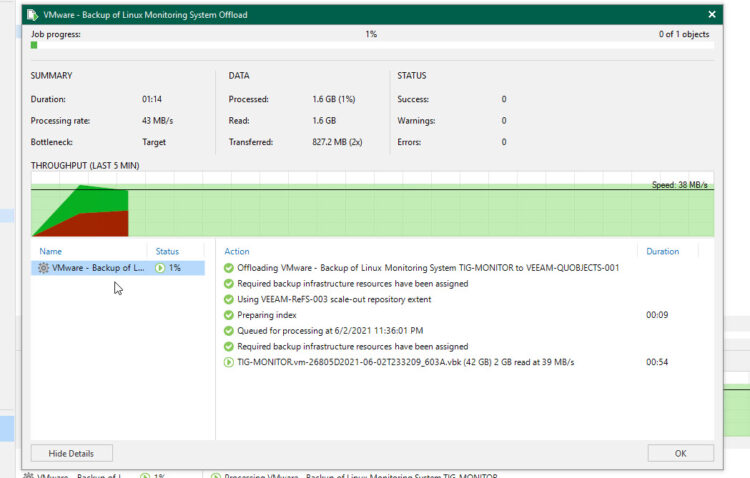 I like this view a lot too, as in it we can see in detail the data consumption transmitted to QNAP, as well as see the API requests we have made using the S3-Compatible protocol (imagine paying for all those APIs like when we use public Cloud, which well it's on-prem)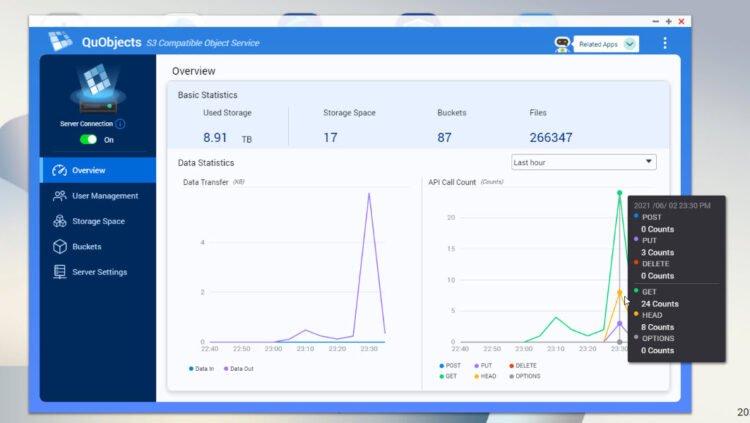 Again, the same image but once the job was finished, copying a few GB, which has generated thousands and thousands of API calls.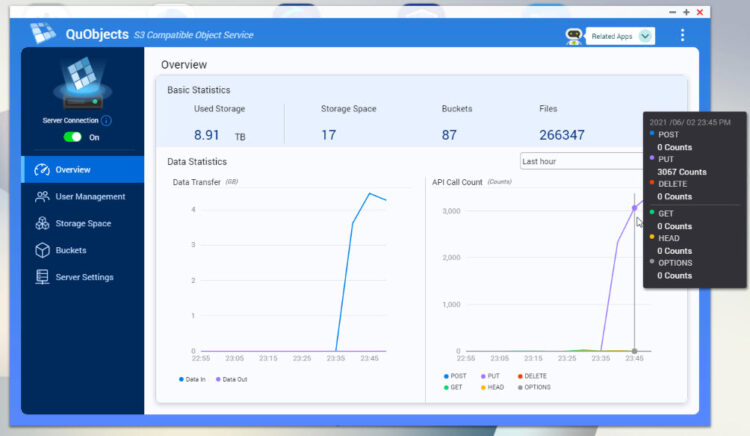 Finally, from Filestation, if we explore that folder, we can see the blocks, with their metadata and everything, it's not important for us since we don't need to do anything with it, but it's interesting to see it: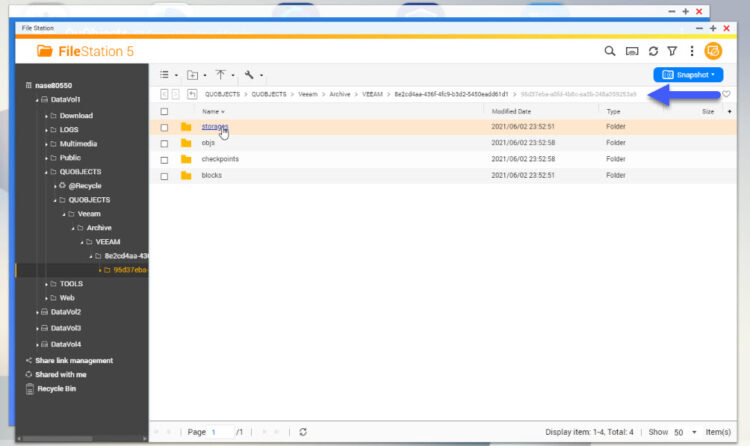 That's all folks, hope you like it and find it helpful.