Greetings friends, I have added a new server to my cluster, and eventually transitioned from Intel CPU Cluster to an AMD one, more details to follow. The goal was to reduce the space consumed on my mini-rack, by adding only 1U Servers. As much as I love the box format from the SYS-5028D-TN4T perfect to stay close to your desk, or a shelf, etc.
Why you are selling it? Is there anything wrong?
There is nothing wrong with the unit, it has been part of my 2-cluster + witness VSAN for quite some time, and it has probably demonstrated the Veeam capabilities to hundreds of clients.
It just takes too much precious space from the rack, take a look here, selling the unit at the bottom left: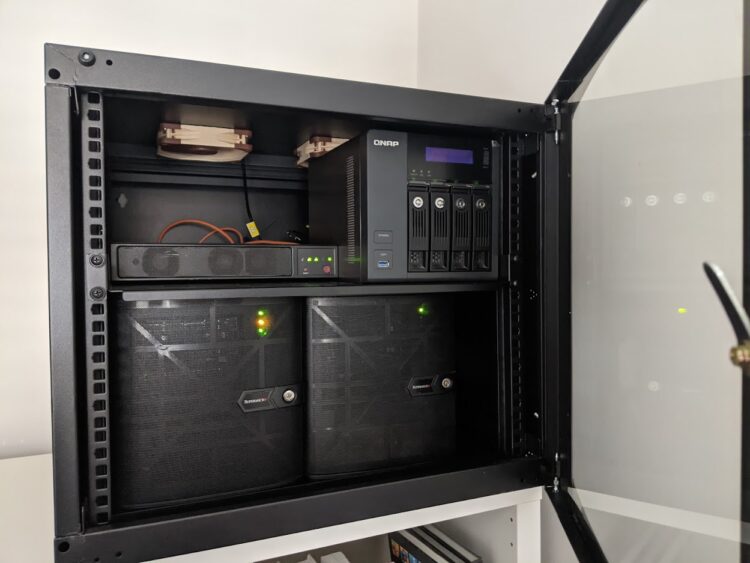 Putting things into perspective, here is a comparison between the new system (still to be reviewed), and the Supermicro SYS-5028D-TN4T, as said, perfect to put it anywhere, just not on a mini rack, I think.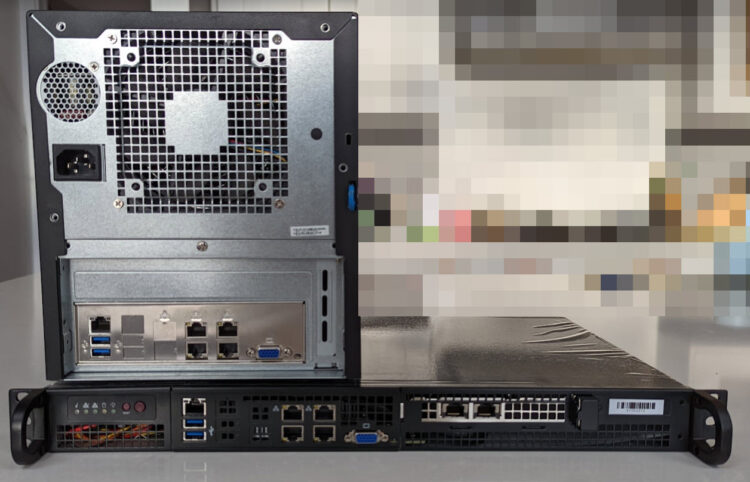 So, with that, let's enter into details.
THE FINAL PRICE IS £1,100.00 + Shipping

Supermicro SYS-5028D-TN4T – Specs
Fully loaded, ready to plug and play, with VMware ESXi 7.0.3 running and tested
Space-efficient, compact design
Network Security Appliance
Cloud and Virtualization
High-Performance NAS Servers
Business Critical Applications
Small and Medium Business
SR-IOV supported (for Xeon D-1541)
Intel® Xeon® processor D-1541,
Single socket FCBGA 1667;
8-Core, 45W
4x 3.5″ Hot-swap drive bays; One filled with 1TB HDD Drive
2x 2.5″ fixed drive bays; These two have an SSD each already
1x PCI-E 3.0 x16 (LP),
1x M.2 PCI-E 3.0 x4,
M Key 2242/2280
Comes already with 128GB RAM
Dual 10GbE LAN and Intel® i350-AM2 dual port GbE LAN
250W Flex ATX Multi-output Bronze Power Supply
THE FINAL PRICE IS £1,100.00 + Shipping

Supermicro SYS-5028D-TN4T – Additional pictures
The server has been updated to a stable BIOS, and Firmware version a few months ago, it comes with 128GB RAM, as you can see in the picture, and it does include 1 HDD of 1 TB, and 2 SSD: one has 128GB (most likely to move the ESXi installation when the bootable USB stops working), and another with 256GB perfect to store some OS Drives while storing the bulk of the VMS data on the HDD.
It does include two 10GbE ports that work out of the box, ESXi can see the ports as you can see in the screenshot.
The server will be only shipped to any part of the United Kingdom, to keep the costs down. If around London, we can arrange an in-person exchange, plus some beers meanwhile discuss home labs, VMware, etc.
THE FINAL PRICE IS £1,100.00 + Shipping