Greetings friends, today I bring you a very interesting blog post for Service Providers, but not limited to these.Today I bring you a step further, and it's about taking advantage of the functionality of being able to launch Backups from cPanel users to a Cloud Connect Provider that includes Veeam Agent for Linux 2.0, each backup assigned to its tenant, etc..As this Blog post has been a little long for me, I leave you the menu so that you can jump to where it is more interesting for you:
1.- Topology and brief explanation of the Infrastructure
As always, I would like to leave you with a diagram of how this Infrastructure and the data flow between cPanel, Veeam Cloud Connect and the tenants will look like: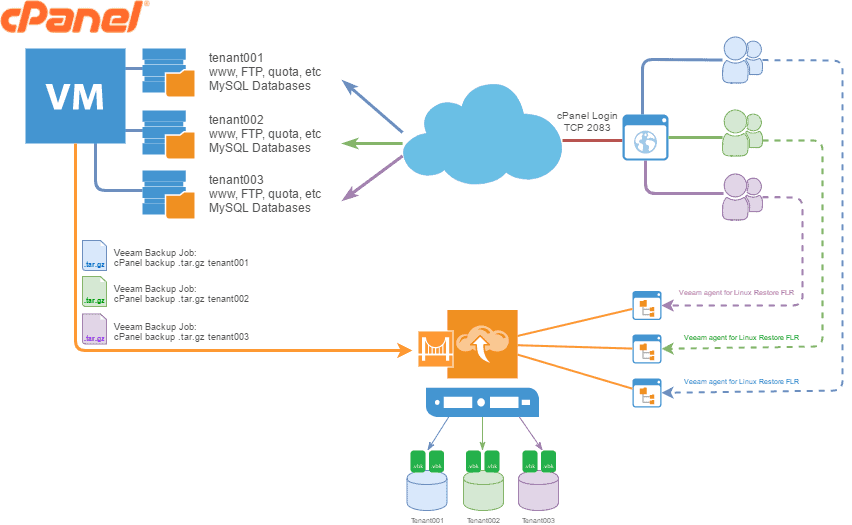 To make this whole environment work we'll have to have the following:
A cPanel WHM license, and root access to shell. (We could also extra polarize this to a LAMP server with multiple workloads, etc, but it would be more manual)
Veeam Agent for Linux 2.0 Server Edition - We will use the Server version as we want to create multitasks, one for each tenant, and of course make use of the pre-freeze and post-shaw scripts that will generate the backup of each tenant.
A provider, or Veeam Cloud Connect providers, you can have a look at the list here - https://www.veeam.com/find-a-veeam-cloud-provider.html
Once we have everything ready, we can move on to the next point.