Greetings friends, today we start another series on monitoring vSphere and Veeam environments, in this case, we will use a corporate tool such as Veeam ONE. In this series, we are going to see from less to more, covering from the basics, to the most advanced, with scenarios that we can find day by day.
I hope you like the series, you have the menu at the end of the series, which will help you move to the chapter that you find most interesting.
Veeam ONE at a glance
Veeam® ONE is part of the Veeam Availability Suite, providing complete visibility into our entire IT environment, including Veeam-protected physical or cloud workloads. With support for Veeam Backup & Replication, Veeam Agents, as well as VMware vSphere and Microsoft Hyper-V, Veeam ONE offers deep and intelligent monitoring, reporting and automation through interactive tools, so we can be alerted and resolve potential problems before they impact production. Veeam ONE features including:
24×7 real-time monitoring, reporting, alerting and management of backup and virtual environments: Notification to users of availability and performance issues to avoid downtime, meet service level agreements and maintain compliance. Assess the performance of the backup infrastructure to ensure that existing configurations comply with resource management and configuration tracking best practices
Capacity planning and forecasting: We can forecast resource use and utilization trends with what-if models and monitor resource over-commitment for backups and virtual infrastructure
Chargeback and Billing: We will be able to get full visibility of IT costs of computing, storage, and backup repository resources
Business Categorizations: We will be able to analyze, monitor and assign alarms to mission-critical applications running on virtual machines, regardless of their location, to meet service level agreements (SLAs) and ensure compliance.
Intelligent diagnostics and automation: We can leverage advanced data intelligence that can identify and help resolve errors in infrastructure and software configurations with automated and proactive problem resolution. Further, improve response times through pre-defined and automated resolution of common backup and virtual infrastructure issues with self-correcting remedial actions.

Advanced monitoring, reporting and capacity planning – all in one, all in Veeam ONE
Let's look in-depth at each of the key points of the favorite all-in-one solution when combining monitoring, reporting and capacity planning.
Real-time monitoring 24×7
Veeam ONE provides 24×7 real-time monitoring of our Veeam-protected virtual machines and physical and cloud workloads, notifying us of problems before applications and users are adversely affected. Monitoring features include:
Real-time dashboards with detailed, ready-to-use views at the click of a button, including Heatmaps, which provide in-depth analysis of backup proxies and repositories
Over 200 pre-set alarms based on best practices with extensive knowledge bases
Ability to isolate the root cause to quickly solve problems
Dashboards for backup infrastructure performance and trends, and more.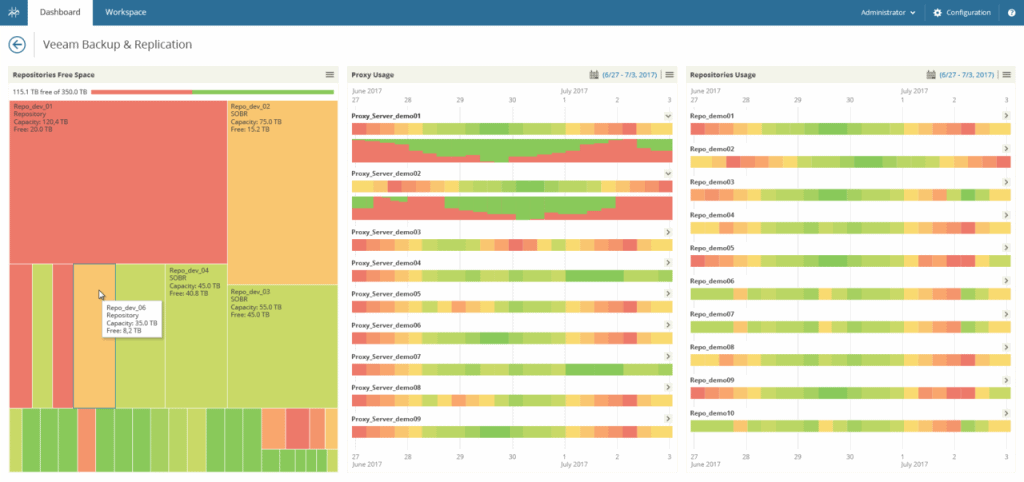 Veeam Intelligent Diagnostics
We can leverage advanced data intelligence that can self-identify and help resolve common infrastructure and software misconfigurations with an automated and proactive troubleshooting system. With Veeam Intelligent Diagnostics Signatures, we can reduce support time through the proactive resolution of common issues for rapid resolution before operational impact.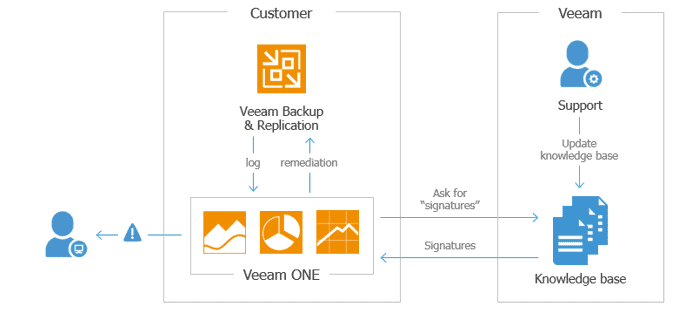 Repair Actions
We can reduce the risk of downtime associated with manual maintenance of common backup infrastructure alarms by introducing automated repair actions. We can then assign controlled responses to the most common alarms in Veeam ONE and activate immediate action or manual approval of action before changes to the backup infrastructure and work problems are implemented as they occur.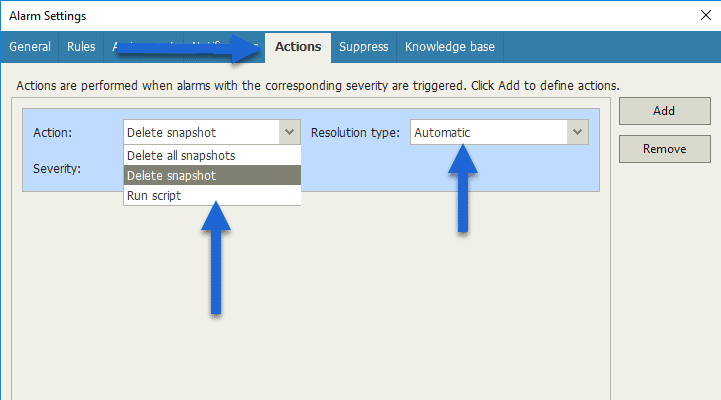 Business and Category View
We can improve the performance and visibility of virtual and agent-based infrastructures by easily creating business groups through a simplified Business View interface. In addition to monitoring applications (for a specific group or department) to determine performance and health status, regardless of geographic location. Also, leverage VMware vSphere Tags to assign role-based access control and tag sensitive data by location to help maintain compliance requirements such as GDPR.
Agent Monitoring and Reporting
To save time and reduce complexity while managing physical and cloud-based backups, Veeam ONE offers Veeam's backup agent monitoring, which includes alarms and an overview of job status, as well as a protected agent report identifying the number and types of protected agents, the backup status with total number of hits, alerts, and failures, and a reason why the agents are unprotected. Veeam ONE agent reports also provide daily backup information on all protected workloads, identify which agents are not backed up, and more, to ensure the availability of your data.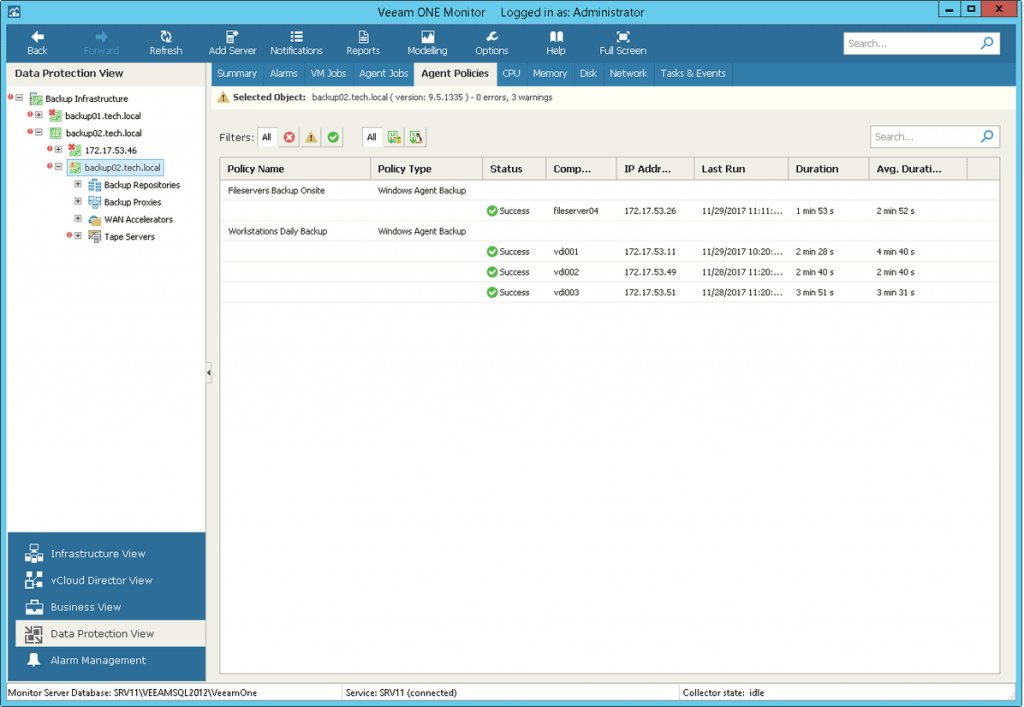 Infrastructure Assessment Reports
Veeam ONE provides a dedicated set of reports to ensure that the configuration of your VMs is supported, that VMs are processed through backup jobs, that backups run as scheduled, and that there is sufficient space in the Backup Repositories to support our retention policy. Evaluation reports ensure that our Veeam Backup & Replication installation complies with all known best practices.
Performance and Configuration Assessment
Performance and configuration assessments help us better understand what is happening in your VMware or Hyper-V environment. You can identify the largest resource consumers and which hosts are the least loaded, real-time and cumulative I/O load and latency in data stores, resource consumption data for hosts, clusters, resource pools, and data stores, and more.
Chargeback and Billing
Businesses and service providers can leverage Veeam ONE's powerful billing and chargeback capabilities for virtual and backup infrastructures to charge departments or individual customers based on usage. Four billing and chargeback reports help determine costs based on VM configuration, VM performance, host configuration, and host resource usage.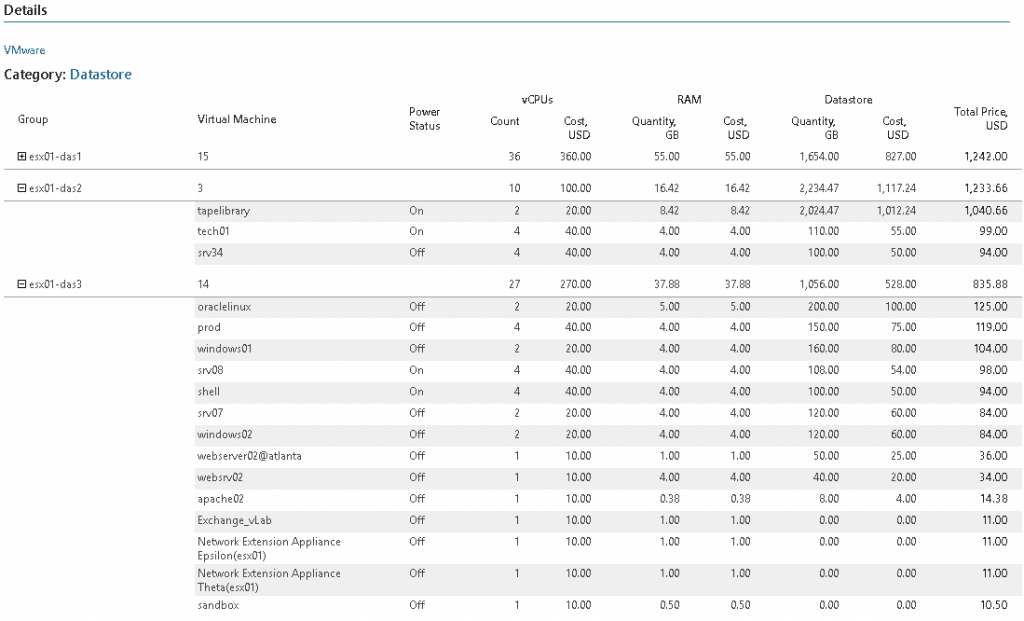 Capacity Planning for VMware, Hyper-V, and Backup
Veeam ONE helps us predict resource use and utilization trends with "what-if" modeling and resource over-commitment tracking for our backup and virtual infrastructure. We can also plan hardware upgrades and server downtime, manage multiple deployment projects, and maintain confidence that our environment can be safely managed.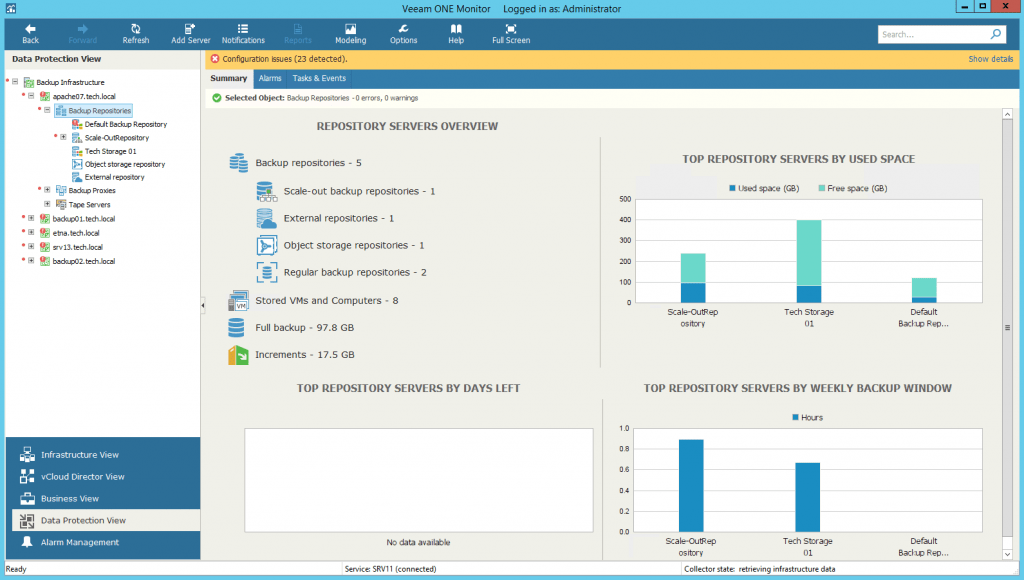 And much more, including:
Backup Compliance Reporting allows you to group objects based on their geographic location, as well as provide reports on all data sources grouped by production location and the location of their copies and replicas, as well as non-matching data sources where one or more copies are in a different location than the production data.
Raw data analysis and report customization for VMware and Hyper-V, including specific CPU, memory, network and disk metrics.
A custom report builder to extract data from any field within existing reports in a single document
Multi-tenant monitoring and reporting to delegate vSphere monitoring and reporting to administrators on a limited number of VMs, and provide service providers with visibility into customer resource consumption.
I leave you the list of all the articles that correspond to this interesting series about Veeam ONE as our monitoring and reporting system: