Greetings friends, really interesting couple of weeks at work, so did not manage to get into the blog as often as usual, hope I can ramp up the blog post count while keeping quality. I have mentioned on a few tweets, or even in the previous blog post, that I was looking to replace a few parts from my homelab, and even sell, my always beloved Supermicro 5028D-TN4T, it is still on offer here on the blog at 1000GBP, or in eBay for a few more days:
Hope it reaches a good price, and somebody could give this unit a second life, full of RAM, and with SSD, and ESXi installed, it is really plug-and-play.
So, talking about homelabs, a few weeks ago William Lam wrote a really great, and interesting list for 2022:
Pretty comprehensive, and of course, we are all waiting to see the Intel NUC 12 Extreme, please take a look at those that William recommended if you are looking more for small size, pretty quiet units. And if you want to take a look in detail at what the Community is running, please visit another great resource from William
My particular opinion, for my use case
Every single server or computer on those lists is perfectly fine, as long as it does fit your needs. Me, particularly, I am looking for something more similar to what Paul Braren is looking for as well, he explained in his latest blog article (with special insights about some announcements for Intel). I am looking on my homelab for something more "Enterprise-grade", more similar to a normal data center, this means:
That can run ESXi without any problem if certified even better
Multi-Core, Hyperthreading, Intel Virtualization Technology/AMD-V
10GbE either on Motherboard or via PCIe
Dedicated IPMI console (especially useful to remote upgrades, or ESXi installs, memtest, etc.)
No need for extra plugins, or drivers from the Community (always great to have them, but I prefer not to deal with it)
No need for a GPU (I know for those running VDI, or any sort of ML, AI, it might be required, not my case)
Temperature is really important
With these requirements, there are only a few servers out there that match these criteria. And you can pick between AMD or Intel for it.
Compromise between temperature and performance
There you go, putting things as they are. If the Supermicro E300D-9D-8CN8TP could handle the temperature a bit better without the need of extra weird hacks, it would be my defacto server to go, but oh man after a few years running it, it is noisy, replacing the fans for Noctua, or adding the low rpm cable does not help as it does not push enough hot air of the box.
I totally understand that if we move to less powerful CPUs, like Atom, or ARM, the heat will not be a problem, and we can cool those even with passive cooling, but that is not the case with these more enterprise-grade servers.
There is only one human way to make this unit cool enough to run on your room, basement, etc. It is if you remove the top cover, and put a 12CM Fan on top of the heatsink, it also holds between the RAM modules, so it takes all the heat out, then, and only then, the unit is quiet and fresh. At the expense of leaving the motherboard exposed to bugs, liquids, corrosion, well anything really.
So, for this new unit, I opted for a good old friend, who knows how to keep the temperature down, while performance is much better than the E300D-9D-8CN8TP. I am talking of course, of the M11SDV-8C+-LN4F motherboard.
A quick comparison between models

| | 5028-D TN4T | E-300-9D 8C | M11SDV-8C+-LN4F |
| --- | --- | --- | --- |
| Cores | 8 | 8 | 8 |
| Threads | 16 | 16 | 16 |
| Base Frequency | 2.10GHz | 2.30GHz | 2.50GHz |
| Max Frequency | 2.70GHz | 3.00GHz | 3.10GHz |
| Max RAM | 128GB | 512GB | 512GB |
| RAM Speed | 2400MHz | 2666MHz | 2666MHz |
| TDP | 45W | 80W | 50W |
We are talking much more power, with less consumption, and less heat!
Wait, you covered that already, is there anything new?
I have indeed covered the server, and how well it looked on a cute box, together with the 5028D-TN4T, like this, find what it can be improved: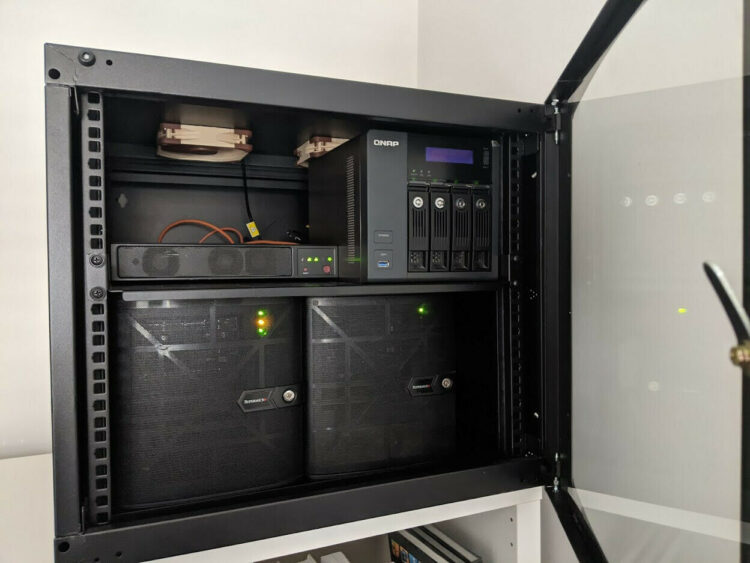 I will tell you right away, there is literally no space for anything else. The Ubiquiti Switch, which you do not see in the picture, is there on the back in a weird position vertically, there is too much box for such a great half rack.
So, I went to my usual Supermicro dealer of trust, Server Factory, and asked for pricing for the incredible A+ Server 5019D-FTN4, a unit that includes the M11SDV-8C+-LN4F but on a great 1U case.
The unit arrived in less than a week, and it was love to the first sight. So small, so compact, the 1U size we all love, but with additional headroom to add storage. As the motherboard does not have 10GbE, I have asked Server Factory to include a 10GbE PCIe that you can see already plugged. This of course limits your options to add two more m.2 NVMe (it comes with one slot natively) or a GPU, but as said there was no need in my case. I absolutely loved the space for SSDs, which by the way you can buy a 2SSD small adapter so can probably add even 4 SSD if required.

Another closer look, we can appreciate how tight all is, as the cables from the PSU are pretty much touching the RAM Module. Also, it comes with default Supermicro FANs, I would recommend to you to either put the low rpm cable or change them for Noctua, whatever suits you best.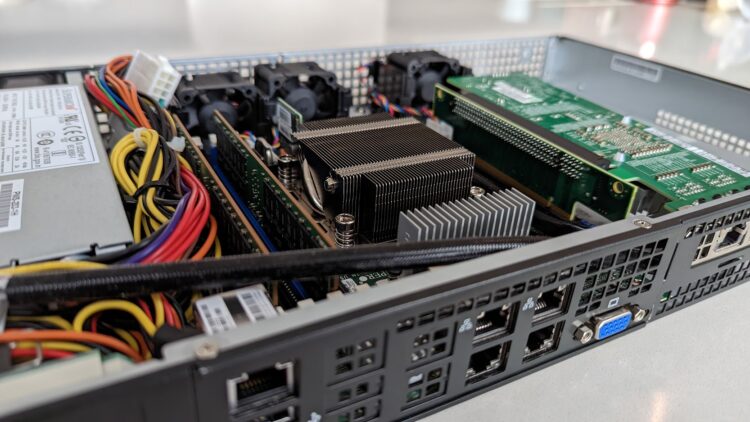 Now, to see the difference between the M11SDV-8C+-LN4F on a small factor chassis, or on the 1U, here you go, pick your player: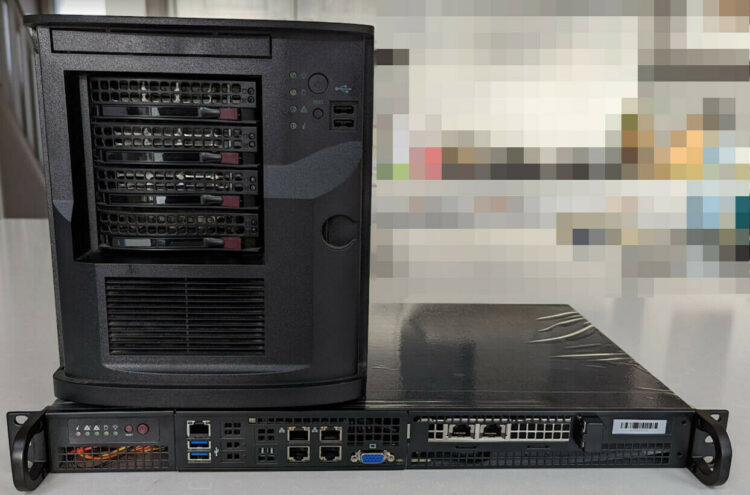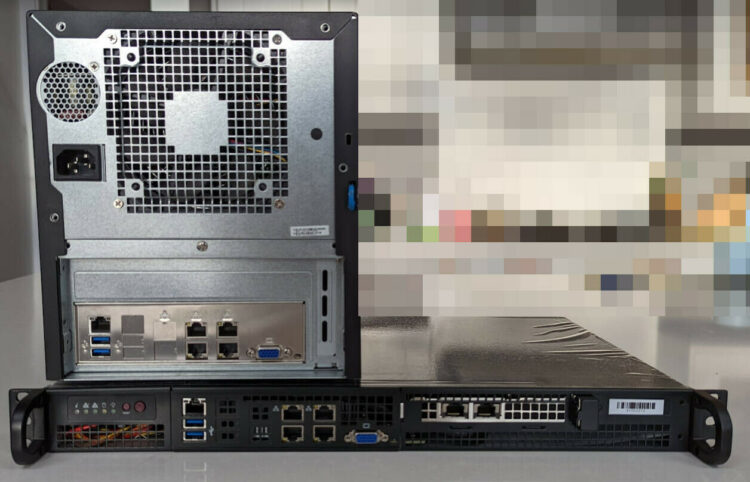 Clearly, and if you have 19″ racks, the A+ Server 5019D-FTN4 is the way to go.
Workloads that consumes a lot, still chill
At the moment, these are the workloads I am running on the server, and still appears to be pretty chill:

Bear in mind some of those workloads are huge, the HPE StoreOnce just alone is an OVA that consumes 24GB RAM, then the fully loaded ONTAP (no Simulator), plus two instances of Veeam Backup for Microsoft Office 365, etc. And the server is like, alright:

And as said, the temperature of this machine, with those workloads running 24×7, doing backups, etc. Is the next, on my loft, inside the rack:

You can see the Noctua Fans at 5000rpm.
Closing thoughts
The unit, A+ Server 5019D-FTN4 with 128GB RAM, the 10GbE PCIe, etc. It was around the 2000GBP, with all the TAX included, etc. I understand that this could be a breaking choice if starting small, therefore either look for a second-hand kit, like here, or select smaller units, with less density from William Lam's Blog Post, or Github Project.
To me, still, even after a few years old that the M11SDV-8C+-LN4F is, it is still a clear winner in speed, temperature, and performance overall.
How does the rack look now? Absolutely gorgeous, I just wish I could change my QNAP which is a cube, for 1U as well, that will happen eventually. Also, see the E300-9D 8C, without the top case with the 12CM fan on it.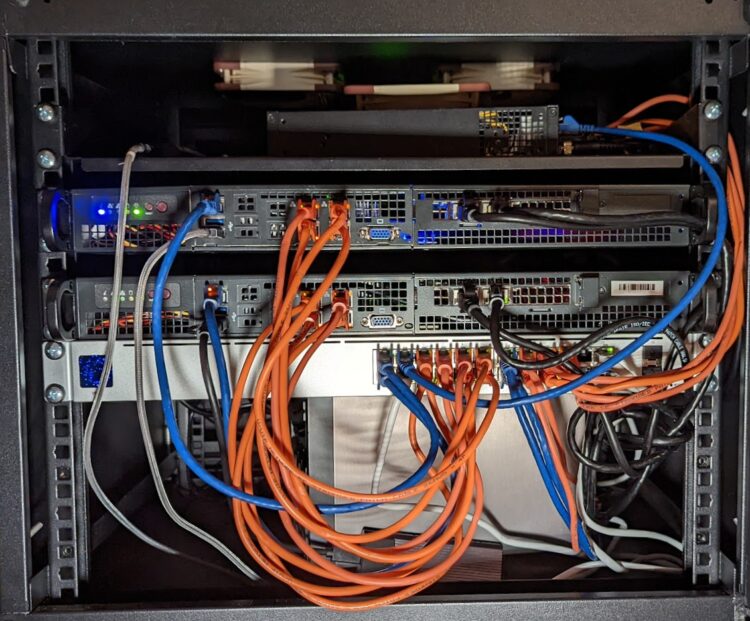 A closer look, by the way, I have changed the old case from my previous M11SDV-8C+-LN4F for the CSE-505-203B, which is the 1U with the ports in the front.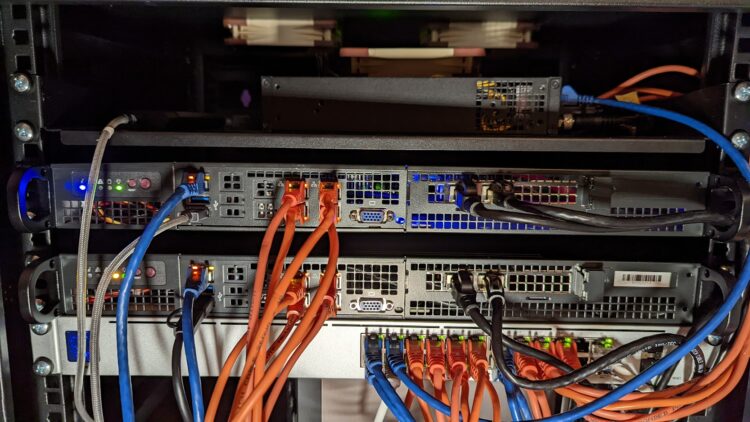 Hope this post is useful for you guys, it is just an idea, of course, purchase what makes the most sense for you, both, technically, and of course money-wise.