Greetings friends, the week of the 24th of October 2022 had place the first Veeam 100 Summit, an event that combines Veeam Vanguards, Veeam Legends, and Veeam MVPs. Thinking about all that it happened this week, the great conversations, and amazing time spent with the Community, I think it requires a proper blog post with some of the highlights for me.
Quick view at the 3-fold Veeam Community Strategy
Different to other more static Community programs, Veeam has been reinventing themselves along the years. At the moment are three main Community programs:
Veeam Vanguards
Top influencers in their own external identities and properties. For example, imagine you have your own blog, YouTube channel, your own GitHub, and you keep producing, and creating content around Veeam technologies. You could apply for the Veeam Vanguard Program, more information about Vanguards can be found here. I had the big honour to be part of the inaugural program back in 2015 in Las Vegas. And renew for a few years until joined Veeam.
Veeam Legends
Top engagers in Veeam properties (R&D Forums, Veeam Community Hub, Veeam User Group). If you use Veeam, and you are not visiting regularly the Veeam Community Hub, I would recommend to take a quick look, subscribe to topics, and even post your ideas, or problems right there. Other experts, and users would be able to help you, and discuss same topics and interests with you. All the information about the program can be found here.
Veeam MVPs
Top Veeam employees with a customer-facing technical role who are sharing and engaging when it is not part of their job. This was a long-due program in my opinion, if you follow Veeam, I am sure you are aware of great employees who create content on their own free-time.
What Veeam does different?
There are not so many Community programs out there that put people from all around the place into a plane, pays for the accomodation, and prepare tailored-made content for all of these individuals.
If that is not good enough for a Community program of all sorts, one of the bigger difference is how all the Veeam Community is presented with current, and soon-to-be-released features, plus being asked directly about ideas, or feedback on future releases. This feedback is critical, and for years I have been a witness of how the ideas, and comments made during these events have been later implemented on future releases.
To me as a blogger before, and as a presales before, having access to Product Management has been always really important, getting beta bits, calls to discuss directly with PM what we thought, use-cases we as Customers, then Customers I was visiting, have, etc.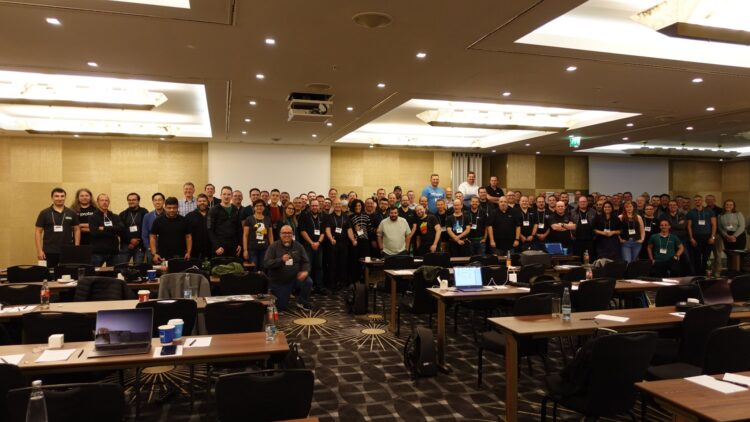 The last comment about what Veeam does different is size, 100 people between the three programs still make it easy to remember the name of almost every member, or at least what are they doing great, or perhaps even just know the person for the Community forum, etc. Veeam has always been great at making these Communities personal, to be able to know each other, and for them to mention a few names at stage later on.
Veeam100Summit Technical Talks
It was a packed agenda to be honest, some of the content was all free to share, some it was embargoed, and some was red. Too many pictures from the Community on the official twitter thread. But I am selecting a few I took, and some from the Community. It was great to see my colleagues presenting about Veeam future releases.
VMCE and VMCA – Growing your Veeam Skills
Alright, you have installed Veeam, perhaps you even manage it daily, and you are thinking how can I get the most out of it? Veeam currently has two paths to keep growing the skills. I have attended and passed the VMCE on a few ocassions, and having attended the VMCA training, I can totally recommend these courses, and exams.
Rasmus walked with us through both programs, benefits of expanding our knowledge and career, and even ran a 25 questions session live, where he made sweat the whole room. Cracking Job, Rasmus.
Quick overview of VMCE
The VMCE certification is documented proof that an administer or engineer has the necessary level of expertise to protect an organization's data with Veeam Availability Suite. Start with this certification if you work on a Company where Veeam is installed, I assure you that you will learn how to get the best out of the whole suite, improve RPOs/RTOs, improving SLA, and Data Protection Visibility overall.
Quick overview of VMCA
The VMCA certification is the highest level of Veeam certification and demonstrates that an individual possesses a high level of both technical and business skill to design complex, enterprise level Veeam deployments. If you are working on a Distributor, or Partner which implements different Veeam solutions to end-customers, this training, plus exam will help you when designing complex environments.
Final thoughts
I said this many times, and even engaged with some of the members that before were in doubt, or they thought they didn't had enough content. Be yourself, do your best, and apply to the program you think you fit the most. If you are helping a lot on the R&D Forums, or the Community Hub, apply for the Veeam Legends program at once. If you are using your own blog, or you write blogs on your Company blog site under your name, you do tutorials on youtube about Veeam products, etc. Try on the Veeam Legends, but definetely, apply to be part of this great experience.
I can not finish the blog without saying a big thank you to Rick Vanover, Madalina Cristil, Nikola Pejková, Aubrey Galen, Hannes Kasparick, and everyone else who made possible this great event, and managing the different Community programs leading them to the next level.