Greetings, friends! The excitement in the data protection community has been brewing, and for a very good reason. After being inundated with inquiries, it's finally time to lift the veil on the next big thing in the Grafana blog series – a freshly minted Grafana Dashboard for Veeam Backup & Replication, now leveraging the power of the novel VBR API.
For those familiar with the data protection scene, you might recall that we've already got a Grafana Dashboard dedicated to the Veeam Enterprise Manager API since 2020. A vanguard of its time, the pioneering tool offered impressive capabilities and has seen its fair share of success with more than 1000 downloads.
However, this cutting-edge dashboard catapults us into a new era. Breaking away from the reliance on Enterprise Manager, this new dashboard gets down to brass tacks, focusing solely on the Veeam Backup & Replication REST API. Not only does this ensure seamless interplay with various Veeam Servers, but it also paves the way for a larger community engagement, propelling us into an innovative frontier of data protection visibility using OSE tools like Grafana.
With this new dashboard at your fingertips, I am eagerly looking forward to fostering a vibrant community around it. I am inviting all of you to start utilizing this state-of-the-art tool, bring forth your feedback, and spark discussions in the comments, or GitHub, for enhancements and improvements.
Grafana Dashboard for Veeam Backup & Replication API
When you finish the entry you will have something similar to this. It might be different according to your environment, number of days you select, protected workloads, jobs, etc.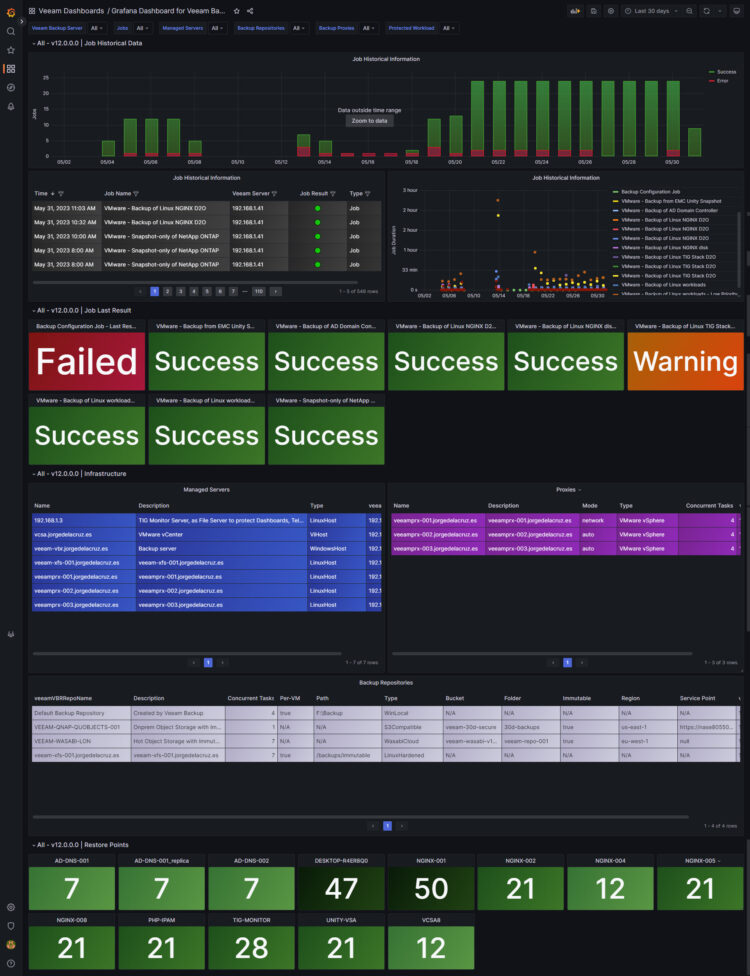 Dashboard – Summary
Topology with all logical components
This entry is very similar to the previous ones, we will use a bash shell script that connects to our Veeam Backup & Replication Servers, using the REST API, and then will send the metrics to InfluxDB, and visualize them with Grafana . The design would be something similar to this:
Download and configure the veeam_backup_and_replication.sh script
We have almost everything ready, we have one last step, the script that will make all this work, we will download the latest version from the Github repository:
You will need jq, so please go ahead and install it first (apt-get install jq, or yum install jq)
This shell script can be downloaded and run from the telegraf server, InfluxDB, or any other Linux. We will have to edit the configuration parameters:
##
# Configurations
##
# Endpoint URL for InfluxDB
veeamInfluxDBURL="http://YOURINFLUXSERVERIP" #Your InfluxDB Server, http://FQDN or https://FQDN if using SSL
veeamInfluxDBPort="8086" #Default Port
veeamInfluxDBBucket="veeam" # InfluxDB bucket name (not ID)
veeamInfluxDBToken="TOKEN" # InfluxDB access token with read/write privileges for the bucket
veeamInfluxDBOrg="ORG NAME" # InfluxDB organisation name (not ID)

# Endpoint URL for login action
veeamJobSessions="1000"
veeamUsername="YOURVBRUSER"
veeamPassword="YOURVBRPASSWORD"
veeamBackupServer="YOURVBRAPIPORT"
veeamBackupPort="9419" #Default Port
Once the changes are done, make the script executable with chmod:
chmod +x veeam_backup_and_replication.sh
The output of the command should be something like the next, without errors:
Writing veeam_vbr_info to InfluxDB
Writing veeam_vbr_sessions to InfluxDB
Writing veeam_vbr_sessions to InfluxDB
Writing veeam_vbr_sessions to InfluxDB
Writing veeam_vbr_sessions to InfluxDB
Writing veeam_vbr_sessions to InfluxDB
If so, please now add this script to your crontab, like for example every 30 minutes:
*/30 * * * * /home/oper/veeam_backup_and_replication.sh >> /var/log/veeam_backup_and_replication.log 2>&1
Grafana Dashboards
I created a Dashboard from scratch by selecting the best requests to the database, finishing off colors, thinking about graphics, and how to display them, and everything is automated so that it fits our environment without any problem and without having to edit anything manually. The Dashboard can be found here, once imported, you can use the top drop-down menus to select between Servers, Workloads, Jobs, etc.:
Import Grafana Dashboards easily
So that you don't have to waste hours configuring a new Dashboard, and ingesting and debugging what you want, I have already a wonderful Dashboard with everything you need to monitor our environment in a very simple way, you will be like the image I showed you above. Select the name you want and enter the ID: 18854, which is the unique ID of the Dashboard, or the URL: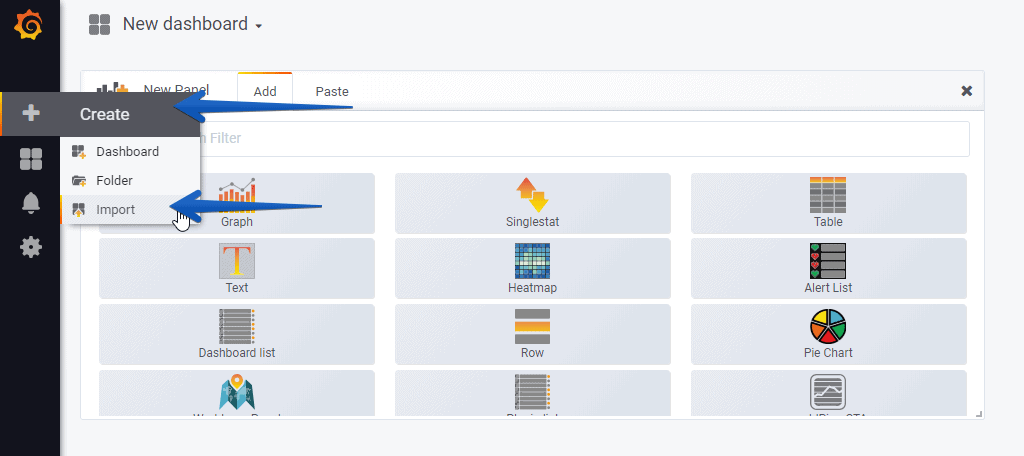 With the menus above you can display and adjust the Dashboard to your different choices: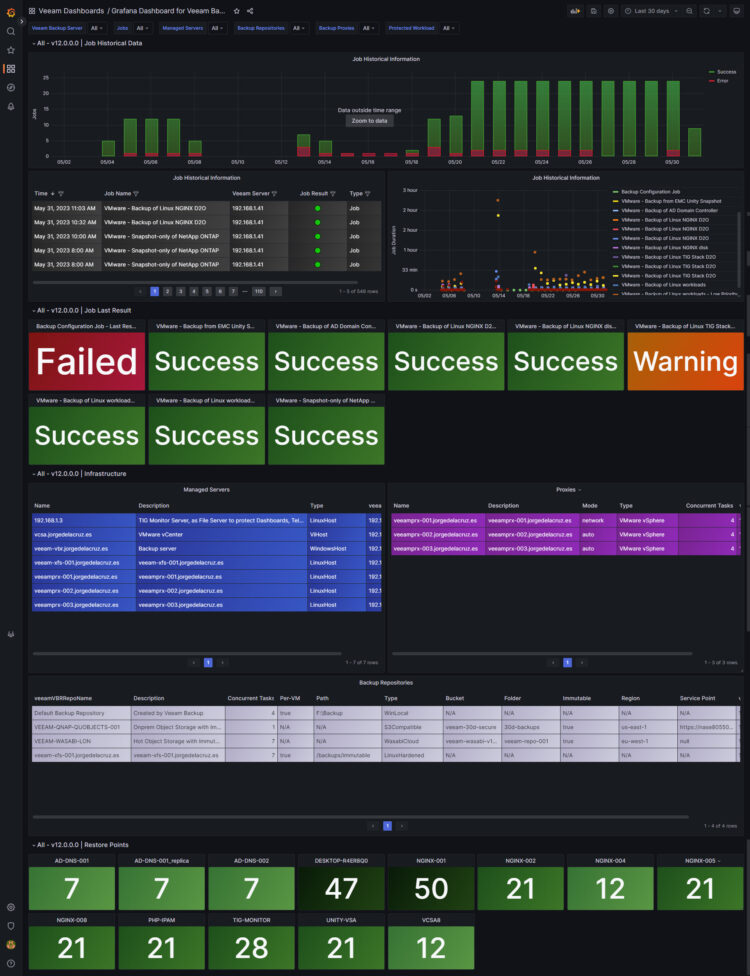 Please leave your feedback in the comments, or on GitHub.
I hope you like it, and I would like to leave you the complete series here, so you can start playing with the plugins that I have been telling you about all these years: