Greetings friends, Veeam ONE v12 has been launched, there are tons of improvements which we will cover on this blog shortly. But before I jump into native great features, I wanted to show you the art of the possible once again.
Veeam ONE v12 comes with a new Audit funcionality that stores in the Windows Events Logs absolutely everything that happens in the Veeam ONE environment, that is changes into the Infrastructure, passwords changes, Report views, succesful/unsuccesful logins , etc. And that, my dear readers, it is power, an infinite source of power that we should control, monitor, and have it at hand.
This blog entry covers how you can monitor Veeam ONE Windows Events Log using telegraf, but of course you can monitor any other Windows Events Log of your choice and build something similar.
Grafana Dashboard for a Quick Overview on Veeam ONE Audit Events
When you finish the entry you will have something similar to this Dashboard, it will vary in the case you have some more Veeam ONE Servers, Users, etc.: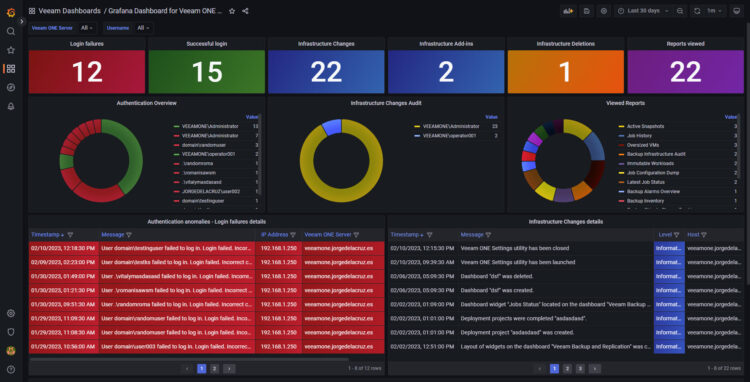 Dashboard – Summary
Topology with all logical components
This entry is very similar to the previous ones, we will use telegraf installed on the Veeam ONE Server, so the windows version, and collect the different Windows Event logs, from there we will send them to InfluxDB, and visualize them with Grafana . The design would be something similar to this: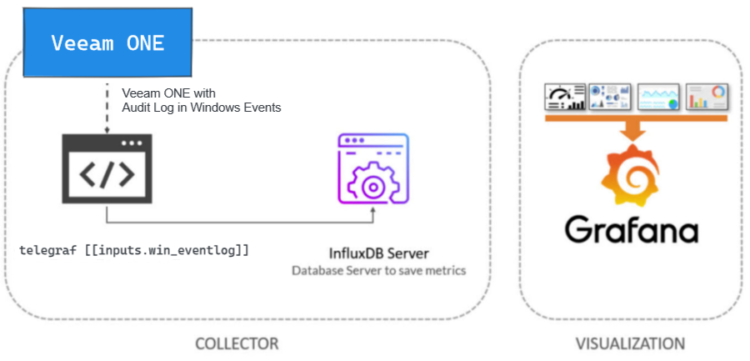 How-to download and configure telegraf for Microsoft Windows, and Grafana Dashboard Overview, in video
If you prefer a quick overview on a YouTube format, I have recorded the next piece just for you:
How-to download and configure telegraf for Microsoft Windows
As we can see, telegraf has already a Windows Event Log plugin ready to be used. Before we made use of it, we need to download telegraf as an agent in our Veeam ONE Server, and configure it properly.
Really easy, from a PowerShell with admin rights, we ran the next commands:
wget https://dl.influxdata.com/telegraf/releases/telegraf-1.25.1_windows_amd64.zip -UseBasicParsing -OutFile telegraf-1.25.1_windows_amd64.zip
Expand-Archive .\telegraf-1.25.1_windows_amd64.zip -DestinationPath 'C:\Program Files\InfluxData\telegraf\'
cd "C:\Program Files\InfluxData\telegraf"
mv .\telegraf-1.25.1\telegraf.* .
That has installed the latest version of telegraf, moved to the correct path, and so on. Let's add it now as Windows Service:
.\telegraf.exe --service install --config "C:\Program Files\InfluxData\telegraf\telegraf.conf"
Let's move to the configuration part, there is not much to do, just to make sure your agent uses the hostname, the output is right as well. For example, here is my agent and outputs section:
[agent]
  interval = "10s"
  round_interval = true

  metric_batch_size = 1000
  metric_buffer_limit = 10000
  collection_jitter = "0s"

  flush_interval = "10s"
  flush_jitter = "0s"

  precision = "0s"
  logtarget = "file"
  logfile = "C:/Program Files/InfluxData/telegraf/telegraf.log"

  hostname = "veeamone.jorgedelacruz.es"

  omit_hostname = false

[outputs.influxdb_v2]
   urls = ["https://YOURINFLUXDB:8086"]
   token = "YOUROWNTOKEN"
   organization = "NAMEOFYOURORG"
   bucket = "YOURBUCKET"
And finally, at the end of the file, let's add the really powerful Windows Events Log parser:
[[inputs.win_eventlog]]
  xpath_query = '''
<QueryList>
  <Query Id="0" Path="Veeam ONE">
    <Select Path="Veeam ONE">*</Select>
  </Query>
</QueryList>
'''

  process_userdata = true
  process_eventdata = true
  separator = "_"
  only_first_line_of_message = true
  timestamp_from_event = true
  event_tags = ["Source", "EventID", "Level", "LevelText", "Task", "TaskText", "Opcode", "OpcodeText", "Keywords", "Channel", "Computer"]
  event_fields = ["*"]
  exclude_fields = ["TimeCreated", "Binary", "Data_Address*"]
  exclude_empty = ["*ActivityID", "UserID"]

We are good to go, as simple as from the PowerShell:
telegraf.exe --service start
Grafana Dashboards
I created a Dashboard from scratch by selecting the best requests to the database, finishing off colors, thinking about graphics, and how to display them, and everything is automated so that it fits our environment without any problem and without having to edit anything manually. The Dashboard can be found here, once imported, you can use the top drop-down menus to select between VeeamONE Servers, and Users:
Import Grafana Dashboards easily
I have already a wonderful Dashboard, ready just for you with everything you need to monitor our environment in a very simple way. Select the name you want and enter the ID: 18054, which is the unique ID of the Dashboard, or the URL: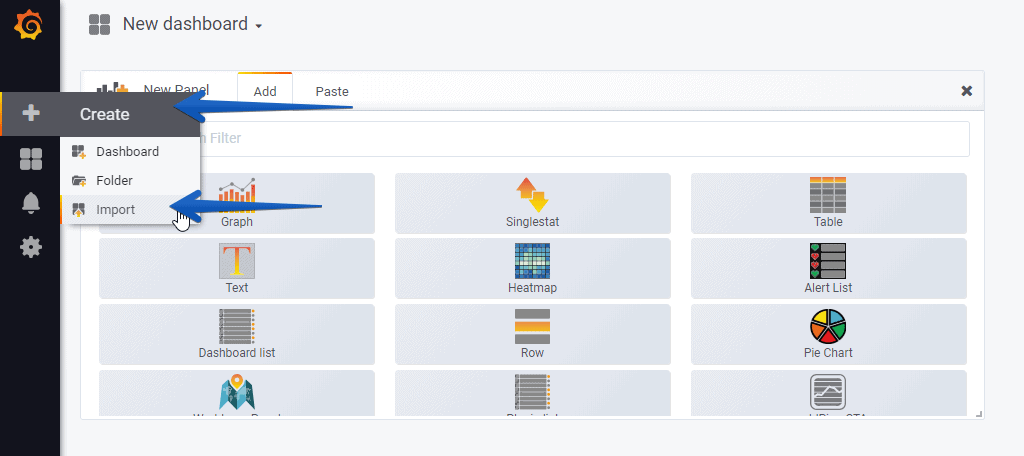 With the menus above you can display and adjust the Dashboard to your different choices: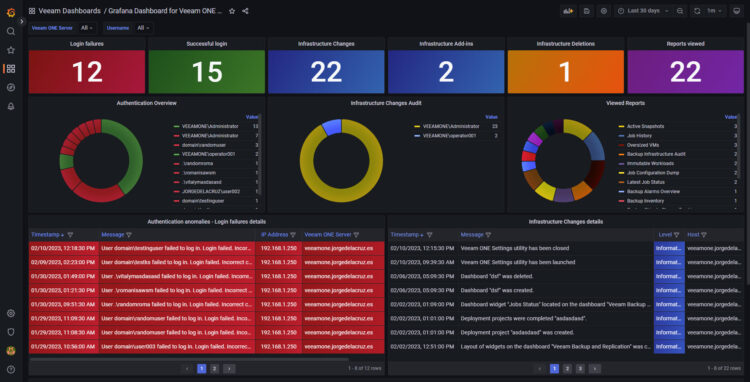 Also in light mode if you switch it on Grafana: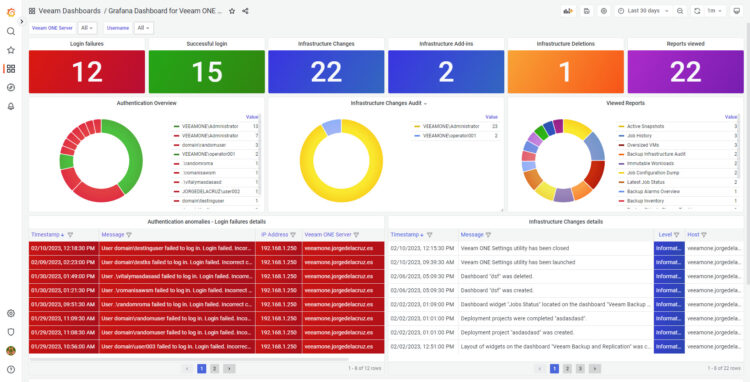 Please leave your feedback in the comments, or on GitHub.
That's all folks, if you want to follow the full Blog series about Grafana, InfluxDB, Telegraf, please click on the next links:
I hope you like it, and I would like to leave you the complete series here, so you can start playing with the plugins that I have been telling you about all these years: