Greetings friends, VMworld 2018 in its American version is over, and although I'm still writing about the announcements and news announced or presented, today I bring you how to download all the Breakout sessions of this VMworld 2018.
GitHub project with all sessions
As every year, William Lam leaves us the GitHub repository with the necessary links to be able to undertake our objective. However, this year is different, because he added the links to the stream and to the .mp4 as well.
One of the things I enjoy the most during the year is to be able to use the sessions when I go by subway, or if I have to fly somewhere, so I leave you the GitHub repository I have created and William's backup (since if you use William's you don't download the session names), with the sessions and their links to the.mp4 directly:
OPTION 1 - Using Firefox quantum and Download Star to download all sessions
If we use Firefox Quantum, we can use the extension called Download Star, which you can find here: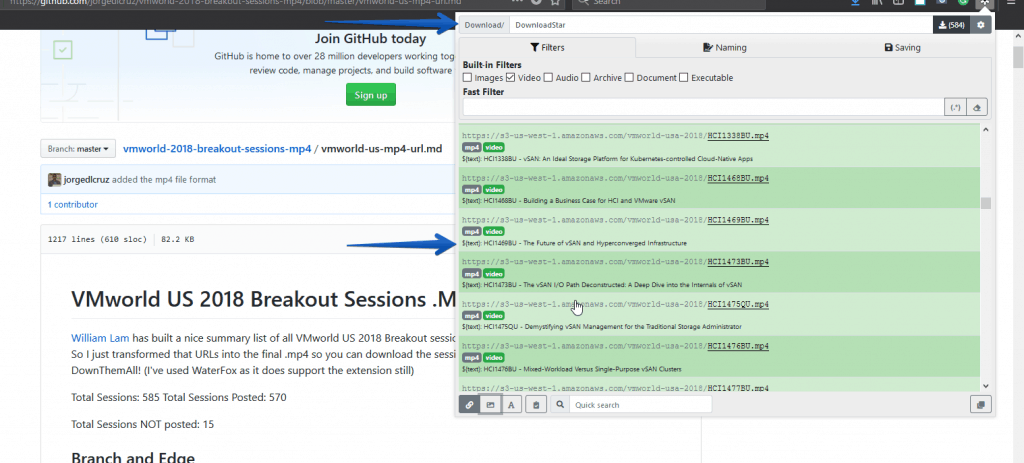 We will select the sessions we want and click on the icon located at the top right where it indicates the number of downloads.
OPTION 2 - Using WaterFox and DownThemAll! to download all the sessions
The extension called DownThemAll! is one of the best Firefox extension that Firefox has had for years, unfortunately and since Firefox upgraded to Quantum, this extension is not available for the latest Firefox Releases, and I have not found any alternative, so I used the browser, which is a Firefox fork, WaterFox, which supports this plugin, we will download WaterFox from here: