Greetings friends, a few weeks ago we saw the new functionality included for free in the latest Veeam Availability Suite v9.5 Update 4, Cloud/Capacity Tier, which allows us to move our backups that are already in retention policy to the Cloud to save disk space.
Today I bring you the beginning of a series on Microsoft Azure Blob, and how to use this Cloud platform as one of the best candidates for this cloud storage of backup files.
Diagram of how it works
I would like to show you this diagram so that we understand the Veeam workflow between our local data center and Microsoft Azure Blob: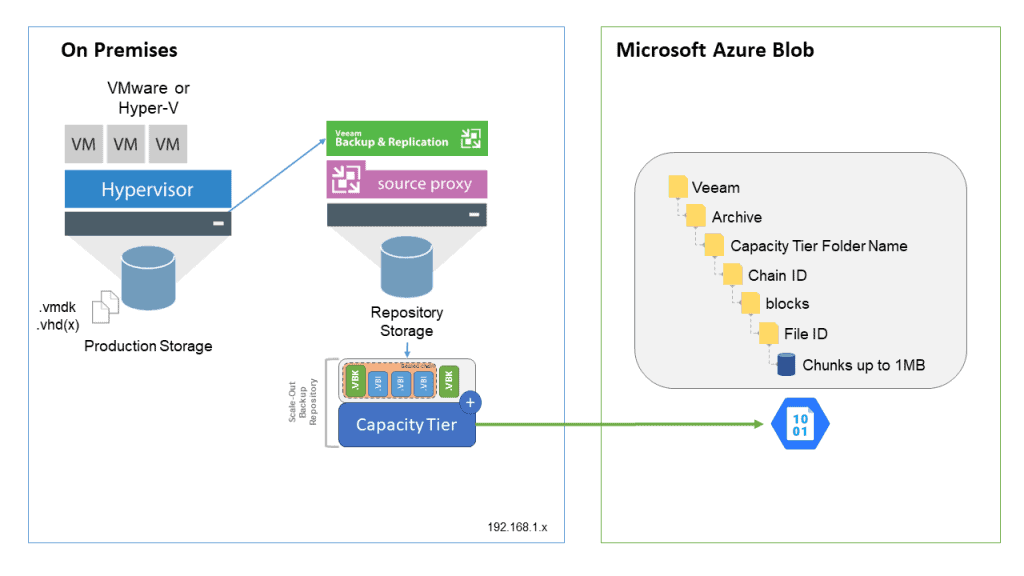 We already saw in the article about Cloud/Capacity Tier, that only backup files that no longer have dependencies are susceptible to be uploaded to the cloud, this means that there are no other files as they can be incremental, or synthetic full backups depending on them, in the cases of GFS is easier to understand, since the files are Full, so they can be uploaded directly.
System Requirements
In order to elaborate this procedure we will have to have ready all the following at software level:
A valid license of Veeam Backup & Replication v9.5U4 with Enterprise or Enterprise Plus.
A valid Microsoft Azure subscription to create VMs, Storage, Networking, etc.
Copy jobs that no longer have dependencies, closed job chains. This means GFS, or previous weeks where a syntethic or full has already been performed.
Comments about the process
Veeam's Offload Tier process works like silk, automatically for files that are already closed and meet the age we select in the Capacity Tier.
If we have a line to the Internet not very powerful is likely that we want to control the bandwidth, for that I leave the following article:
The Offload Tier process puts metadata in the object storage repository, which always checks the chunks to be sent, and if they are already available in the object storage will only create a pointer to them, thus saving disk space and data transfer of course.
I would like to leave you the list of articles that we will see throughout the series: