Greetings friends, we begin a very interesting series about a player who has been a veteran of storing backups for years, without giving any problems. I am talking about the great HPE StoreOnce, the HPE appliance par excellence that allows us to achieve unthinkable deduplication ratios, as well as giving us extra security such as immutability for our stores, replication, etc.
I have decided to divide this series into several blogs, to make it more comfortable for you to consume, please click on the article that suits you best:
Without further ado, and as this is the first article, we are going to learn more about this technology, some history, indicative prices, etc.
What is HPE StoreOnce?
Does data growth leave you struggling with complex, distributed, and expensive data protection? Do you have data that is not being protected because backup windows are not long enough or backup jobs are failing? Do you want to use local, or cloud-based storage to take advantage of hybrid data protection? Are you concerned about the threat of ransomware?
If we've answered all or any of the questions positively, then we'll most likely need HPE StoreOnce. Specially designed for disk-based, deduplication, cloud-integrated backup systems that provide automated backup, data recovery, and data retention for hybrid IT.

HPE StoreOnce deduplication reduces the disk space required to store backup data sets by typically 20 times without impacting backup performance. By retaining more backup data on disk for longer, it enables greater accessibility to backup data for quick restoration of lost or damaged files and reduces the impact on business productivity, while providing savings on disk storage costs, computing resources, physical space, and power requirements.
Seamless integration into our data center environment
The format to store our backup is very flexible, NAS, (NFS, CIFS (SMB), iSCSI, and virtual tape libraries FC (VTL) and StoreOnce Catalyst backup targets are available. This allows each StoreOnce system to be installed and used with all backup applications, including of course Veeam Backup & Replication. The connectivity is also very flexible and allows us a quick and easy integration in Fibre Channel (16 Gb and 32 Gb) and Ethernet (1 Gb, 10, and 25 GbE iSCSI) networks.
HPE StoreOnce Catalyst
HPE StoreOnce Catalyst is an optimized interface for data protection, unique to HPE StoreOnce systems. It gives us the greater performance and more flexible control than traditional emulated tape targets (VTL) or NAS Shares. This means we can benefit from:
Simplified management of data movement from a single interface: tighter integration with our backup application to centrally manage file replication across the enterprise.
Seamless control in complex environments: Supports a number of flexible configurations that allow simultaneous movement of data from one site to multiple sites, and the ability to cascade data across the enterprise (sometimes referred to as "multi-hop")
Improve performance: Distributed deduplication processing using StoreOnce Catalyst stores on StoreOnce systems and multiple servers can optimize the load and utilization of backup hardware, network links, and backup servers for faster deduplication and backup performance.
Scale with object storage to increase local system storage with the Cloud Bank extension to Catalyst.
Faster backup time to meet shrinking backup windows-up to 288 TB/hour of aggregate performance.
StoreOnce Catalyst prevents backup exposure to ransomware.
This last point is crucial, what makes StoreOnce HPE so attractive, is that although you can create lifetime NFS Shares and store backups there, it is recommended to use Stores that use Catalyst, a proprietary HPE API, with which Veeam communicates and can launch backups, and perform restores.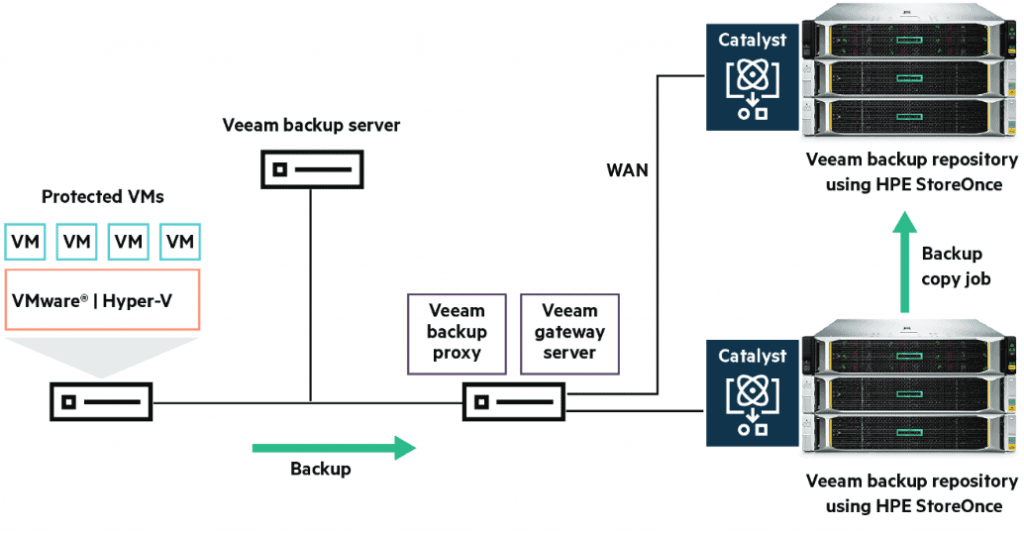 Keep this diagram, so that the day, God forbid, you suffer ransomware, you have arguments to opt for a StoreOnce type solution to protect you next time.
Once we know more about this system, the moment comes that we are waiting for, to access a virtual and free version of 1TB for our laboratory.
Download free HPE StoreOnce VSA G4 (v4.x)
The process is really simple, we will go to our HPE account, I hope you already have an account created, of course, we will click on Evaluate: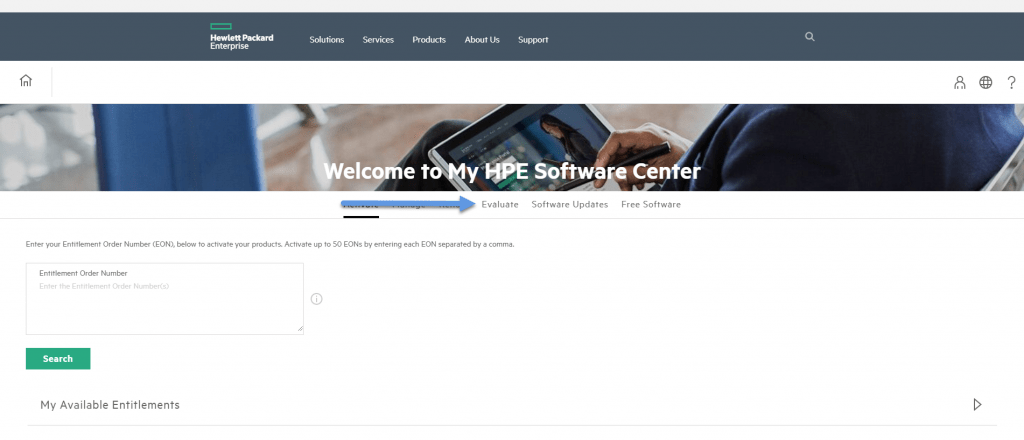 We will write StoreOnce, where we can see the free 1TB license, which we will use later, we care about the link to download the software: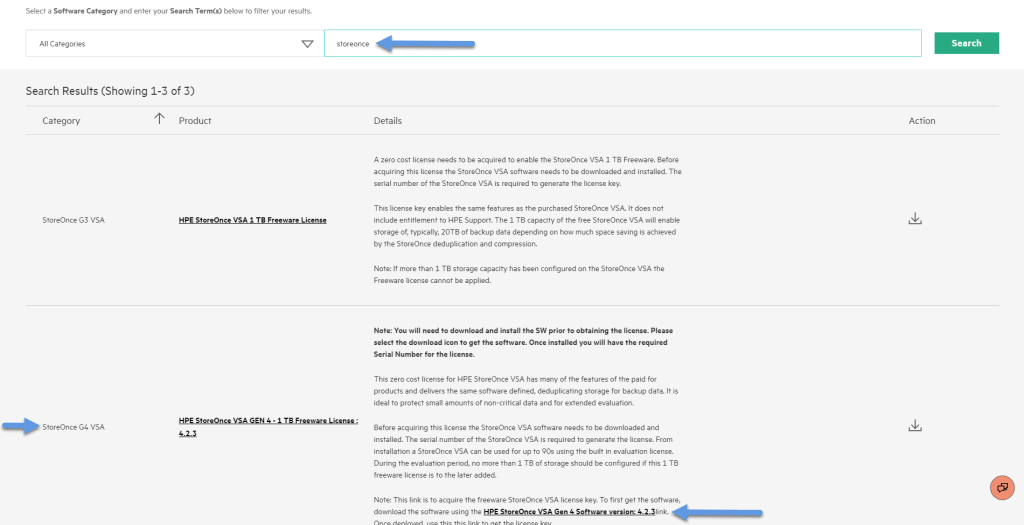 We will click on Download in this link, in my case it is HPE StoreOnce VSA Gen 4 (v4.2. 3)

Once in the last site, we will click in the image what we want to download, in my case the vCenter version, but if you have only an ESXi or Hyper-V, you could select the other images: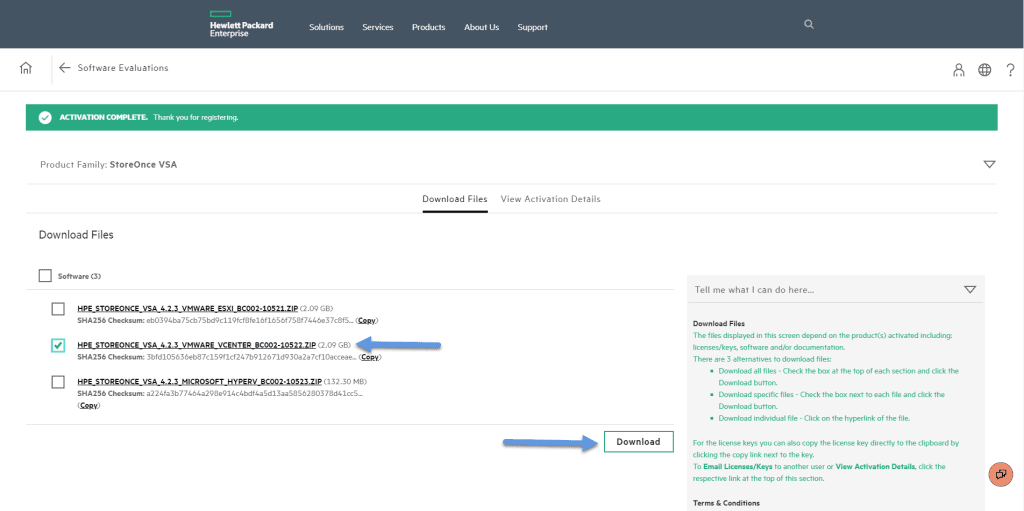 Until here, this blog entry arrives, don't forget to look at the rest of entries, as you want: