Greetings friends, we continue with this interesting series very about one of the best veterans in the art of storing backups for years, without giving any problem. I'm talking about the great HPE StoreOnce, the HPE appliance par excellence that allows us to achieve unthinkable ratios of deduplication, in addition to giving us extra security as immutability for our stores, replication, etc.
I have decided to divide this series into several blogs, to make it more comfortable for you to consume, please click on the article that suits you best:
We have seen in the previous entries what is HPE StoreOnce, and how to download and deploy the VSA G4, today we will see a quick look at the interface of HPE StoreOnce and how to create a Catalyst Store.
A very quick look at the GUI of HPE StoreOnce VSA G4, and how to activate the free 1TB license
Let's start by getting our free 1TB license, for life, which will allow us to store quite a lot of backups, since it is 1TB once it is deduplicated, and if you give us a 20:1 ratio as promised, this would be 20TB 🙂
We logged into our HPE StoreOnce to get our Serial Number: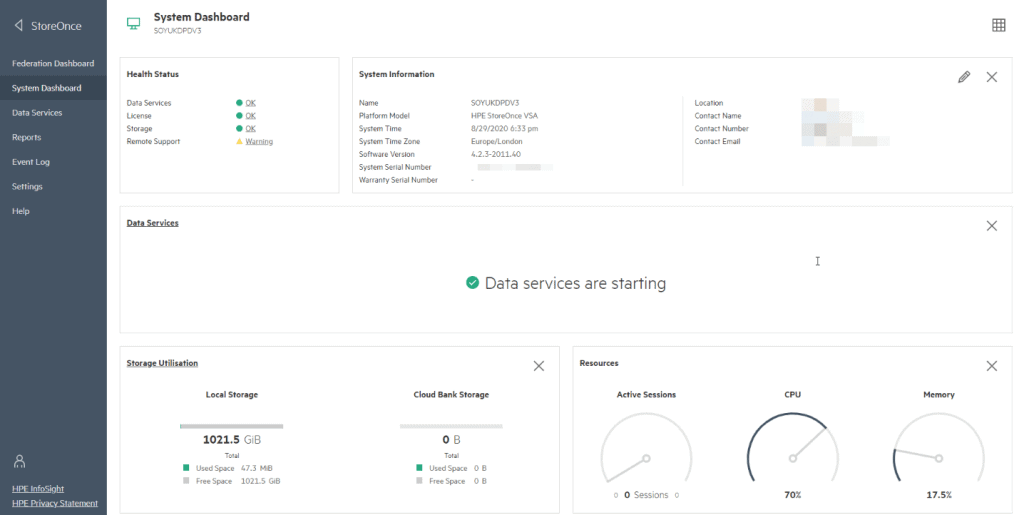 The process to get our free 1TB license is really simple, we will go to our HPE account, I hope you already have an account created clear, we will click on Evaluate: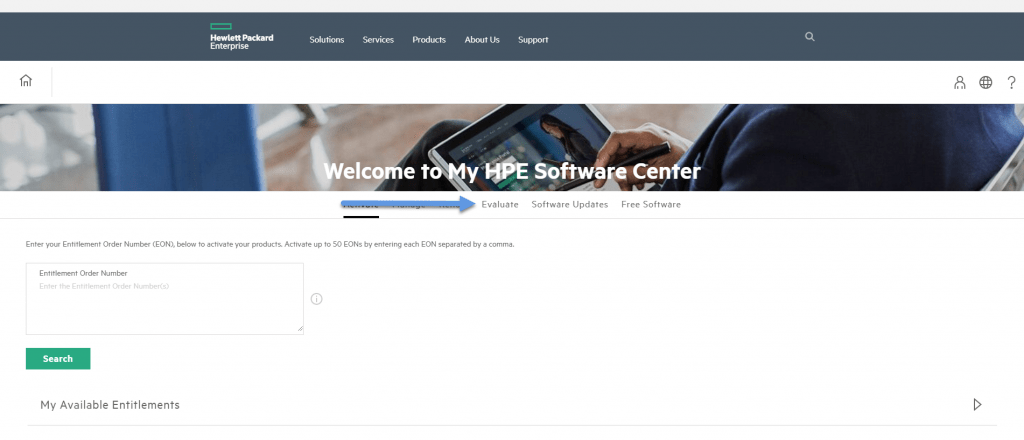 We will write StoreOnce, where we will be able to see the 1TB free license, today we will click on the icon: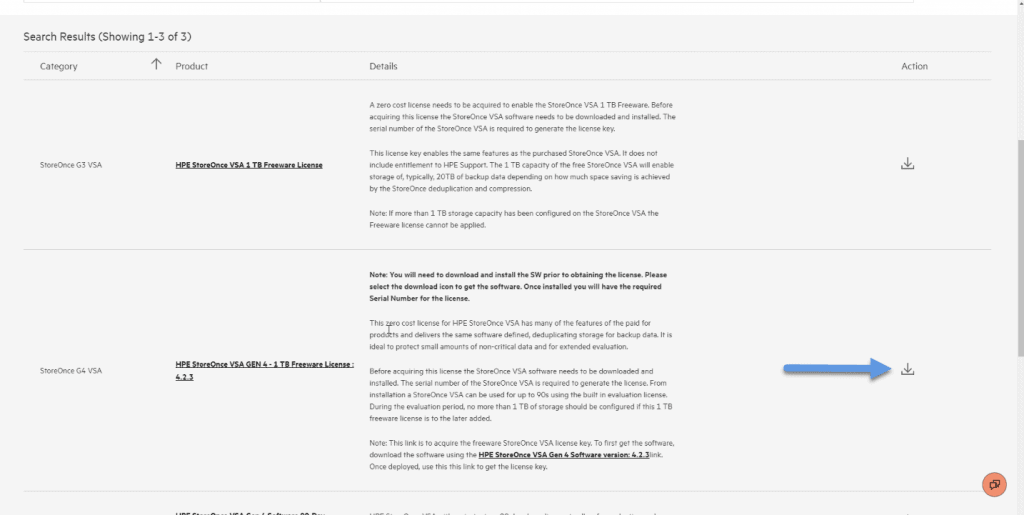 We will need our serial number, we introduce it, we mark that it is for VMware, and we click on Activate: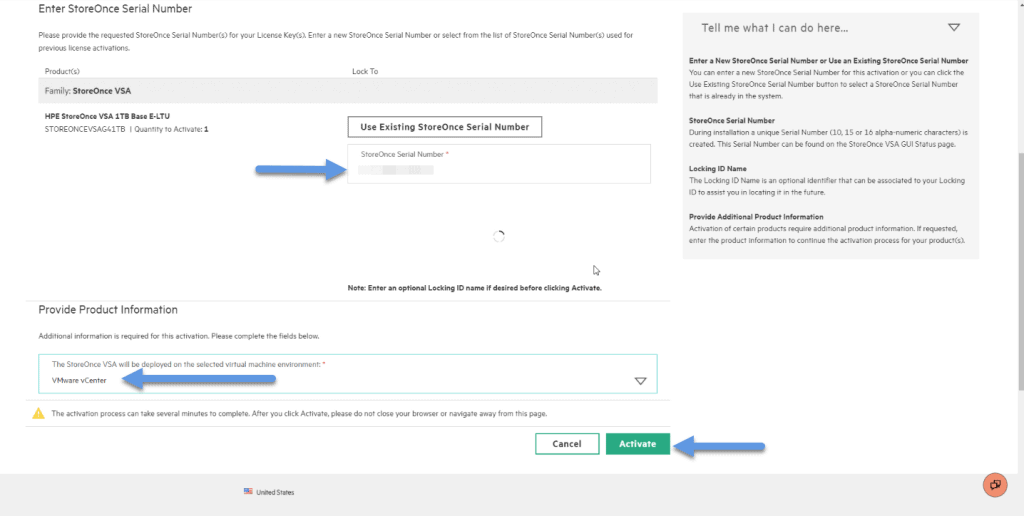 After a few seconds we will be able to see our license, we will click on Download: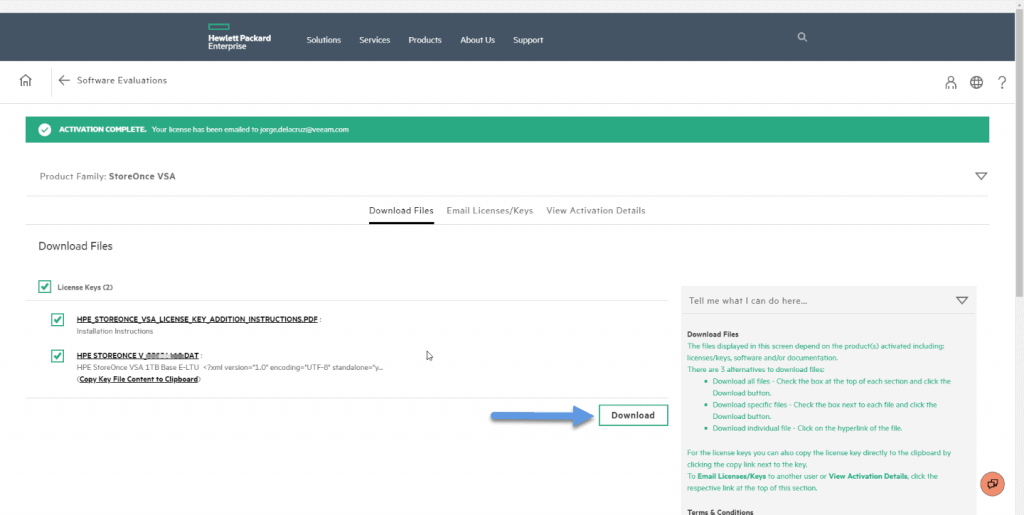 Now back to our HPE StoreOnce, we will go to Settings – License Management: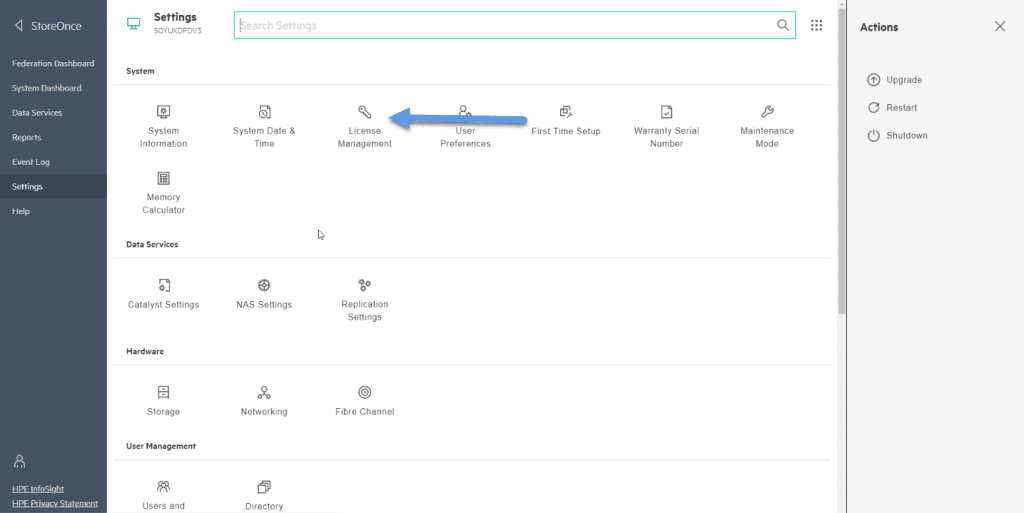 We will see that we have the 90 days, with all the services activated, up to 500TB of capacity, but we want ours free of 1TB, we will click on Add license:
Once we selected our license. dat, we will see that we have converted our StoreOnce into the free, unsupported version, up to 1TB capacity: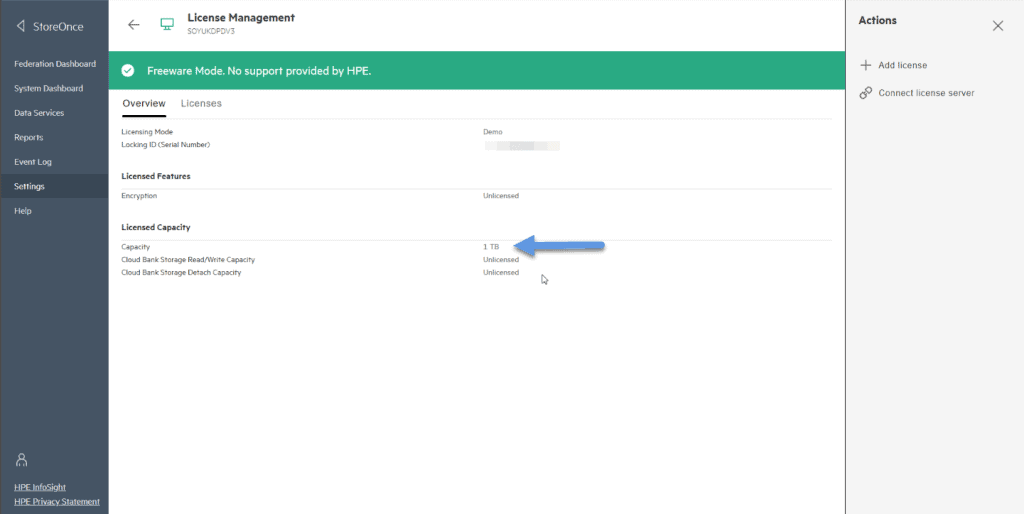 How to create and configure a Catalyst Store in HPE StoreOnce VSA G4
We are ready! From our fantastic HPE StoreOnce Dashboard, we'll go to Data Services: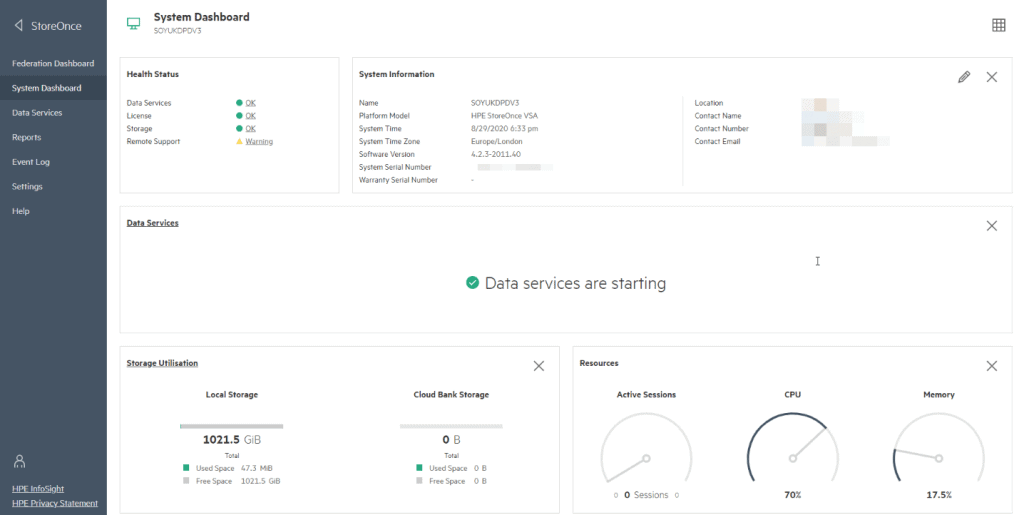 HPE StoreOnce is a multi-purpose appliance, which means that we will be able to create
Catalyst Stores – Perfect for securely launching backups using this exclusive HPE API, with which Veeam can communicate.
Cloud Bank Stores – These are almost the same as Catalyst Stores, but only allow copies of Catalyst Stores, and are stored in Object Storage.
VT Libraries – Virtual Tape Libraries, which allow us to present virtual "tapes" to Veeam, or other software, which are also deduplicated, etc. Very powerful to replace our old libraries.
NAS Shares – That's right, that's what you think, it allows us to create CIFS or NFS that we can present to our users, of course with the incredible deduplication that this appliance gives us, imagine the potential that this has, that with only one appliance we can give so much to our users.
VT Replication and NAS Replication – As the name implies, we will be able to replicate NAS Shares and VT to other HPE StoreOnces.
Let's click on Catalyst Stores: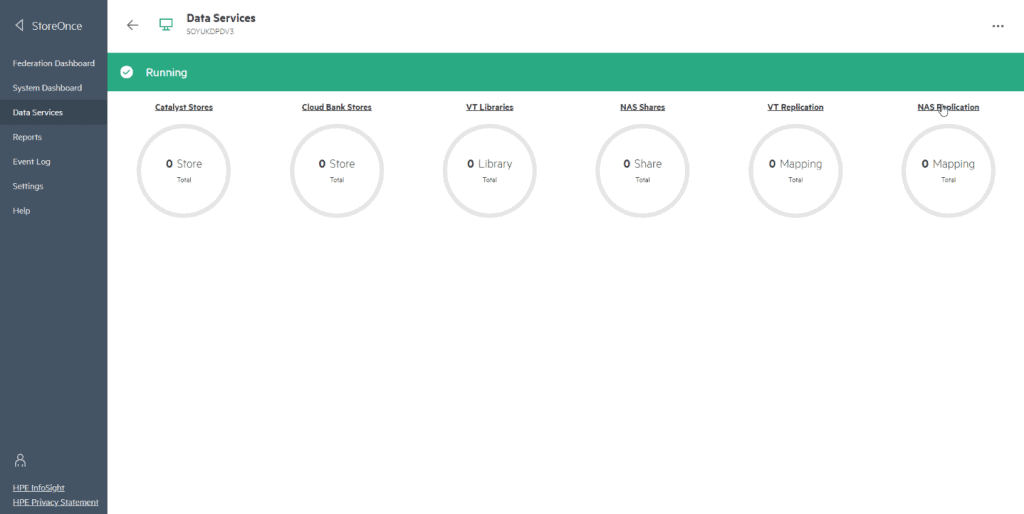 We are going to create a new one, we have no limit, so we can create as many as we need since the appliance duplicates in a GLOBAL way, as you can read in my tone I am really excited about all this: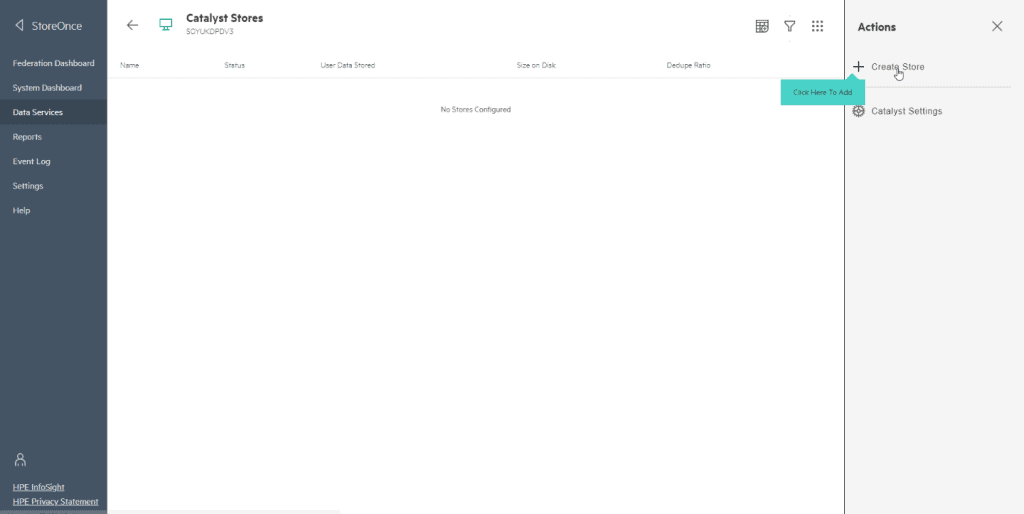 We will create a name, and we will give to Create, of course in Security Settings and Advanced there are some options, that we are not going to use this time: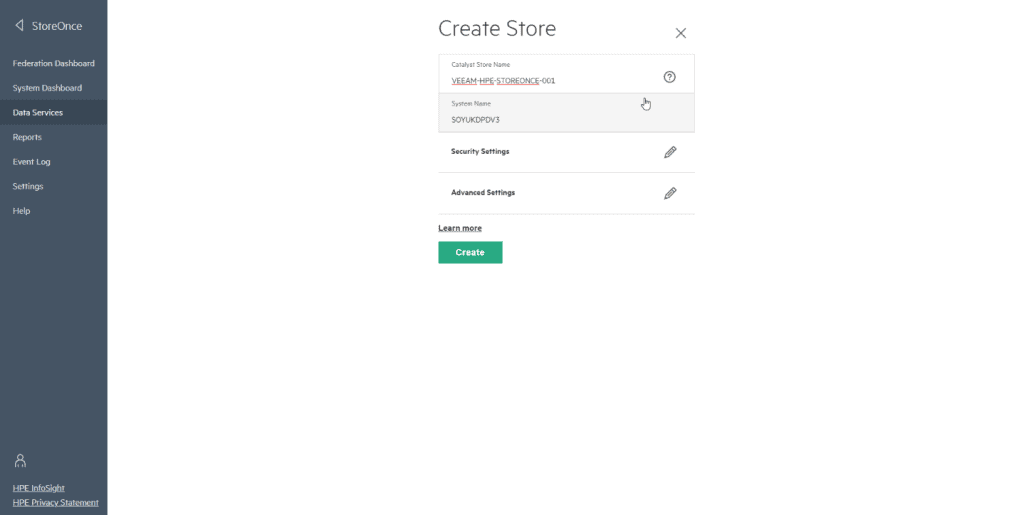 We will create a Client Access, so that it is not open to everyone, only to a certain user, we will click on Add Client: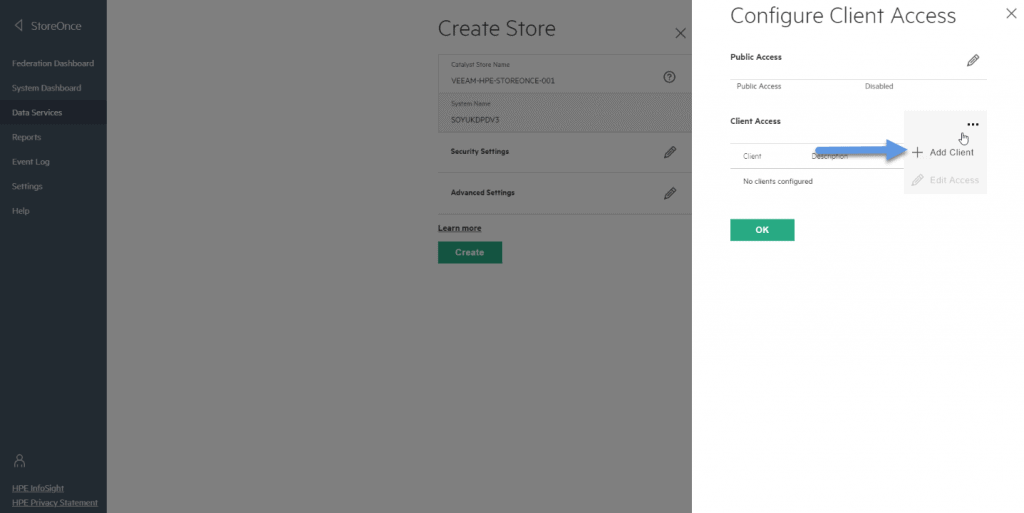 This user and password are the ones that we will later configure in Veeam Backup & Replication:
Finally we will assign this new user to this new Catalyst Store: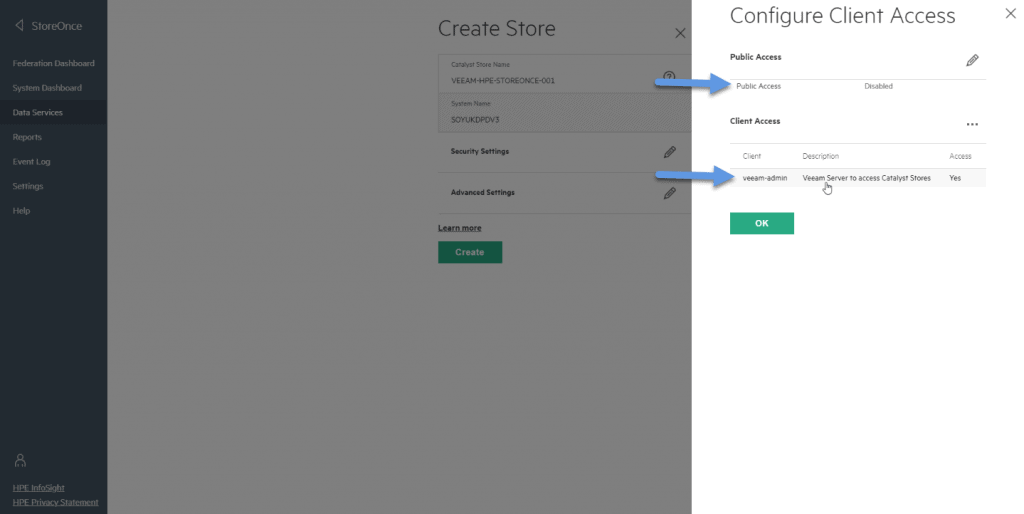 Until here, this blog entry arrives, don't forget to look at the rest of the entries, as you want: