Greetings friends, like every year on the Spanish Blog, I like to show you the summary of numbers at mid-term of the year, articles, and so on, which in the end is simply the combined effort of you visiting this blog, and me writing the articles.
It's almost July! We are in the middle of the year, where have all these grey months gone? This year and almost at the end of the tunnel of the pandemic, I hope you can at least see your relatives, and in the best case, that you have the opportunity to rest a few days away from multidudes, for example I can think of campsites on the beaches of Valencia, etc..
As it is the middle of the year and in previous years I have done it, I want to leave you a summary of the statistics of this humble blog, that between all of you with your visits you make possible.
More than 67K visits so far in 2021, thank you very much!
I haven't used Google Analytics for many years now, it adds too much load to the site in general, and with WordPress and Cloudfare's stats, they work for me. WordPress tells me that this year you have come about 67K times to the Blog, and of these, about 39K are unique visits.
The progress if we compare it with other years has been increasing, slowly but surely, and that is always good news: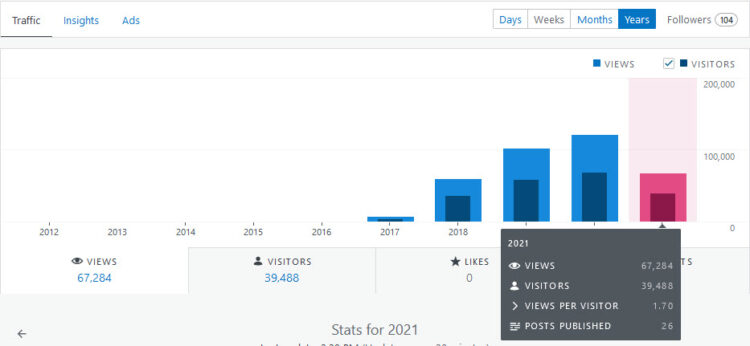 Why jorgedelacruz.uk vs. just a translate plugin on jorgedelacruz.es?
The history of this blog, the English version, is quite interesting, a few years ago (2017) I've applied to work at Veeam as an Technology Evangelist (not the first time, but the one at least I had the chance to speak with the hiring manager), today called Product Strategy. The interview went well, the process went well, and the demo went well too, but at one point the hiring manager told me: "Jorge, I love the content you produce, but it is everything in Spanish, your English footprint it is really small or close to nothing."
That was very valid feedback, the one you can quickly take inside you and do something about, and so I did. Registered the .uk that very same night and started blogging in English as well as Spanish.
Did not get the job by the way, and even if I still dream about the day I would be able to produce material of all sorts (videos, whitepapers, presentations, integrations with other projects like Grafana, Splunk, etc.) for a living, I am very happy and comfortable as Systems Engineer which has a bit of everything and where for sure you see and discuss with a lot of real customers.
Global blog statistics during all this time
I have taken a look at the global statistics, during all this time you have come to visit the blog more than 350,000+, with almost 205,000+ unique visitors, it seems that you like to come more during Thursday at three o'clock in the afternoon: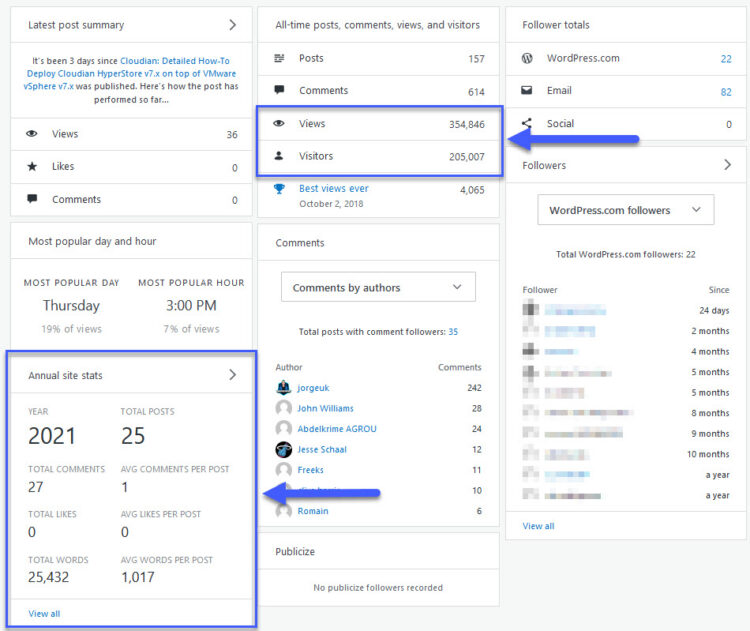 Also, I'm glad to see that I have written almost 25,000 words during this year, which is very good for a great year ahead.
Top 10 most viewed posts of the year
Without wasting much more time, let's go to the most viewed posts at a general level of the whole of 2021, from number one to number ten:
Countries that most visit the Blog
Although I guess it's almost obvious, the Blog has visitors from all over the planet, I want to leave you with the list of the top 10 countries that visit us the most:
United States
Germany
United Kingdom
France
Brazil
Netherlands
India
Italy
Canada
Russia
I leave you the heat map with the countries from where you come, it is colored practically all over the planet, and that makes me feel very happy: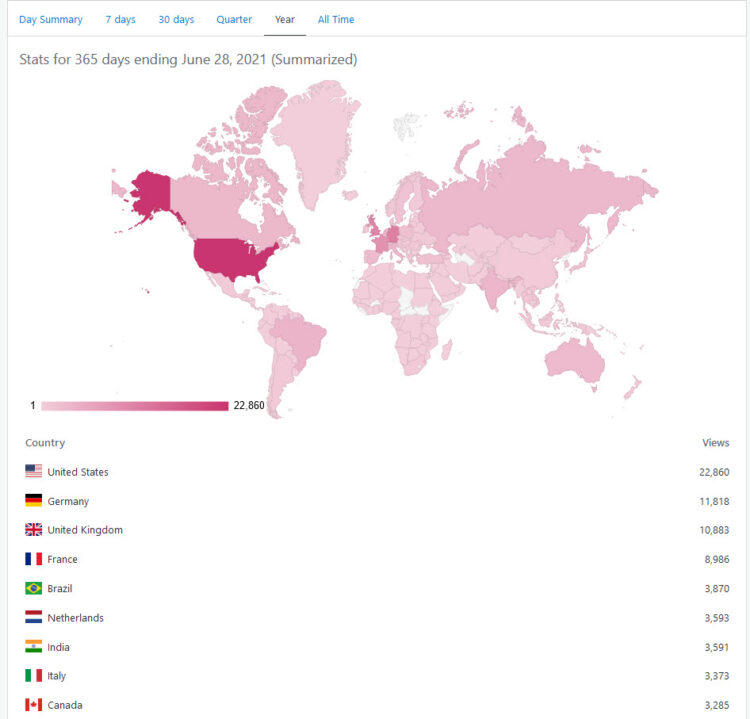 Top 10 friend websites where you come from
It is good to be thankful, and I want to thank the following friend websites from where many of you come every year:
Top 10 GitHub Projects
This year I have given the extra by creating several projects on Github so that we could all benefit, some of the favorites have been
My 2021 English Videos / Presentations
Coming back to that story around the Technologist/Evangelist/Tech Marketing, decided to step up my game and increase my English-material footprint and started doing online presentations for different vendors, I had the luck to be selected for a few online conferences this year, and I would love to share the recordings:
Chalkboard Series
A new short-video series with a chalkboard apperance:
YouTube Videos in English
I have been trying to step up my game on videos on another language than my native one, there are no script, no read-through teleprompts, and usually they are one take without any cut:
A few Promos in English
Tried my best as well preparing some funny, promoting events, videos, hope you like them, as before, no script:
LinkedIn Live Sessions
I have been enjoying puting these sessions together, need to start doing them again, hope you like and appreciate them:
Veeam 1-minute sessions
A challenging video series to tell so much, in so less, one minute videos:
Thank you so much for the visits, the feedback, and for always been there, at the other side of the screen.