Greetings friends, like every year on the Spanish Blog, I like to show you the summary of numbers at the end of the year, articles, and so on, which in the end is simply the combined effort of you visiting this blog, and me writing the articles.
Another year, another Christmas, and most likely for a lot of you it will be difficult or impossible to go and visit your families, if you can, please do it and enjoy the time with them. For me, it is another year we can not travel back to Spain to see mine, perhaps next year I hope.
I must admit that on the Spanish Blog I have been losing a lot of traffic, while on here been just up and up year after year, I guess that is due to writing just in English a few key articles to let the Internet metadata as better as it can, to improve SEO, etc.
Close to 150K visits so far in 2021, thank you very much!
I haven't used Google Analytics for many years now, it adds too much load to the site in general, and with WordPress and Cloudfare's stats, they work for me. WordPress tells me that this year you have come about 148K times to the Blog, and of these, about 90K are unique visits.
The progress if we compare it with other years has been increasing, slowly but surely, and that is always good news: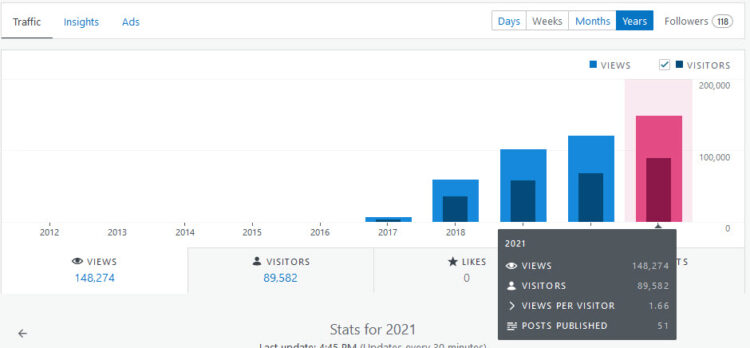 It is been an absolute pleasure to see this growth on the English platform, as: first I improve my English, the second I keep doing my labs, and playing with the technology I like.
Global blog statistics during all this time
I have taken a look at the global statistics, during all this time you have come to visit the blog more than 435K times, with almost 255K unique visitors, it seems that you like to come more on Monday at 2 o'clock in the afternoon.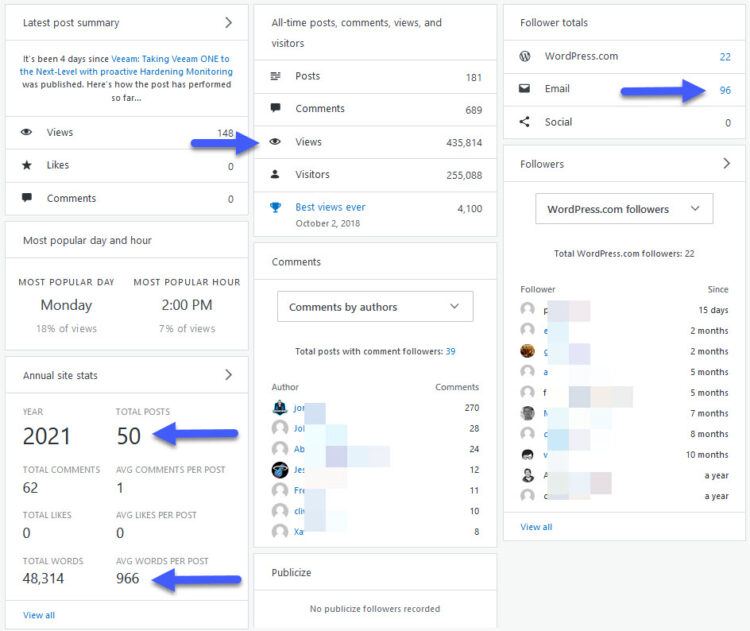 Also, I am extremely grateful for those 96 subscribers over email that receive the blogs on their Inbox as soon as published and really happy to have written 50 Blog Posts over the year, with almost 50K words in total, and with an impressive 966 words per post, please remember that English is my second language, so bear with me.
Top 10 most viewed posts of the year
Without wasting much more time, let's go to the most viewed posts at a general level of the whole of 2021, from number one to number ten:
Countries that most visit the Blog
Although I guess it's almost obvious, the Blog has visitors from all over the planet, I want to leave you with the list of the top 10 countries that visit us the most:
United States
Germany
United Kingdom
France
Brazil
Italy
India
Russia
Netherlands
I leave you the heat map with the countries from where you come, it is colored practically all over the planet, and that makes me feel very happy: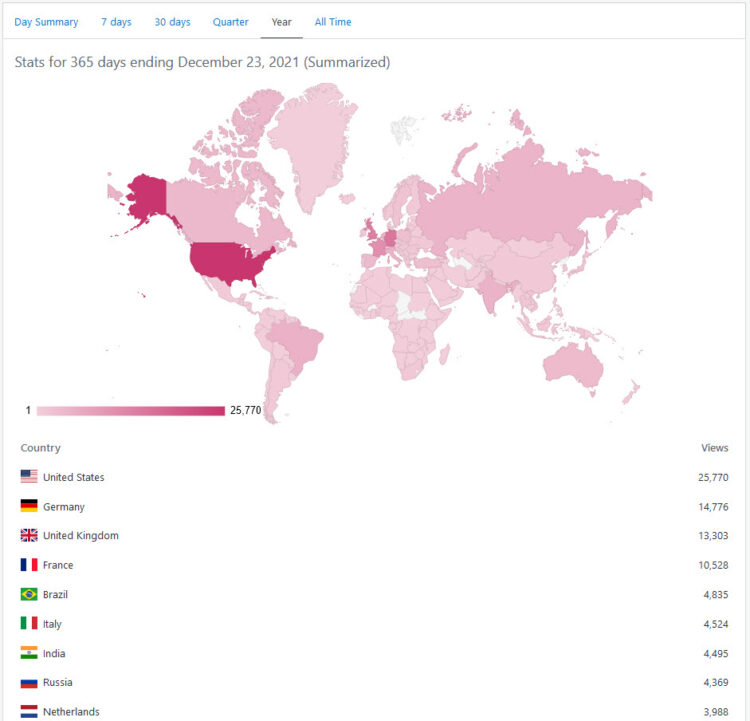 Top 10 friend websites where you come from
It is good to be thankful, and I want to thank the following friend websites from where many of you come every year:
Top 10 GitHub Projects
This year I have given the extra by creating several projects on Github so that we could all benefit, some of the favorites have been
My 2021 English Videos / Presentations
As a passionate Technologist/Evangelist/Tech Marketing, decided to step up my game and increase my English-material footprint and started doing online presentations for different vendors, I had the luck to be selected for a few online conferences this year, and I would love to share the recordings:
Chalkboard Series
A new short-video series with a chalkboard appearance:
YouTube Videos in English
I have been trying to step up my game on videos in another language than my native one, there is no script, no read-through teleprompters, and usually, they are one take without any cut:
A few Promos in English
Tried my best as well preparing some funny, promoting events, videos, hope you like them, as before, no script:
LinkedIn Live Sessions
I have been enjoying putting these sessions together, need to start doing them again, hope you like and appreciate them:
Veeam 1-minute sessions
A challenging video series to tell so much, in so less, one-minute videos:
VMworld CODE
One of my best experiences this year, presenting at VMworld it is always a huge boost of confidence, plus a great honor to share the knowledge with others, and present along with William Lam, Michael Cade, or much others true evangelists that I respect:
Thank you so much for the visits, the feedback, and for always being there, on the other side of the screen.